This Show Earned Gordon Ramsay An Emmy Nomination
DFree/Shutterstock
We may receive a commission on purchases made from links.
Gordon Ramsay may be best known for his often blunt criticism and his penchant for cursing like a sailor, but the chef and media personality has amassed a laundry list of achievements over his lengthy career, including Michelin stars. Per his website, Ramsay holds seven of these coveted stars, and has earned an eye-popping total of 16, per Truly. The boisterous Brit is a prolific wordsmith, authoring numerous cookbooks and autobiographies, according to his page on Amazon. Ramsay's cultural reach has also extended to mobile games like "Restaurant DASH: Gordon Ramsay" and "Gordon Ramsay: Chef Blast."
In addition to these pursuits, he has, of course, conquered the world of culinary television as the host of shows like "Hell's Kitchen," "MasterChef," and "24 Hours to Hell & Back." He even has his own production company, and when Ramsay isn't filming, he is sharing photos of himself on Instagram doing things like hanging out with Post Malone, Gigi Hadid, and David and Victoria Beckham (via Insider). He has certainly lived quite the rich and full life. So it may not be all that surprising to find out that the celebrity chef has been nominated for an Emmy Award, but do you know which show landed him the honor?
MasterChef Junior earned Gordon Ramsay an Emmy nomination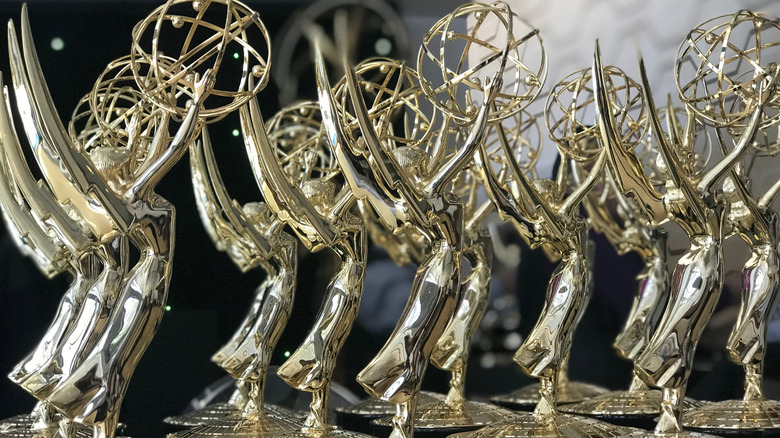 Joe Seer/Shutterstock
Per the Los Angeles Times, of all his shows, Gordon Ramsay was nominated for an Emmy for his role as host of "MasterChef Junior" in 2017. According to Gold Derby, upon learning of his nomination, Ramsay revealed he made an errant cooking faux pas. He told the outlet, "There's a pivotal moment where the crème fraîche has to go in, and for the first time I completely screwed the scrambled eggs because I was trying to watch the news."
Maybe even more impressive is how the kids from the show have made such an impression on the chef. Ramsay explained he has learned quite a bit from the youthful contestants, telling The Wrap, "It's all about that level of losing yourself and becoming an individual." Of the lessons the show teaches its young contestants, he revealed, "I love the fact that they come in with no fear. I've got four kids of my own, so I've gone through these stages. I learn daily how brutally honest they are. There's a vulnerability there, and a sincerity." For all his bluster in front of the camera, Ramsay apparently does have a soft spot. And even though the chef lost the Emmy to RuPaul, mentoring these kids makes Ramsay a winner.