Gordon Ramsay's Hell's Kitchen Will Soon Open On The East Coast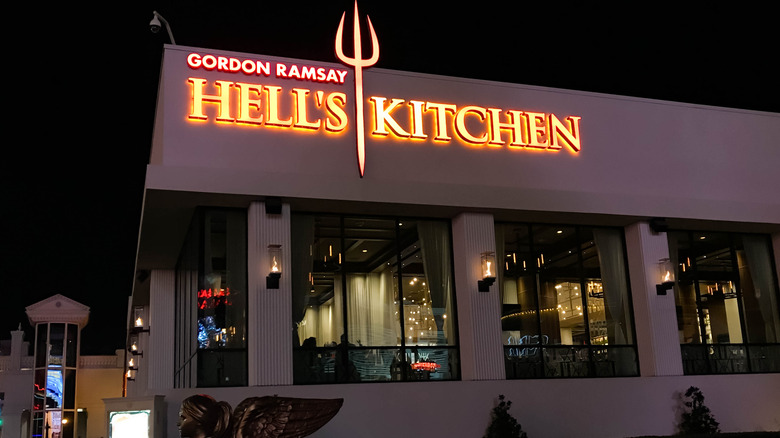 Ceri Breeze/Shutterstock
"Hell's Kitchen" is not just the name of Gordon Ramsay's wildly successful reality-TV cooking competition show. If you didn't know, Ramsay also owns several restaurants, including the Hell's Kitchen chain inspired by the show. The eatery's full name, Gordon Ramsay Hell's Kitchen, first opened outside of Ceasar's Palace in Las Vegas, Nevada (via Gordon Ramsay Restaurants). "Drawing inspiration from the global hit reality television show starring world-renowned Chef Gordon Ramsay, guests will feel like they are on the studio set," the original press release said at the time of the restaurant's opening in 2018.
In late 2019, Ramsay opened a second Hell's Kitchen location in Lake Tahoe, Nevada. Similar to the original location, the Tahoe restaurant features dishes from the show, including many of Ramsay's own signature dishes. Guests can try crispy skin salmon, pan-seared scallops, beef wellington, lobster risotto, and sticky toffee pudding, among other dishes (via Gordon Ramsay Restaurants). Now, the acclaimed chef is opening the restaurant's first location on the East Coast.
The new Hell's Kitchen will open in Washington, D.C.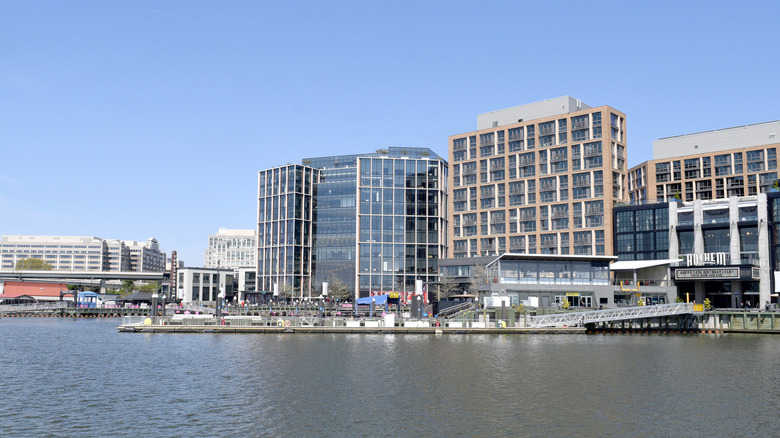 Rey Rodriguez/Shutterstock
Until now, eating at the show-inspired restaurant would've required a trip or vacation for most people outside of Nevada. However, with a new location on the East Coast, Ramsay fans from the other side of the country may be close enough to grab a table and try some of the recipes the reality-TV show has helped make famous.
According to D.C. Eater, the Washington, D.C. location will not only be the first Hell's Kitchen location outside of Nevada, but it will be the first that is not associated with a casino. The outlet reported that another location is planned to open at Harrah's Resort Southern California later this year.
The D.C. location is poised to open at 652 Wharf Street SW, a two-story building along the city's southern waterfront. The news first broke when Washington Business Journal determined that a representative for Gordon Ramsay North America had submitted plans for the restaurant to the U.S. Commission of Fine Arts.
Though Ramsay's team has yet to share the specific menu for the D.C. restaurant, it may feature many of the same dishes prepared at other locations. Ramsay has been busy opening another restaurant in another East Coast city, establishing a unique eatery in Boston, Ramsay's Kitchen, that opened in January 2022.