Every Trader Joe's Frozen Indian Food, Ranked From Worst To Best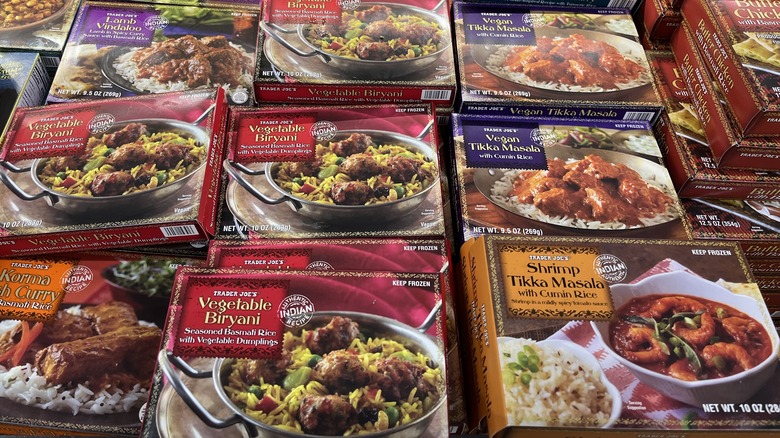 Sarah Gardner/Mashed
Thankfully no passport is required for a trip down the Trader Joe's frozen food aisle, where you'll encounter a variety of delicious sweet and savory bites inspired by cuisines from across the globe, from China to Brazil, Mexico to Italy, and points in between. But perhaps the tastiest stop on the TJ's international culinary tour is the section devoted to Indian food. Whether you're craving curry or bread, vegetarian food or a meaty meal, Trader Joe's selection of frozen Indian bites is particularly well-curated and is sure to satisfy those familiar with the cuisine as well as unfamiliar eaters looking to test the waters.
From the meals you should absolutely avoid to the ones that approach restaurant quality, we've tried them all (For the record, every dish we sampled, with the exception of the bread, took a spin in the microwave). Keep reading for a rundown of every frozen Indian food item at Trader Joe's, ranked from the worst to the very best.
14. Shrimp tikka masala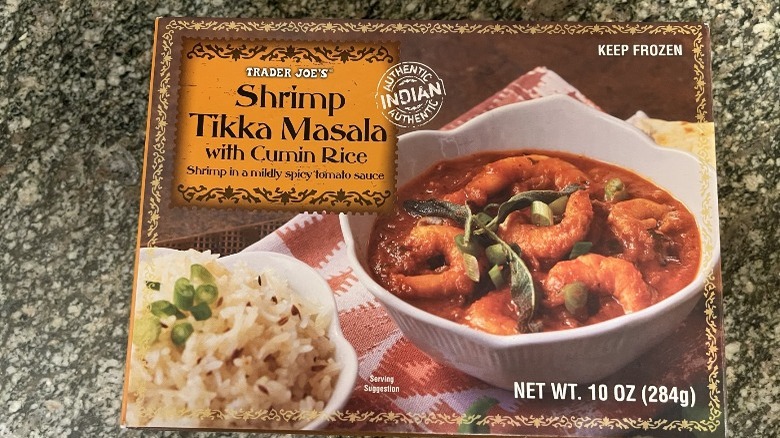 Sarah Gardner/Mashed
If you're a fan of tikka masala, the Indian-inspired entree that was created in the United Kingdom in the 1960s, you're in luck. Trader Joe's offers multiple frozen dishes that feature this signature tomato-based sauce spiked with spices. This is the sole seafood tikka masala option, and unfortunately, it comes up short. The shrimp certainly live up to their name. Tiny and under-seasoned, they're basically just adding texture to the equation. Beyond wanting larger crustaceans, we would have appreciated some vegetable assistance.
While the masala has just the right amount of heat, it's way too thin, veering into soup territory. It's certainly not worth the price of admission from a health perspective. The dish is packed with 95 milligrams of cholesterol (32% of your daily value based on a 2,000 calorie diet), plus 29 grams of fat and 19 grams of saturated fat (an eye-popping 95% of your daily value). The saving grace is the subtly spiced side of cumin rice — the aroma wafted delightfully in the air when we pulled the tray from the microwave.
13. Vegan tikka masala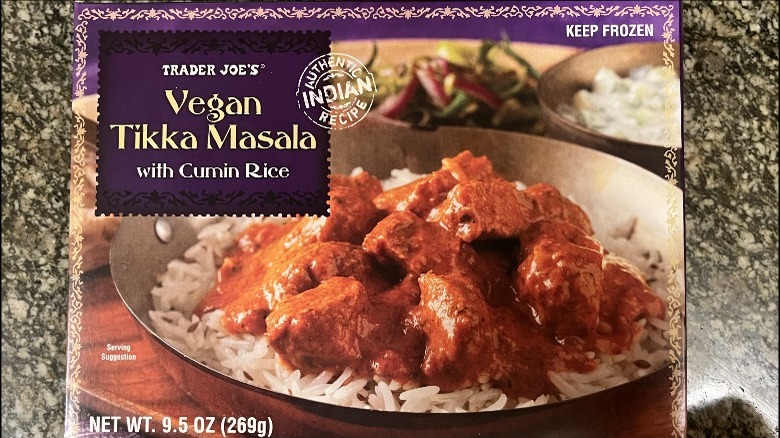 Sarah Gardner/Mashed
Trader Joe's vegan tikka masala is a step up from its shrimp counterpart, but not by much. In the pro column, the sauce is thick and flavorful. Compared to what the shrimp were swimming in, it was far more in line with the tikka masala we've enjoyed at many Indian restaurants over the years.
While Indian cuisine is famous for conjuring greatness out of meatless meals, the "vegan meat substitute" featured in this dish failed to impress. The dense, bready protein reminded us of an overcooked meatball, and it didn't approach the juicy wizardry you'd find in Beyond or Impossible products. Also, be aware that there's a lot more sauce than "meat" here, though, as you may suspect, we weren't exactly craving more of the vegan meat substitute.
Cumin rice makes another side appearance, but for some reason, this version lacked the intoxicating aroma of the grains served with the Shrimp tikka.
12. Butter chicken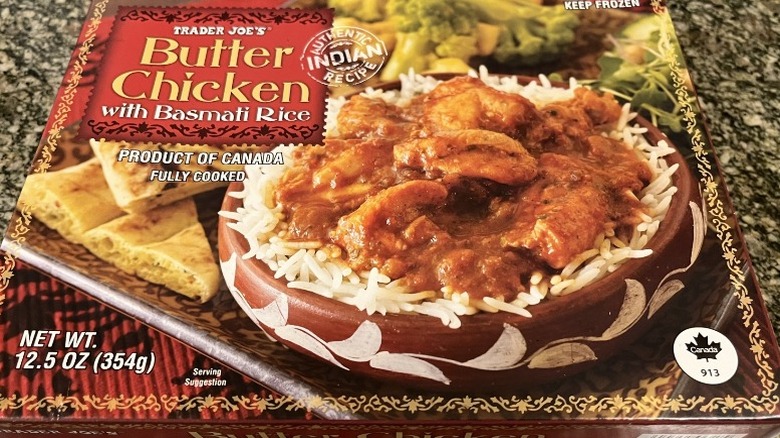 Sarah Gardner/Mashed
If you're looking for a more substantial meal, consider Trader Joe's attempt at butter chicken. Weighing in at a relatively hefty 12.5 ounces, this one is larger than its other frozen aisle Indian neighbors. It is the only Indian option labeled as a "product of Canada."
This meal takes a whopping seven minutes to heat in the microwave, with an additional two minutes to cool off. Though it's a longer cook time, it is still just seven minutes, and you can walk away while it warms up. Unlike many of the frozen Indian meals, you don't have to hover around the microwave for 2 minutes, remove the wrapper, stir, put it back in the microwave, and hover some more. Basically, it's an easy set-it-and-forget-it procedure if you are multitasking.
The most important thing to note is that chicken was some of the best microwaved chicken we've ever had. Chicken tends to get rubbery when nuked, but this was nice and tender. While we enjoyed the thick, savory sauce, the curry skewed more Japanese than Indian. The basmati rice, however, was a complete disaster. Crispy and crunchy, we could only stomach a couple of bites before moving on.
11. Malabari paratha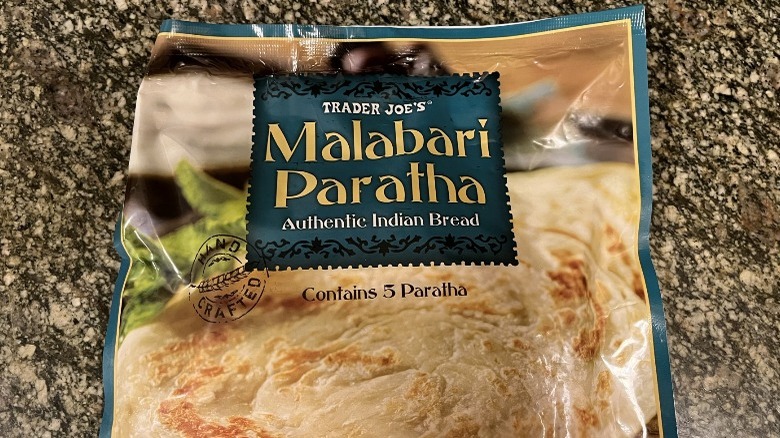 Sarah Gardner/Mashed
Unlike the previous three dishes, the Malabari paratha is an item we would purchase again. Each bag comes with five pieces of bread which, according to the back of the package, are "handmade for Trader Joe's" in India. Don't let the thinness of these carb discs fool you. Once cooked (a couple of minutes on each side in a non-stick pan), the bread is particularly heavy, and while we enjoyed the multiple flaky layers, ultimately we found this item to be a tad too greasy. Surprisingly, each piece contains only 7 grams of fat per serving and no cholesterol.
Per the packaging, Trader Joe's recommends pairing the paratha with a vindaloo or tikka masala dish and we would agree with that assessment. Since some of these entrees are more suited for a light lunch, the bread addition will help to make your meal more substantial. Just remember to have a napkin or two on hand when you're done dipping.
10. Channa masala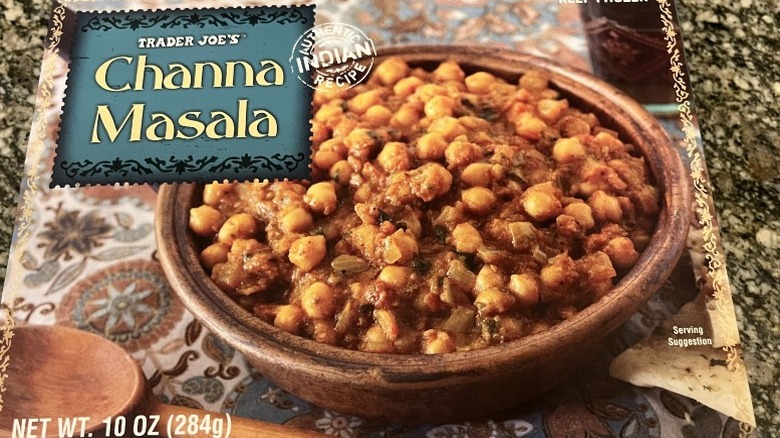 Sarah Gardner/Mashed
The channa masala is one of the rare Trader Joe's frozen Indian items that doesn't come with a side of rice. The major benefit of this is that all 10 ounces of this item are dedicated to the wonderfully spiced and sauced vegetarian chickpeas which are al dente and toothsome even after they've been given the nuke treatment. 
We also appreciate the limited ingredients list: Beyond the beans, all you'll encounter are onions, tomatoes, water, spices, canola oil, garlic, ghee, salt, mango powder, turmeric, cilantro, and bay leaves. In other words, you won't find any multi-syllable lab-generated additives, which is always a plus.
But as much we enjoyed the chickpeas, a rice pairing would have truly completed the meal. Of course, you can always make your own batch of basmati, but this is sure to be a hassle if your plan was to spend to spend as little time in the kitchen as possible. The channa masala is ideal as a side, but if you are in need of a main, we would suggest looking elsewhere.
9. Tandoori naan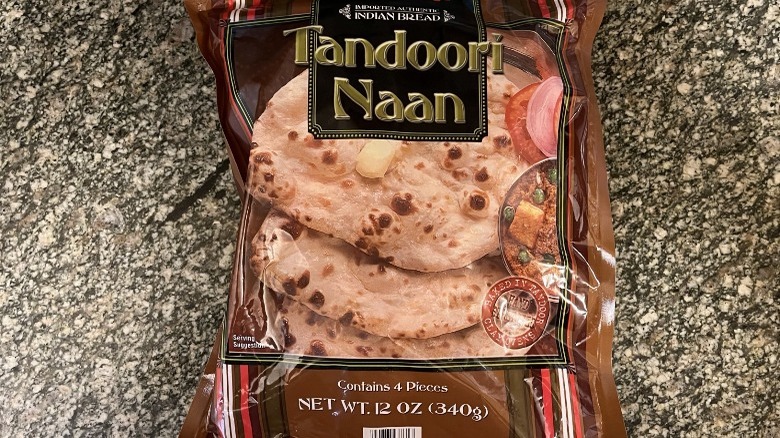 Sarah Gardner/Mashed
It's impossible to beat freshly baked naan straight from the tandoor oven, but this is a solid rendition. Simply throw the previously-baked bread in a conventional oven for just a minute or two and you're golden. You'll end up with delightfully warm naan that's soft and chewy on the inside with a crunchy exterior. Though it likely won't be quite as good as it would have been if it was freshly made and baked, it is without question a step above the food delivery naan that arrives room temperature and limp after making the 30-minute journey from the restaurant to your front door. Speaking of which, make sure to eat this hot out of the oven because this naan cools down remarkably fast.
Trader Joe's tandoori naan is also made in India, lending it even more credibility if you're dubious about the quality. Spread with butter or ghee to add extra decadence, but your favorite curry sauce is probably all you need to complement this carb bomb.
8. Fiery chicken curry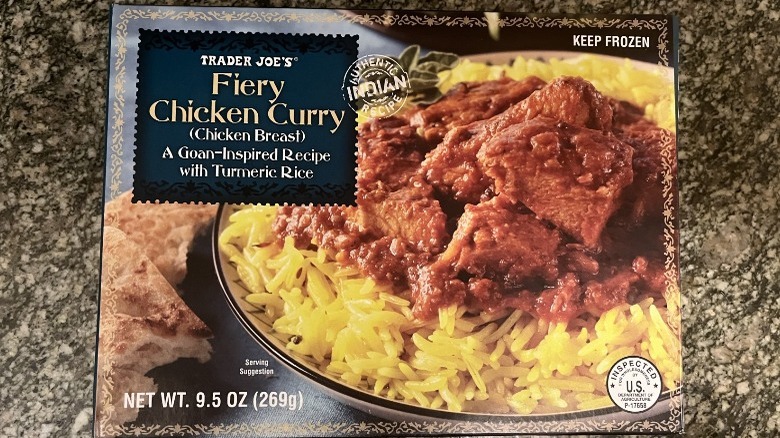 Sarah Gardner/Mashed
This "Goan-inspired" dish pleased the palate, but failed to live up to its name. There was a pleasantly sweet smell throughout our kitchen when we pulled this fiery chicken curry out of the microwave. The sauce features a coconut milk base, but the tanginess of the tomato and tamarind dominates and there isn't much in the way of creaminess.
We detected notes of clove and cinnamon which weren't specifically listed in the ingredients list but may fall under the catch-all "spices." The heat sneaks up on you, and there's a lingering tingle on your tongue and lips and in your throat. But "fiery" is quite a bit of an overstatement. On the heat scale, this would be on par with the Diablo Taco Bell hot sauce, which, despite its devilish name, still isn't terribly spicy. The chicken was good quality but the white meat pieces were rather small. More impressive was the nicely flavored side of turmeric rice.
7. Palak paneer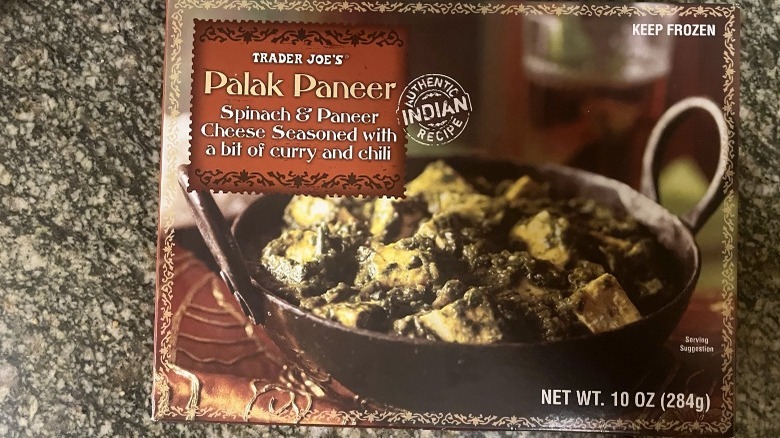 Sarah Gardner/Mashed
Here's a dish that's as fun to say as it is to eat. Trader Joe's version of this Indian classic hits the mark with curry and chili-spiced spinach and chunks of paneer. Paneer is one of India's most common cheeses. It's soft yet firm enough so it doesn't melt under high heat. When you bite into it, it might make a squeaky sound much like a Wisconsin cheese curd.
If palak paneer sounds a lot like saag paneer, a dish you may have come across on Indian menus, that's because they're quite similar. The difference is that "palak" refers specifically to spinach and "saag" covers a variety of greens, including spinach (via Sprout Monk).
This is a gently spiced dish that's arguably kid-friendly and definitely vegetarian-friendly. With spinach being the primary ingredient, a single serving provides a whopping 32% of your daily fiber recommendation. Be aware that the paneer cheese, of course, isn't fat-free. This 10-ounce tray also delivers a sodium bomb of 510 milligrams per serving (note that there are two servings per container).
Do be advised that this purchase doesn't come with rice and it contains a scant amount of carbs. That could be a benefit for the keto dieters out there. But for those who want a more filling, well-rounded meal, grab a package of Trader Joe's naan (regular or garlic variety, which we'll get to soon) to sop up all that spinach-y cheesy goodness.
6. Garlic naan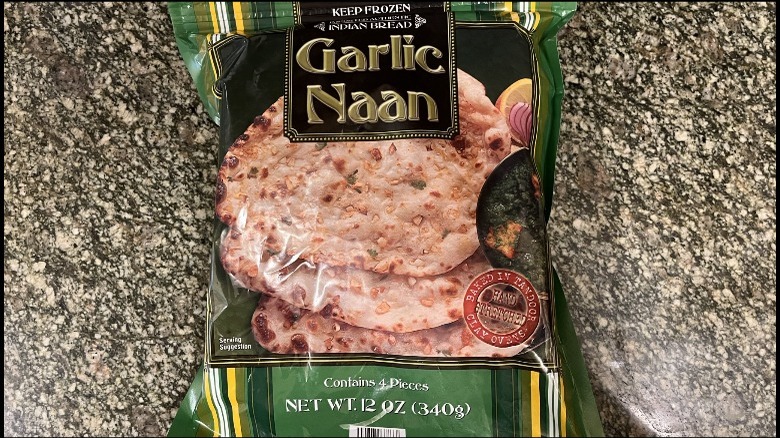 Sarah Gardner/Mashed
As much as we enjoyed Trader Joe's tandoori naan, their garlic version is even better. According to the package, each triangular, pizza-shaped piece of bread is "hand stretched" and "baked in tandoor clay ovens" in India, which probably accounts for why it's so tasty. Even though the naan is frozen, the garlic smell hits you immediately. While the package recommends letting the naan heat up in a 400 Fahrenheit oven (pre-heated for at least 10 minutes) for 60-90 seconds, we found that two minutes was the sweet spot when it came to nailing that crusty outside while maintaining the all-important chewy center.  
Just like its plain counterpart, make sure to devour immediately while it's piping hot. Given that the naan is so heavy on the garlic and coriander, it would be best to complement it with something that needs a boost of flavor — the palak paneer is a particularly great match. You don't even necessarily need to pair the garlic naan with another Indian item. If you're a fan of garlic bread (who isn't?) but are looking for something new, this would be an ideal substitute (just add a sprinkle of parmesan if cheese is a must). 
5. Korma fish curry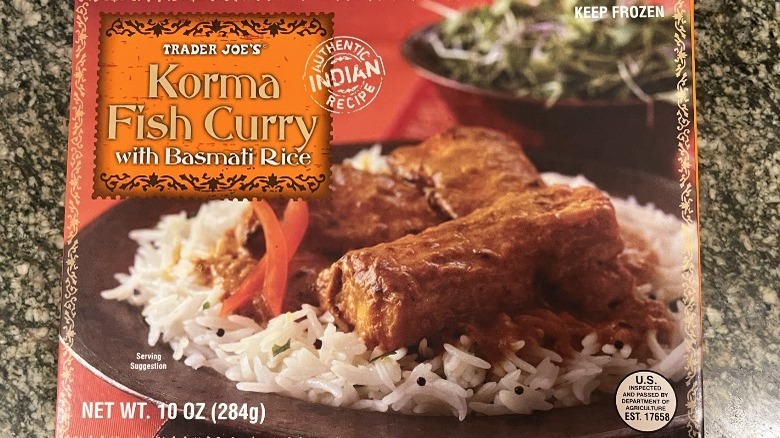 Sarah Gardner/Mashed
Out of all the Trader Joe's Indian meals we sampled, the korma fish curry was far and away the most substantial when it came to the dish's signature protein. The fish, which the ingredients list identifies as swai filet (more on that below), takes up a good portion of the curry side of the tray (it's substantial enough that two people could potentially share this for lunch). While fish normally turns into a stink bomb when it's microwaved, the korma fish curry didn't unleash a lingering odor, so if you have a hankering for this at the office, you shouldn't feel too skittish about giving it a spin.
According to Healthline, swai is a white-fleshed fish from Southeast Asia that is similar to catfish. The relatively neutral taste and firm, meaty flesh reminded us (cliché alert) of chicken, so if you're a pescatarian with a hankering for poultry, this is the fish for you. The curry is on the thicker side (though not as thick as the sauce for the butter chicken) and the flavor of coconut milk is especially present. As a welcome bonus, the side of basmati rice was particularly fragrant and pleasantly spiced. We were admittedly wary about a frozen fish entree since we've had some back luck with previous meals, but the korma fish curry well exceeded our expectations.
4. Paneer tikka masala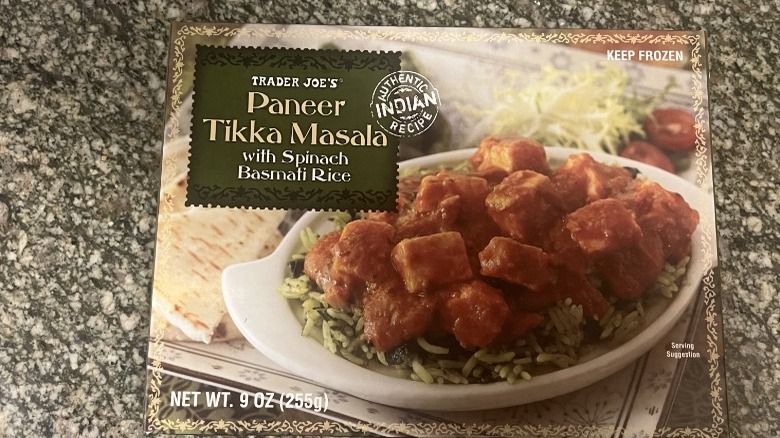 Sarah Gardner/Mashed
With the dynamic side-by-side of the forest green spinach-infused rice and bright red tomato-based sauce, paneer tikka masala is easily the most visually appealing of Trader Joe's frozen Indian food. Also, it's yet another option the grocery chain serves up for the vegetarian eaters out there. 
This dish has a bit of heat but it won't set your mouth on fire. We found the sauce lighter and creamier than what we had in the shrimp tikka masala, and the mildly flavored pieces of paneer cheese proved to be an ideal protein pairing. The spinach pilaf had a subtle vegetal undertone that worked especially well in conjunction with the tikka masala.
One word of caution, however: Don't assume that going meatless is the "healthier" option, especially when the star attraction is cheese. A single serving of this meal comes in at 33% of your recommended daily sodium intake, 29% of your daily recommended fat intake, and 30% of your daily saturated fat intake.
3. Lamb vindaloo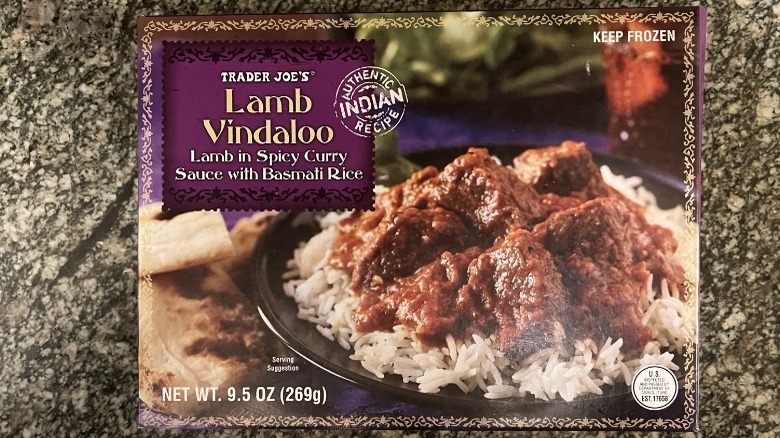 Sarah Gardner/Mashed
If you're looking for an Indian dish that will give your tear ducts a workout, vindaloo is generally the way to go. The curry is known to include bhut jolokia (which you may know as a ghost pepper), so needless to say, it can definitely give your taste buds a pounding. But neither bhut jolokia nor ghost peppers showed in the ingredients for the Trader Joe's lamb vindaloo. In fact, the only pepper listed was the standard, mild green variety. Overall, the curry fell on the medium end of the heat spectrum, and that may be a generous assessment. 
While hardcore vindaloo fans may be disappointed, lamb fans (count us among them) are sure to be thrilled. We've tried frozen lamb curries from several other brands and the results are usually the same: miniscule pieces of chewy meat swimming in a large pool of sauce. Trader Joe's, however, flips the script. The vindaloo was prepared with ample hunks of tender lamb with just a touch of gaminess. While the sauce didn't exactly bring the heat, it had a solid consistency and nice sour tang thanks to a vinegar and tamarind combo. 
Despite the lack of firepower (not to mention a boring basmati rice side), the lamb was so good that we could easily get over the vindaloo's shortcomings. 
2. Chicken tikka masala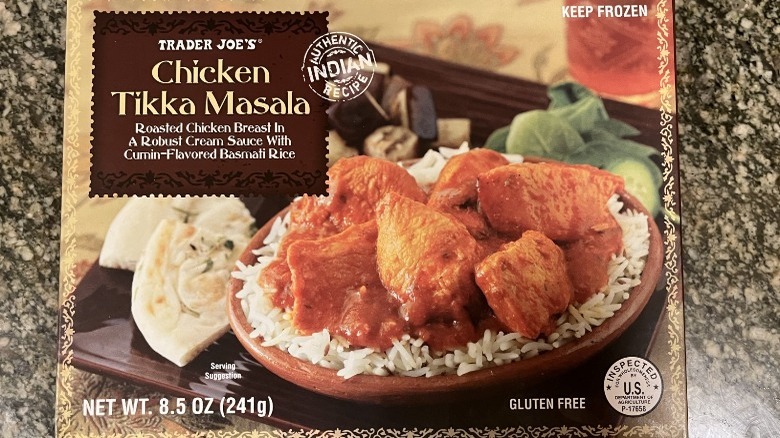 Sarah Gardner/Mashed
Don't check our math, but there's a reason chicken tikka masala is on 99.99% of Indian take-out menus (at least those that serve meat). We'd argue that the dish is generally the gateway for British and American palates to explore the innumerable delicious, savory, and complex flavor combinations found in Indian cuisine. While Trader Joe's frozen riff on the crowd-pleaser cannot possibly compare to a fresh version served up by expert chefs, it comes close enough, which is fairly remarkable for a frozen entree. The roasted chicken breast is tender and well-portioned while the creamy sauce offers a pleasant balance of spice, tanginess from the tomato base, and a just touch of sweetness. Inferior tikka masala can be a little cloying, but that is not an issue here.  
Obviously, the box you buy is intended for a single portion, but if you want to split it up and serve it to your little ones, here's an idea: You could break out a grilled cheese recipe to serve on the side and make this a sharable meal. There's nothing special about the cumin-flavored rice in this package, but the signature sauce shines brightly and tastes a little bit like curried tomato soup. We think that this sauce plus a grilled cheese would be the perfect pairing.
1. Vegetable biryani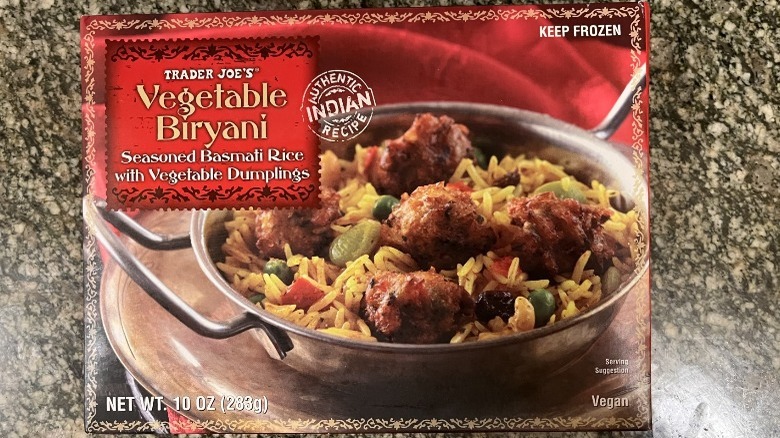 Sarah Gardner/Mashed
In many of Trader Joe's frozen Indian offerings, the rice and the main entree are split into separate compartments, allowing you to blend or not blend however you wish. But here, rice takes center stage with a few vegetable dumplings as the featured player. You may be thinking (especially you meat-loving folks) that veggies and rice sound kind of boring. We ranked this vegan dish at the top of our list for a reason. Trader Joe's vegetable biryani is a hearty and satisfying meal and has a wide assortment of assertive but pleasing ingredients. It should be the go-to item for any vegetarian and for those who eat a plant-based diet. Even the most carnivorous among us would not object. It's that good.
In every bite, you get a slightly different flavor profile from the last. There are raisins, cashews, peas, and of course the main attraction, the vegetable dumplings. Packed with flavor and sporting a soft, almost marshmallow-like consistency, these are a far cry from the heavy-handed vegan meat substitute from way up above. Sweet, spicy, savory, crunchy, chewy — there is a lot going on with the vegetable biryani and remarkably, it all works.