Mexican Street Corn Salad Recipe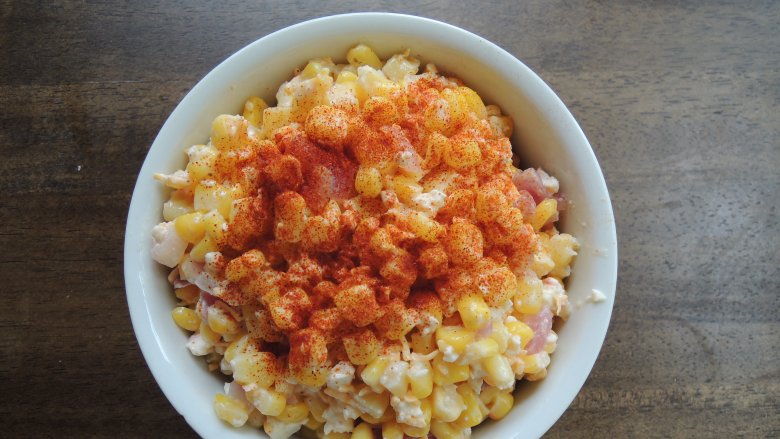 Mexican street corn is grilled and spicy — and it's definitely a summer favorite! It's traditionally slathered with crema, then topped with cotija cheese and cayenne pepper. Today I'm bringing you an easier twist on this Mexican delicacy. We're sticking with ingredients you most likely already have sitting in your cabinets and refrigerator. We're also starting with frozen corn, simply because it's easier and just as delicious once cooked, but if you've picked up some tasty ears of corn, feel free to use those, instead. You could easily whip this up before a barbecue or picnic — or just for a side to serve on taco night. It's fast, packed with flavor, and keeps well in the refrigerator. Let's dive in!
Gather your ingredients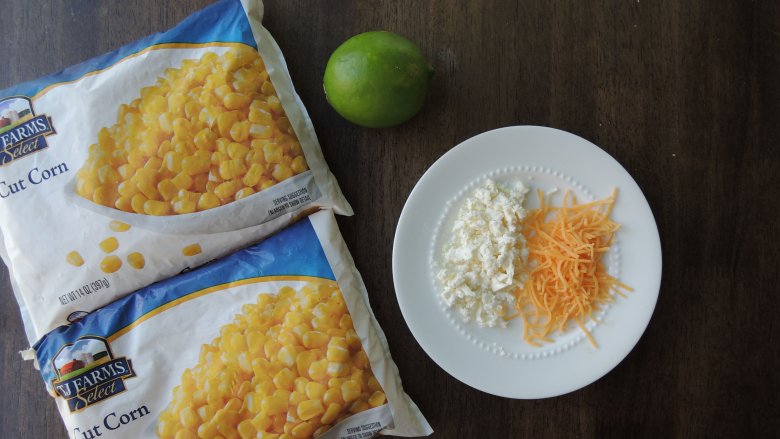 Let's start by gathering our ingredients. I used two bags of frozen corn, simply because frozen is so much faster and easier — no need to husk or grill. You don't need to thaw the corn either. Just pull the bags out of the freezer, and you're ready to rock. 
Next we'll be using two types of cheese. I chose shredded cheddar cheese, because it melts and holds the salad together nicely. We're also using crumbled feta cheese, instead of cotija. It gives this salad a nice zing and changes it up. Make sure to choose the regular feta, instead of fat-free — you won't get the same texture and creaminess from the fat-free version. You'll also need a lime and half of an onion. I used a red one, because I think that flavor goes well with the corn, but feel free to use any kind you have in your refrigerator. 
A full list of ingredients and step-by-step instructions can be found at the end of this article.
Chop the onion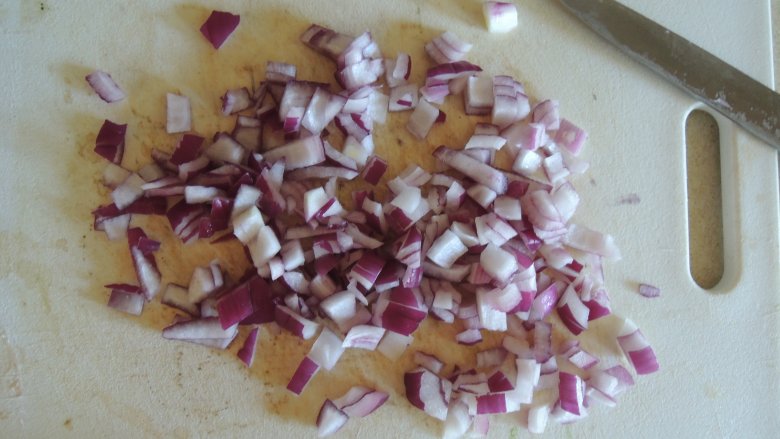 Start by preparing your produce. Using a sharp knife, dice the onion into small pieces. We'll be cooking it first to take away some of the intense flavor. Once it's chopped, set it aside. 
Saute the corn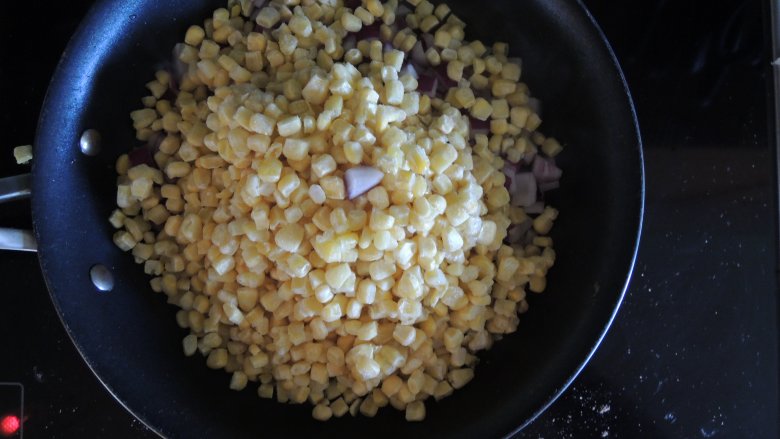 Next place a medium saucepan over medium heat and pour about a tablespoon of olive oil into the pan, swirling to coat the entire pan. Once the oil is heated, add the diced onion and both bags of frozen corn. 
Toss to coat the mixture with oil and cook for about ten minutes. You'll know when the corn is ready, because it'll be warm, and the onion will be fragrant and translucent. Once that lovely onion smell covers the air, it's time to remove the pan from heat and allow it to cool for a minute. 
Juice the lime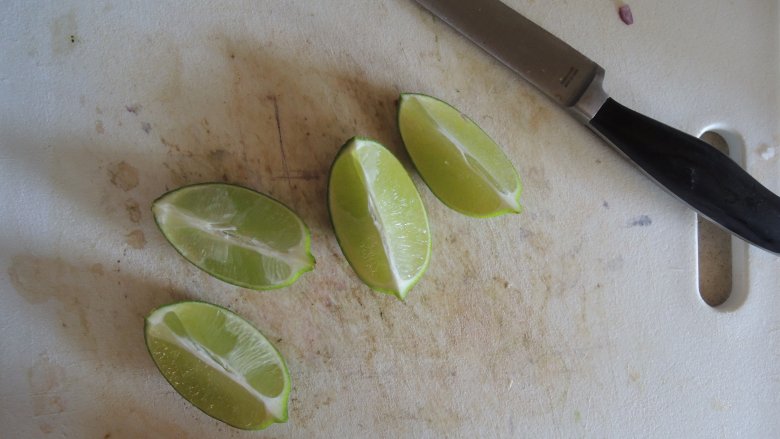 While the corn is cooking, you can go ahead and prepare the sauce. Start by juicing the lime. Before cutting into the lime, make sure to roll it on the counter with a flat palm. Rolling it back and forth will loosen the pulp and help the lime juice come out easily. No hand cramps required! I like to cut mine in half length-wise, then again to create four wedges.
Start the sauce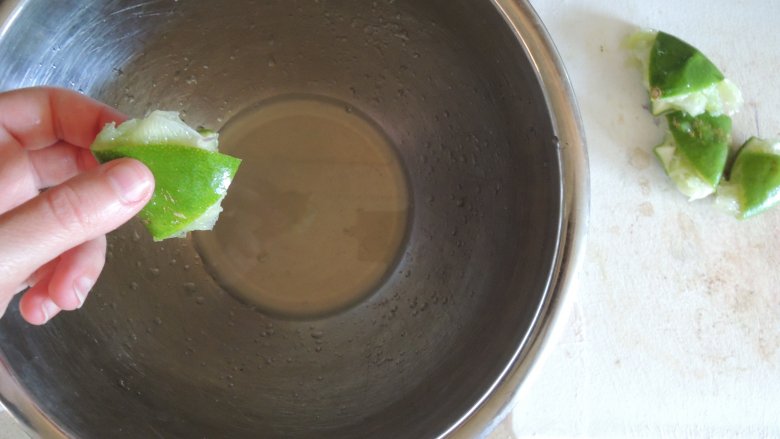 Take out a large mixing bowl and squeeze all four lime wedges into it. Once the limes have been squeezed in, throw away the used lime peels and rinse your hands.
Get cheesy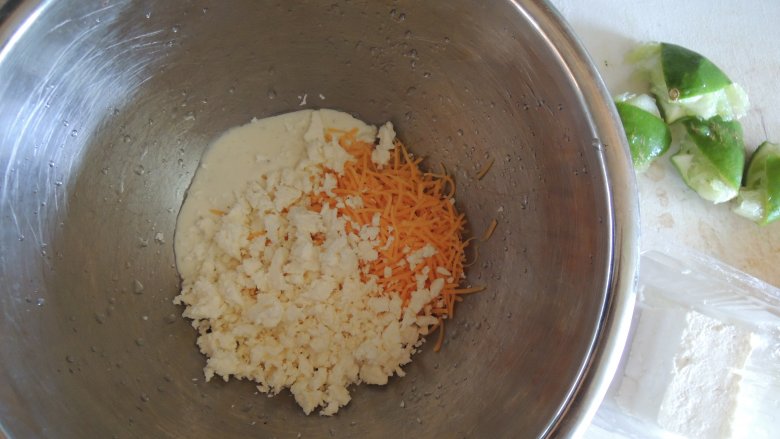 Next it's time to add the fun stuff... cheese! Pour in one-quarter cup of ranch dressing. I use an olive oil-based dressing for the flavor and healthy fats. Then sprinkle in the shredded cheddar cheese and crumble in the feta. Aim for a blend of small and large crumbles. 
Add the heat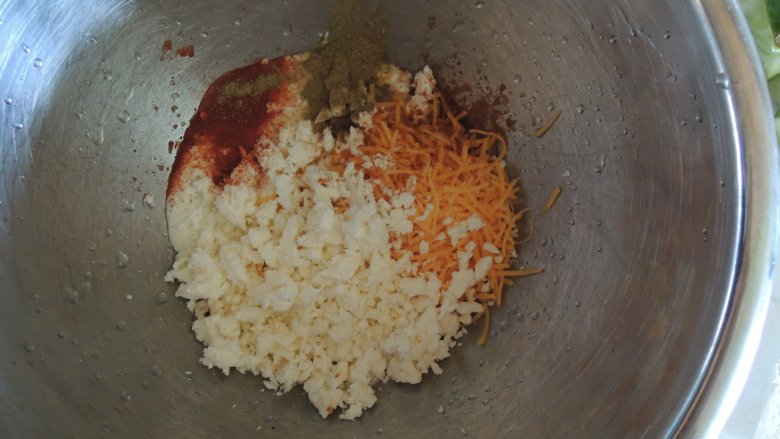 Next, add your spices. Sprinkle in the paprika, cumin, garlic salt, and red chili powder. We're using just a dash of chili powder, but if you prefer more heat, feel free to add more. We'll also sprinkle some on top when you're ready to serve.
Add the corn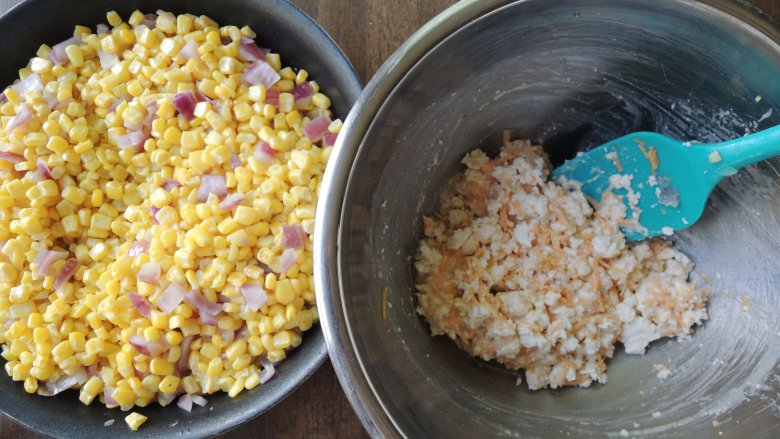 Once your corn and onion mixture have cooled for a minute or two, pour it into your cheesy sauce. It's okay for the corn to still be warm — you just don't want it still steaming. 
Mix the salad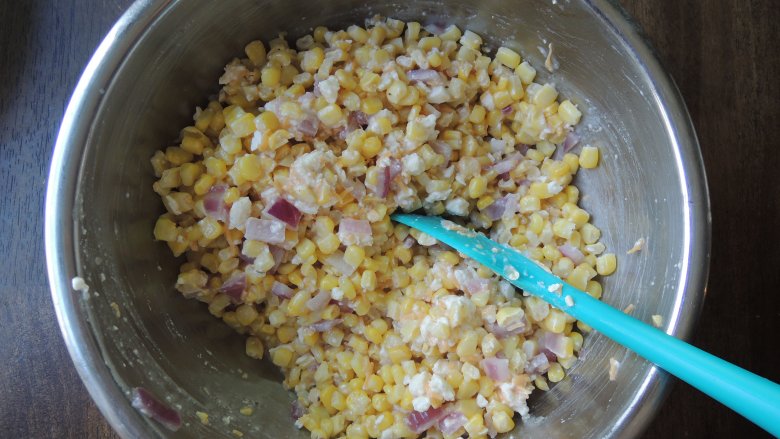 Mix your salad well and make sure the corn is completely coated in the sauce. Taste as you go and add more spice if you like. 
Once the salad is mixed, place it in the refrigerator to cool. It should cool for at least an hour. You could also place it in the freezer if you're in a hurry for your fiesta — just don't let it freeze! When you're ready to serve, remove the Mexican street corn salad from the refrigerator and pour it into your serving dish. Sprinkle a dash of paprika and a little chili powder over the top for garnish. Serve and impress your party guests!
Mexican Street Corn Salad Recipe
Today I'm bringing you an easier twist on Mexican street corn. It's fast, packed with flavor, and keeps well in the refrigerator.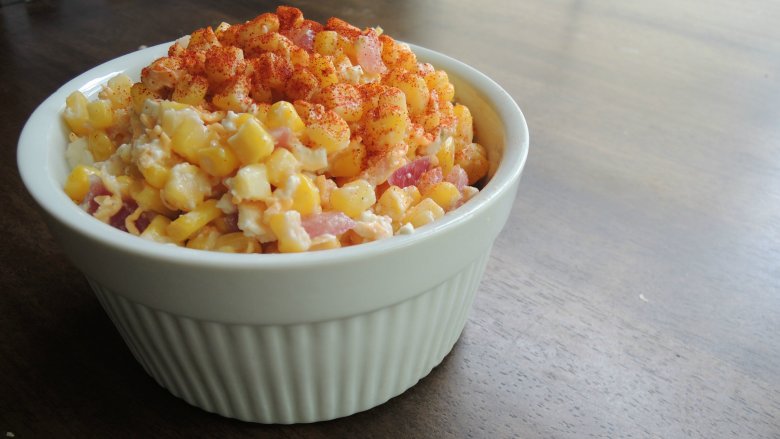 Ingredients
Extra virgin olive oil
½ red onion
1 lime
2 (14-ounce) bags of frozen corn
8 ounces feta cheese
½ cup shredded cheddar cheese
¼ cup ranch dressing
½ teaspoon garlic salt
¼ teaspoon paprika
½ teaspoon cumin
Dash of red chili powder
Directions
To prepare the produce, dice the onion and cut the lime into quarters.
Heat a medium saucepan over medium heat and coat with olive oil. Once hot, add the diced onion and both bags of frozen corn (no need to thaw). Cook until the onion is fragrant and the corn is warmed, about ten minutes.
Meanwhile, prepare the sauce. In a medium to large bowl, squeeze in the juice of the entire lime. Pour in the feta cheese, cheddar cheese, and ranch dressing.
Add the garlic salt, paprika, cumin, and chili powder. Stir until well-mixed.
Once cooked, remove the corn mixture from heat and allow to cool for about two minutes. Pour into the large bowl and toss to coat in the cheese sauce.
Place the bowl in the refrigerator until cooled.
When it's time to serve your dish, remove the bowl from the refrigerator and pour into your serving bowl. Sprinkle with a dash of chili powder and enjoy!
Nutrition
| | |
| --- | --- |
| Calories per Serving | 249 |
| Total Fat | 14.8 g |
| Saturated Fat | 6.6 g |
| Trans Fat | 0.1 g |
| Cholesterol | 34.4 mg |
| | |
| --- | --- |
| Total Carbohydrates | 24.1 g |
| Dietary Fiber | 2.5 g |
| Total Sugars | 4.5 g |
| Sodium | 378.1 mg |
| Protein | 9.0 g |