Every Trader Joe's Chicken Sausage, Ranked From Worst To Best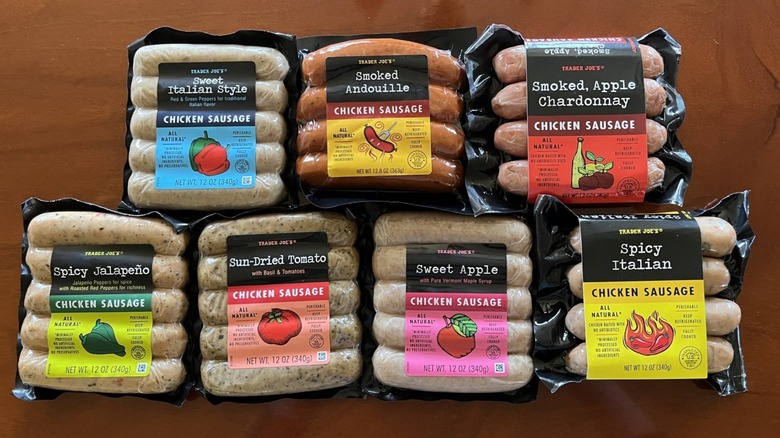 Sarah Gardner/Mashed
Any fan of Trader Joe's knows that the grocery chain tends to go the untraditional route with their food roster. Case in point: TJ's sausages. While you will come across a limited selection of standard pork links in the refrigerator case, chicken, not pig, is the preferred animal of choice when it comes to sausages there.
But going with poultry isn't merely about being different. According to Food Network, compared to its pork peers, chicken sausages tend to be lower in fat, calories, and sodium. But that doesn't necessarily mean you'll be sacrificing taste. However, since these sausages are all fully-cooked, you are starting at a bit of a downgrade, though the prospect of not having to worry about consuming raw chicken is definitely a plus. Some options, which in this case include the standards as well as flavors that go beyond the familiar, are better than others. In fact we've tried every chicken sausage available at Trader Joe's in order to give you an idea of which ones deserve preferential space on your grill and those which don't quite cut the mustard. (Do note that the Trader Joe's inventory is in flux, and these were the chicken sausages that were available at the time of publication.)
8. Spicy Italian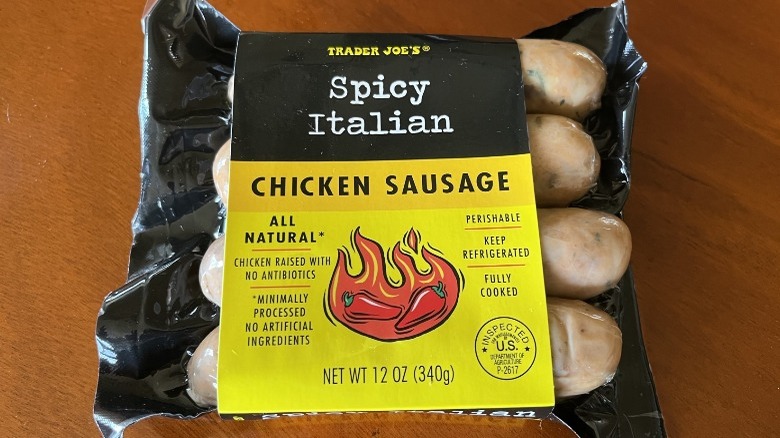 Sarah Gardner/Mashed
Like the rest of the sausages on this list, the Spicy Italian is, per the package, prepared with chicken that is free of antibiotics. Plus, the sausage is minimally processed and includes no artificial ingredients, so points for all of that. But Spicy Italian stands alone in its lack of flavor and general meh-ness, which is definitely not a good thing.
As we mentioned earlier, Trader Joe's thrives when it's thinking outside the box, and spicy Italian sausage is as middle of the road as it gets. There are no bells and whistles, just a hint of heat and an otherwise bland assortment of seasoning. Because it was so boring, the sausage's dryness was all the more apparent relative to the juiciness that we've come to expect from a fresh pork spicy Italian link. One other thing to note is that while this is a chicken sausage, the casing is made of pork, so if you're kosher, halal, or otherwise trying to avoid porcine products, you'll want to skip this one.
7. Sweet Apple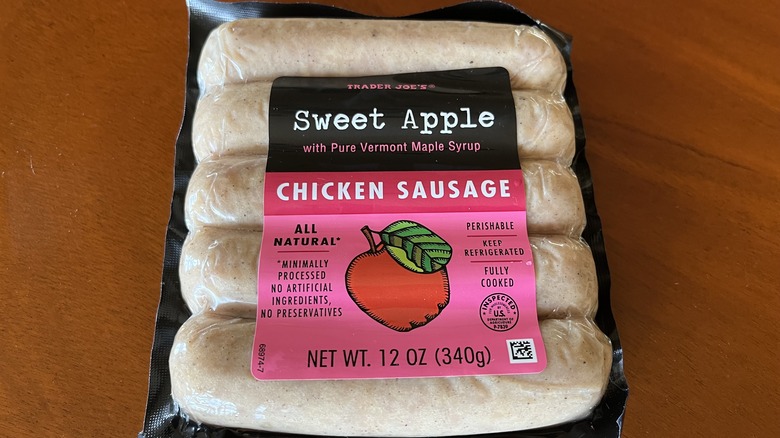 Sarah Gardner/Mashed
When we sparked up the grill and did a side-by-side tasting of the full Trader Joe's chicken sausage lineup, Sweet Apple was unanimously panned as the worst of the bunch. Granted, the package is up front about the sweetness of the product, thanks to a combination of fruit and "pure Vermont maple syrup," but the taste is on the verge of cloying. So why isn't this is at the bottom of our list? Well, when we tried the sausage a few mornings later, the situation improved. It's certainly more at home served alongside a pile of flapjacks, chopped into an egg scramble, or sliced and nestled into a homey omelet. 
This sausage is 100% intended for a cozy, comforting wake-me-up meal. While we would not recommend serving the Sweet Apple sausage past brunch-time (unless you're one of those breakfast for dinner recipes fans), but if you're running a bed and breakfast in, let's say, Nantucket, go ahead and stock up. Another possible upside for some shoppers: Unlike some of the other sausages on this list, Sweet Apple comes sans casing, which means it is entirely pork-free.
6. Garlic Herb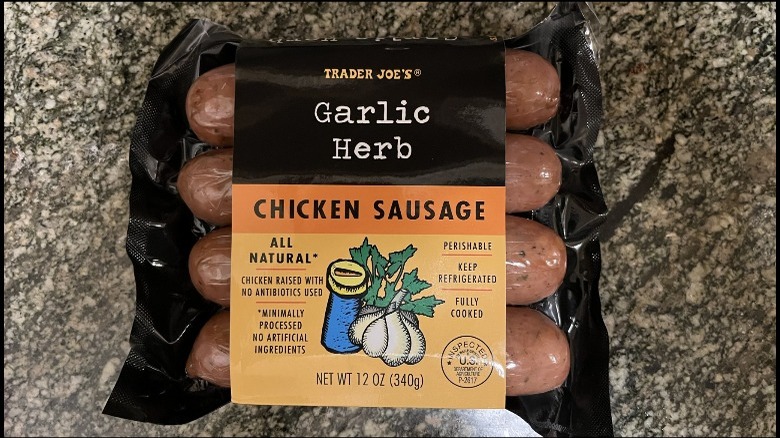 Sarah Gardner/Mashed
"Inoffensive" was the first word that came to mind when we sampled this sausage. It had a nice snap and seemed slightly juicier than some of the other sausages we tried, perhaps because of their size (while most of the Trader Joe's chicken sausages come five to a 12-ounce pack, Garlic Herb included four 3-ounce links).
Joining the garlic is a mix of familiar ingredients such as parsley, basil, roasted onions, oregano, black pepper, and white pepper as well as some deeper cuts like celery juice powder and marjoram. But nothing in particular stands out, so if you're fearful of post-meal garlic breath, you can breathe easy. Basically, if you're looking for standard sausage with a touch of smoke, this will fit the bill nicely. However, for those wanting some more "oomph" in the flavor department, the sausages below will likely be a better fit for your taste buds.
5. Spicy Jalapeño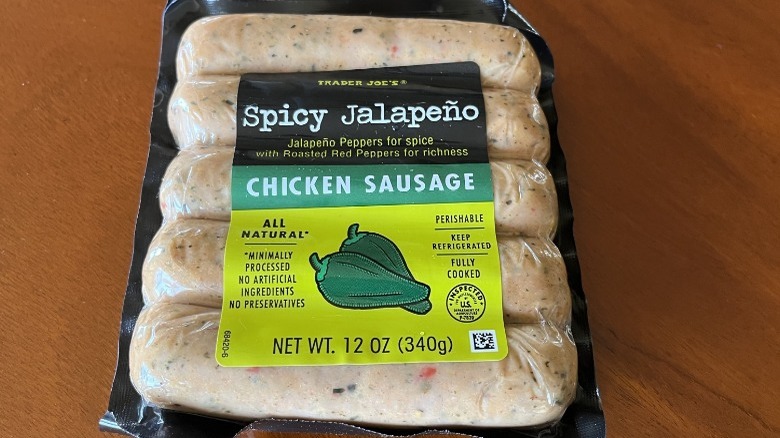 Sarah Gardner/Mashed
The name of this sausage is a bit misleading on both accounts. First of all, spicy is certainly a stretch — while some heat is detectable, it's more of a flame from a Bic lighter than a full on conflagration. And while jalapeño is the highlighted pepper, a look at the ingredients list indicates that red pepper is actually more prominent in the sausage. (If you read the fine print, however, the package does indeed indicate that there are "roasted red peppers for richness" and "jalapeño peppers for spice," so at least there is some accountability that two peppers are at play.)
While the sausage doesn't exactly live up to what's on the marquee, it did provide for an enjoyable bite. While the jalapeños offered a muted hint of spice, their essence was detectable, offering pleasantly sweet, subtle heat. The taste reminded us of the Jalapeño Kettle potato chip flavor, which we quite enjoy. Perhaps letting the roasted red peppers dominate was a good thing after all, because they delivered on that promise of "richness." 
Our advice: If you're absolutely craving a sausage that will get your palate fired up, slather your Spicy Jalapeño with some spicy brown mustard and all will be well. And for those looking for a sausage sans pork, this is another option that comes without a casing.   
4. Sun-Dried Tomato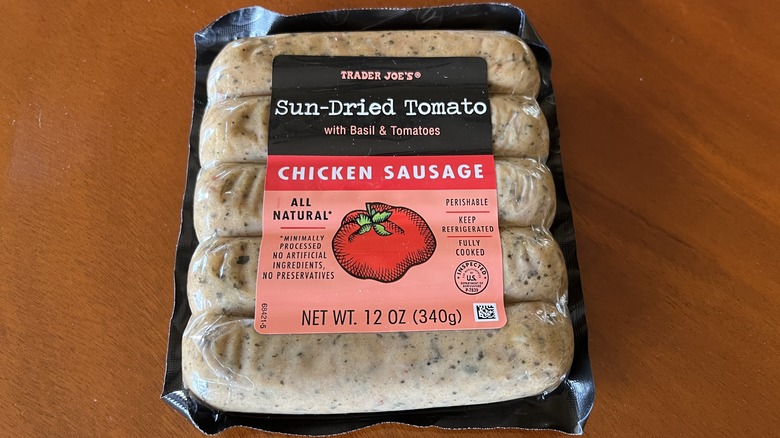 Sarah Gardner/Mashed
If you're looking for a failsafe sausage dish that everyone can enjoy that's also a tad different than the norm, here you go. Beyond the sun-dried tomatoes, which are front and center on the package, it's also seasoned with basil which, like the roasted red peppers mentioned right above, perhaps deserves higher billing. While that welcome herbaceous note is front and center, the sun-drieds offer a faint concentrated tomato flavor. It's reminiscent of a slice of sausage pizza, but without the bread. (If you're throwing it in a bun, maybe consider lathering it in garlic butter and topping it with shredded mozzarella).
But does the Sun-Dried Tomato chicken sausage fall into the repeat purchase category? Yeah, we think so, especially for family feeding. The main ingredients are broadly appealing and also raised to a level of sophistication that can make parents feel okay about, more or less, having hot dogs for dinner yet again.
3. Smoked Andouille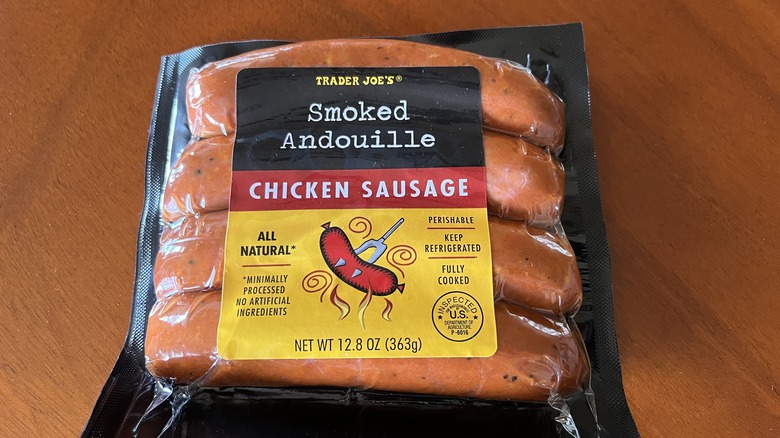 Sarah Gardner/Mashed
After sampling the two sausages specifically labeled "spicy," we were beginning to wonder whether Trader Joe's took a generally conservative stance on bringing the heat. And then when we tried the Smoked Andouille and the reaction was universal — now that's a spicy sausage! Just keep in mind that you'll need strong chompers to bite through the impressively thick skin on this meat tube (perhaps that's why this package is 12.8 ounces rather than the standard 12 ounces). It has a distinct snap when you cut or bite into it that can verge on crunchy if it's overcooked, so watch the grill so it doesn't char.
Then, assuming you got the right sear on the sausage, you'll face the tear-inducing spiciness within. Depending on your Scoville sensitivity, that could either be a deterrent or a draw. You might not think much of the heat level at first, but trust us, give it a few seconds and then it really hits you. Beyond the spice, the Smoked Andouille is bursting with Cajun flavor. 
Even though it's made with ground chicken, in a blind taste test, you couldn't be faulted for assuming it's packed with pork. This is a 4-pack of pure fire, and despite the casing conundrum, we were happy to down this solo, though it would probably be best utilized by slicing it into a decadent gumbo recipe. If you're having it on its own, consider pairing it with a gentle side dish that might cool down your taste buds such as cornbread, collard greens, or sweet potatoes.
2. Sweet Italian Style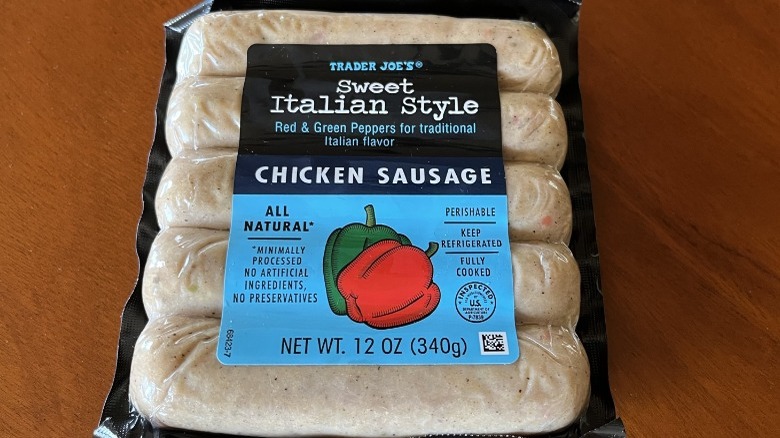 Sarah Gardner/Mashed
With its blend of red and green peppers in the filling, Trader Joe's Sweet Italian Style chicken sausage has a color scheme completely on point with the national flag of its namesake. And we're happy to report that, unlike the sausage's spicy cousin, these happen to taste molto bene. Pronounced notes of fennel give the sausage added depth of flavor. Though we acknowledge that some folks out there find the aromatic seeds of the potent herb a bit off-putting, rest assured that it isn't overly dominant. The real draw comes courtesy of the aforementioned red and green peppers, which offer a gentle kick of heat and sweetness similar to the Spicy Jalapeño.
With all that said, this might not be one the youngsters will appreciate, but for an adult palate, we would highly recommend the Sweet Italian whether you throw it into a bun or opt for a keto approach and pair it with some sautéed peppers and onions sans carbs.
1. Smoked, Apple Chardonnay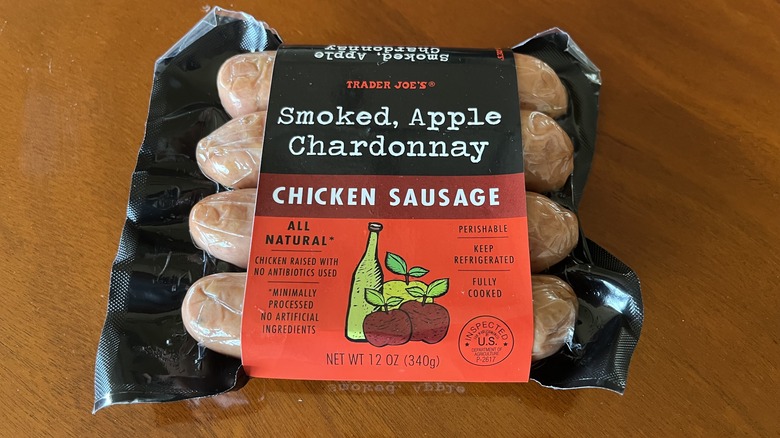 Sarah Gardner/Mashed
Winner, winner, chicken dinner! While beer tends to be the booze that's most closely associated with sausage, apparently wine may just be the better match. The Smoked, Apple Chardonnay is almost like the greatest hits album of the Trader Joe's chicken sausage repertoire. It offers, sweet (ginger and nutmeg join forces with that buttery wine), savory, a touch of spice (white pepper and another shout to ginger, and some smoke, as advertised). Not to mention, it's squarely in the TJ's wheelhouse of kinda crazy culinary concoctions.  Even after an incredibly filling sausage feast, this is the link that our tasting collective kept coming back for more bites.  
This is bound to be a banger year-round, but for your next Independence Day barbecue, the Smoked, Apple Chardonnay chicken sausage is a menu must. We'd recommend serving this with a condiment that isn't overpowering, so amongst popular mustards, French's Classic Yellow would be an ideal pairing — along with a glass of white wine, of course.