Cracker Barrel Sells More Rocking Chairs Than You Might Think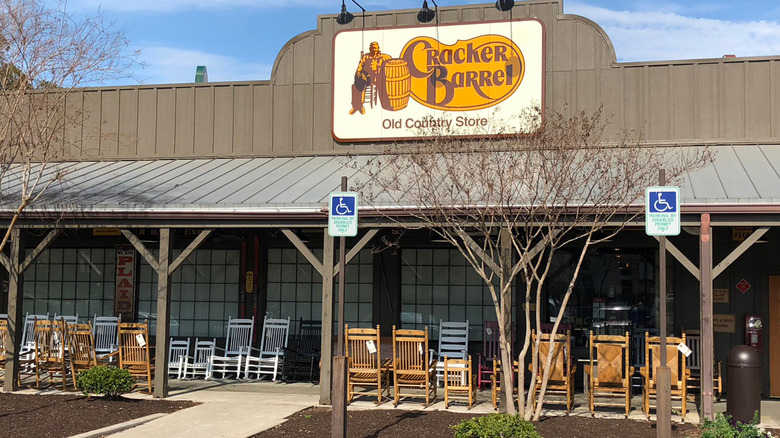 James R. Martin/Shutterstock
Cracker Barrel, the restaurant chain specializing in Southern cuisine that has been an American staple since 1969, is beloved for its values that establish feelings of hospitality and warmth, according to the brand's official website. The Cracker Barrel menu includes fare that pays homage to traditional Southern comfort foods, including homestyle breakfast dishes, fried chicken, dumplings, meatloaf, casseroles, fried okra, cobbler, sweet tea, and more.
In addition to serving heartwarming meals to families all over the world, Cracker Barrel is also known for its charming gift shops that sell various specialty souvenirs, novelty foods and drinks, toys, games, and dry goods. Many customers are familiar with the triangle "peg game," which keeps diners entertained as they wait for their meals, and which can be purchased from the store connected to the dining room. People also seem to love Cracker Barrel's signature giant checkerboards and its wooden rocking chairs, which can be found on the front patio of each restaurant.
Cracker Barrel sells thousands of rockers a year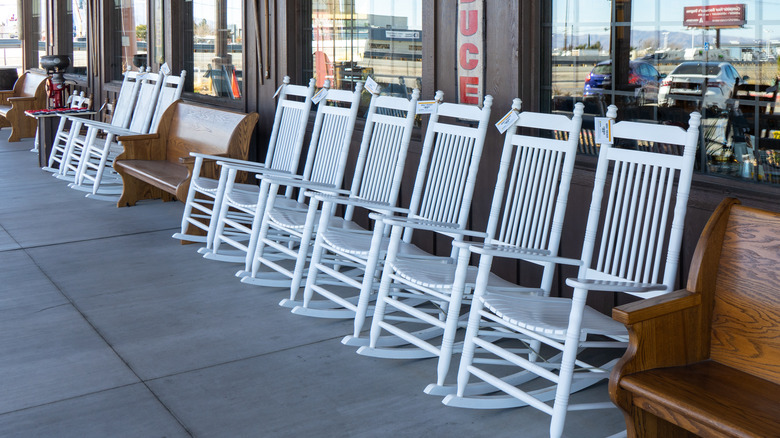 Felipe Sanchez/Shutterstock
If you're ever made to wait to enjoy a meal at Cracker Barrel and the weather is agreeable, you're welcome to take a seat on one of the comfortable rocking chairs outside the restaurant. According to Thrillist, these iconic, handcrafted rocking chairs are manufactured by the Hinkle Chair Company in Springfield, Tennessee, which is located just about an hour northwest of the Cracker Barrel headquarters in Lebanon, Tennessee.
So, just how beloved are these rockers? The chairs, which have become an integral part of the Cracker Barrel brand, are sold to hundreds of thousands of customers each year — around 200,000, as noted by Thrillist. In fact, the sixth-generation business has been building rocking chairs for nearly two centuries, per the company website. Not sure when you'll next make it to the Southern-style eatery? Well, bless your heart, because you can buy a rocking chair (or a set of chairs) for your home online through the Cracker Barrel website — or directly from Hinkle. Rock on.