Here's What Was On Curtis Stone's Plant-Based Menu At The SAG Awards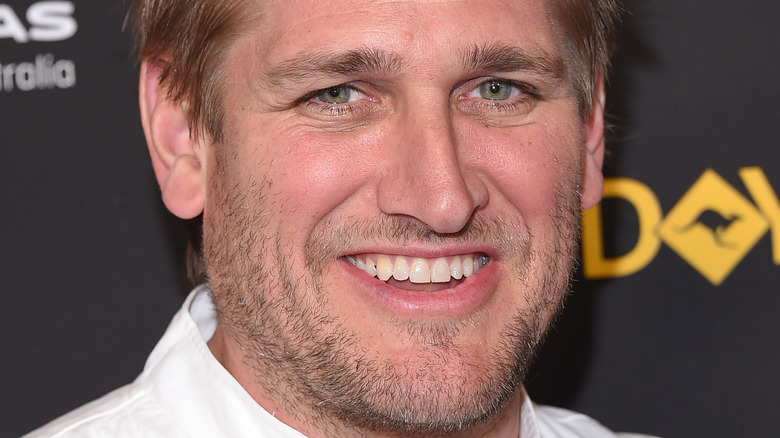 DFree/Shutterstock
The Screen Actors Guild Awards are one of Hollywood's most important and anticipated nights. Some of the biggest celebrities from television and movies attend the glamorous event every year, and this year's event, the 28th annual fete, was no exception. On hand were Michael Keaton, Will Smith, Andrew Garfield, Helen Mirren, the cast of "Squid Game," and many more.
Unlike the Academy Awards, the SAG Awards are a dinner affair, and this year, the chef with the intimidating task of feeding the elites of the entertainment world was Curtis Stone of "Crime Scene Kitchen." The 46-year-old Melbourne, Australia, native is more than just a television personality. He has serious cooking credentials. The Michelin-starred Stone (who got the honor for his restaurant Maude), trained in elite London and New York restaurants, and has earned several awards, as well as a James Beard Nomination, for his Los Angeles restaurants (per Star Chef). 
Stone created, and with a large team of assistants, executed a delicious and beautifully Instagram-worthy menu for the roughly 700 attendees of the star-studded event held at the Barker Hangar in Santa Monica, California. Stone told People magazine that his menu emphasized fresh, local ingredients and plants, although salmon was also an option. Inspired by Southern California's plentiful produce, Stone wanted his menu to reflect the region's locally grown bounty. He partly achieved this by cooking them all [the vegetables] differently" and showcasing "lots of different technique[s] on the plate."
Stars enjoyed salmon as well
Celebrity chef and restaurateur Curtis Stone served up a diverse plant-centric menu for the 2022 SAG Awards. Highlights included turmeric roasted cauliflower atop a mint and quinoa salad (via People). Also on offer: sweet potatoes prepared with curry, coconut, cilantro, and cucumber. Those seeking a pescatarian option could choose salmon rillettes cooked with lemon and capers and finished with crème fraîche and dill. Additionally, the menu featured artichokes and mushrooms served with a truffle dressing. "It's all delicious," Stone said. 
The meal was accompanied by wine and Champagne: red and white blends from Cooper's Hawk and Champagne Taittinger. Pulling off that huge undertaking, said Stone, required weeks of extensive planning and calculation. He said, "if it takes 10 seconds to put something on the plate, you've got to multipl[y] that by 700 so now it takes 7,000 seconds. You have to figure out how long it's going to take, how much food you need of course." Stone chronicled the effort on Instagram, where he thanked his team as well as London-based chef Richard Wimbleton, who collaborated with Stone in planning the dinner.
Curtis said the food at an event like the SAG awards should play what  Spectrum News 1 called a "supporting role" so as not to draw focus away from the awards presentation itself. He refrained from being "overly complex," explaining that "we didn't want them to sit there thinking, 'Oh goodness, what am I eating?'"