Parsnip And Potato Mash Recipe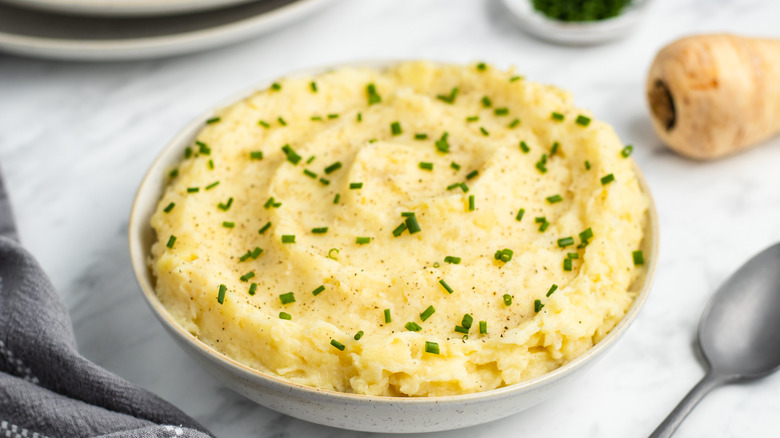 Catherine Brookes/Mashed
If you love mashed potatoes but are looking to add a fun twist to them, then we have the perfect recipe for you. These mashed potatoes include parsnips, which add a lot of flavor and health benefits to the dish. According to WebMD, parsnips contain a lot of Vitamin C, which is excellent for helping to strengthen your immune system. They also have plenty of fiber and help with gut health. Plain and simple — they're a no brainer to eat! 
Recipe developer Catherine Brookes of Blue Sky Eating came up with this simple yet innovative recipe, and there are many things to love about it. "The earthy, sweet flavor of parsnips is such a delicious addition to your standard mash! It's a hearty side dish that goes well with so many dinners," Brookes says. "[It's] just a bit of a twist on a classic mash, really." 
Keep reading to find out how to make this tasty side dish that's sure to be a new favorite in your recipe rotation. 
Gather the ingredients for parsnip and potato mash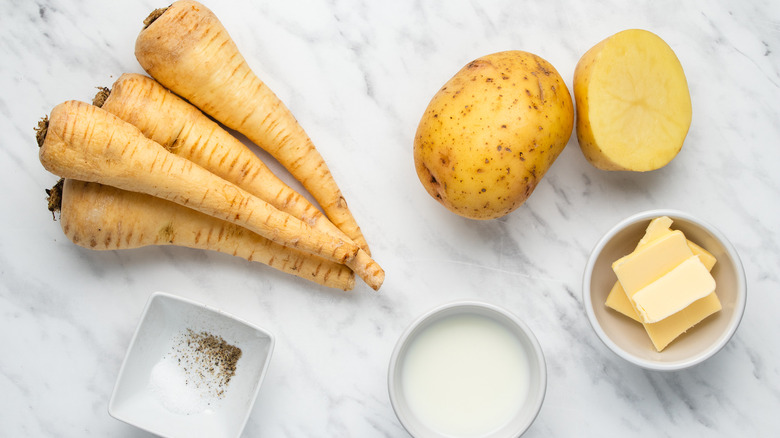 Catherine Brookes/Mashed
The recipe-making process always begins with a list of ingredients. We always like to remind readers to check for items that you may already have at home before heading to the store. The first thing you will need to get is a pound of large baking potatoes. The other bulk of the recipe is parsnips, and you will also need a pound of them. As with most mashed recipes, be sure to pick up butter and milk.
Swing by the spice aisle and grab salt and pepper to taste. Last but not least, you can get a few chives to chop and use for garnish.
Peel and chop the parsnips and potatoes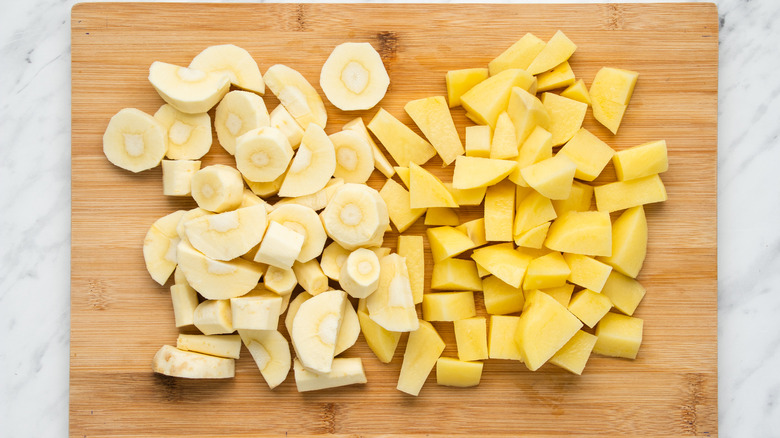 Catherine Brookes/Mashed
Once you're ready to start cooking, grab the parsnips and the potatoes. "[Parsnips add] a unique flavor and texture if you want to switch things up," Brookes says of the parsnip addition. Be sure to wash them and peel the skin from each one with a potato peeler. You can discard the skin since you won't need it for anything else. 
Then, take out a cutting board and a sharp knife. Carefully cut the potatoes and parsnips into ½-inch thick chunks. These do not need to be that exact size, but try to make them close so they cook at the same pace. If you have some bigger chunks and some smaller ones, some will take longer to cook than others. 
Boil the potatoes and parsnips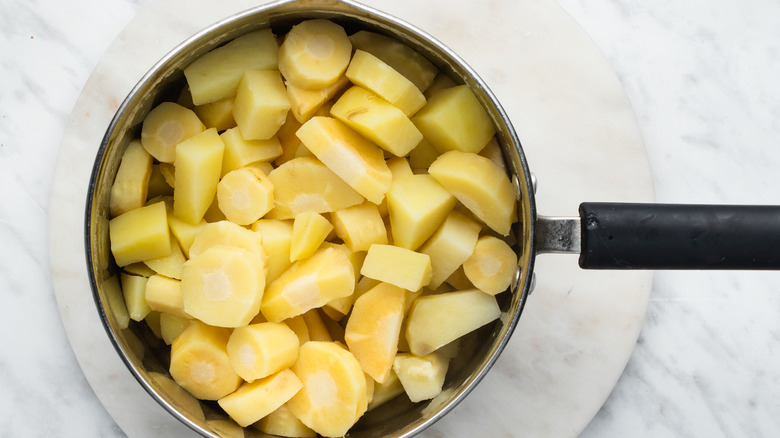 Catherine Brookes/Mashed
If you've made mashed potatoes before, then this recipe should be super simple for you! Grab a large pot and fill it with water. Place it on your range, and once the water begins to boil, you can dump in the cubed parsnips and potatoes. Continue cooking for about 10-15 minutes until the potatoes are fork-tender. By the way, Brookes shares that you can "absolutely" sub sweet potatoes for regular, if you prefer. 
Drain the veggies in a colander and place them back into the pan. Let them sit for 5 minutes, "just to let them steam dry a little," Brookes shares. 
Add the butter and milk before mashing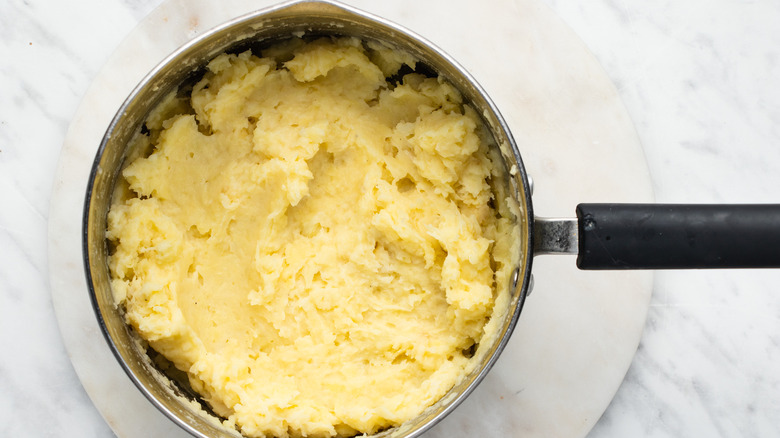 Catherine Brookes/Mashed
Once you've waited the 5 minutes, add the butter, milk, and salt and pepper to the potatoes. Use a potato masher to mash the potatoes and parsnips well. In terms of consistency, you can keep them on the lumpier side or the smoother side — it's completely up to you. Be sure to mix everything together so the potatoes and parsnips are well incorporated. Of course, you also want to be sure to distribute the butter evenly. 
After you finish mashing, transfer the potatoes to a serving bowl.
Serve and enjoy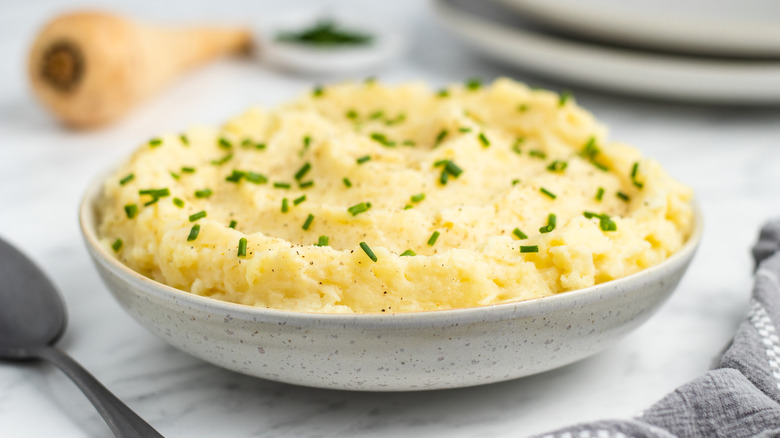 Catherine Brookes/Mashed
Once you put the parsnip and potato mash in a serving dish, you can add some extra black pepper and chopped chives on top. There are plenty of good options to serve these with. "Roast chicken, fish or other meats," suggests Brookes. "You could also add some grated cheese on top." We love the idea of grated cheese on top for cheesy potatoes! 
Be sure to keep leftovers as they will be just as yummy the next day. "Leftovers will keep well in the fridge up to 3 days," Brookes shares. 
We hope you love this fun twist on classic mashed potatoes.
Parsnip And Potato Mash Recipe
When you're looking for a twist on classic mashed potatoes, this recipe for parsnip and potato mash is sure to hit the spot. It's quick, easy, and delicious.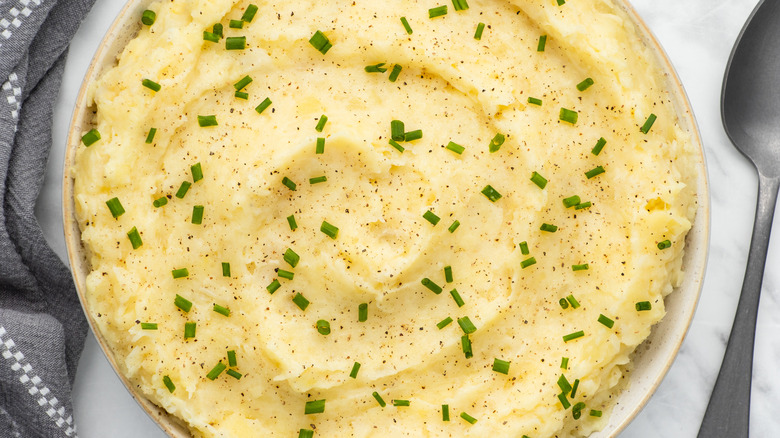 Ingredients
1 pound large baking potatoes
1 pound parsnips
4 tablespoons milk
4 tablespoons butter
salt and pepper, to taste
Optional Ingredients
fresh chopped chives to garnish
Directions
Peel the parsnips and potatoes and chop them into approximately ½-inch thick chunks.
Add the parsnips and potatoes to a large pot of boiling water and cook for 10-15 minutes, or until fork-tender.
Drain the veggies and return them to the pot. Let them sit for 5 minutes.
Add the milk, butter, and the salt and pepper to the pot and mash with a potato masher. You can leave the mash slightly chunky, if desired.
Transfer the mash to a serving bowl and top with extra black pepper and chopped chives, if desired.
Nutrition
| | |
| --- | --- |
| Calories per Serving | 288 |
| Total Fat | 12.5 g |
| Saturated Fat | 7.7 g |
| Trans Fat | 0.5 g |
| Cholesterol | 32.0 mg |
| | |
| --- | --- |
| Total Carbohydrates | 42.1 g |
| Dietary Fiber | 7.2 g |
| Total Sugars | 6.9 g |
| Sodium | 597.1 mg |
| Protein | 4.5 g |