What Are Parsnips And What Do They Taste Like?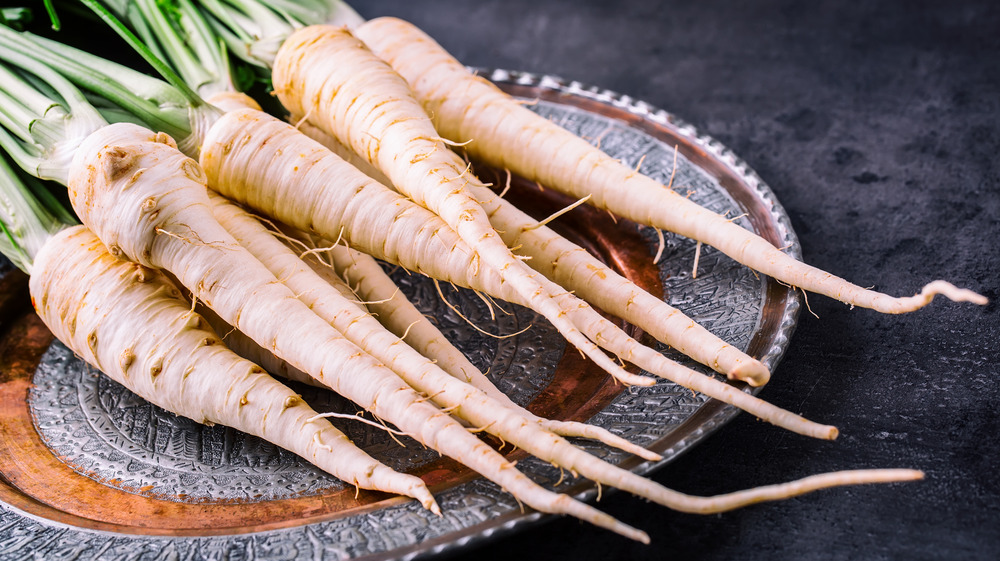 Shutterstock
Picture a carrot, but completely white — as though it had been drained of all color by the veggie-sucking, vampire rabbit in the Bunnicula books. Now you know what a parsnip looks like! If you've never tried or even seen one, you're not alone. According to Medium, parsnips haven't been a popular vegetable in the U.S., even though they're very common across Europe. The article shares that parsnips are typically served with traditional English holiday dinners. Dave's Garden also notes that wild parsnips have been cultivated in Europe going back centuries, and were also very popular with the ancient Romans.
So what's the story with these pale vegetables? According to Britannica, parsnips belong to the same Apiaceae plant family as carrots, parsley, cumin, and celery. The Spruce Eats shares that parsnips are root vegetables like carrots. While they can be gathered in the fall, it's worth leaving them in the ground into the winter as this makes them sweeter. Parsnips can be prepared in the same ways as other root veggies: boiled, roasted, mashed, or fried.
The flavor of parsnips is really unique, and a little hard to pin down. Fine Cooking describes them as being on the sweet side with a nuttiness, and even "a little peppery." Medium adds that parsnips have a hint of licorice flavor. Not surprising considering anise and fennel are also part of this plant family (via Britannica).
What can you make with parsnips?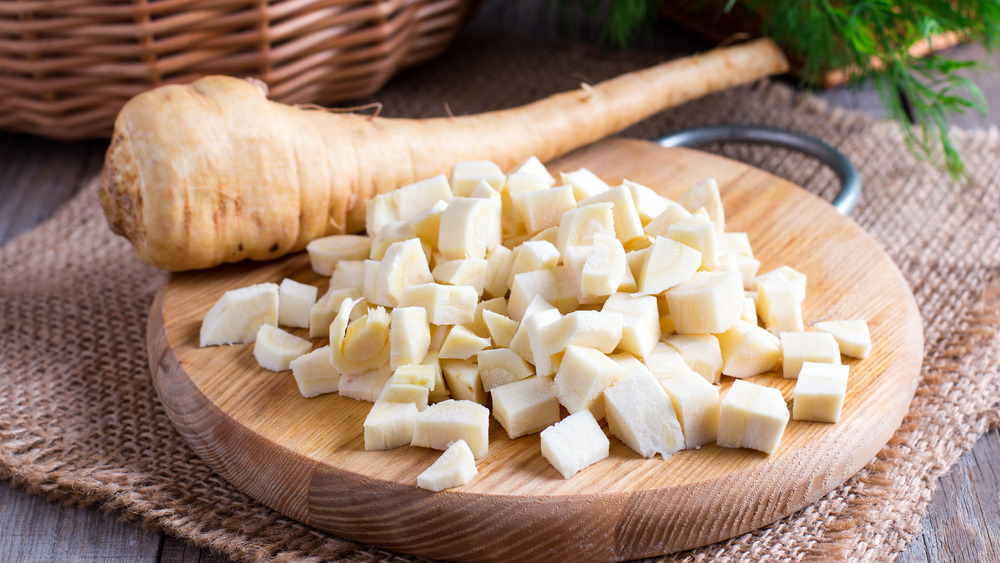 Shutterstock
Not surprisingly, for a vegetable that's been around as long as parsnips have, there are lots of ways to enjoy them. Kitchn recommends peeling away the skins (like you would for carrots) and cutting out the tough core in mature parsnips. Produce Made Simple suggests that the sweet and slightly spicy flavor of parsnips is delicious when paired with fruit like apples and pears, with spices like nutmeg and garlic, and also with carrots or potatoes.
Taste of Home recommends adding them to a pan of vegetables going into the oven to roast, and Bon Appétit explains that you can them cut into matchsticks for Parsnip Fries, or blend them into an elegant purée. And that's just barely scratches the surface of all the recipes available that feature parsnips.
Parsnips are also a surprisingly tasty ingredient in many sweet recipes and baked goods. According to WebMD, parsnips made sweet by winter frosts were widely used across Europe in place of sugar in recipes. Curious? Start with this hearty Parsnip Maple Coffee Cake from Healthy Seasonal Recipes. Or grate them into cupcakes topped with cream cheese frosting, à la Martha Stewart. If you're not quite ready for a parsnip dessert, prepare them as a savory side, but with a sweet apple cider glaze, as shown in this recipe from Crumb.