31% Agree This Is The Worst Brand Of Ketchup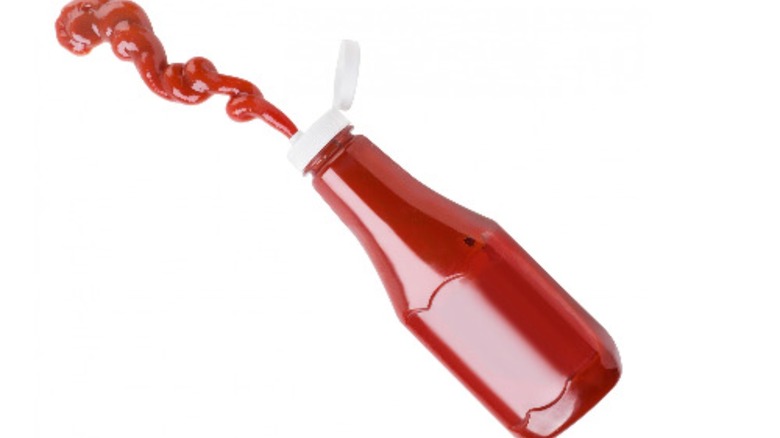 innakreativ/Shutterstock
How do you feel about ketchup? It's one of America's top condiments and is without a doubt a classic combo with certain food items like burgers and fries. (When it comes to ketchup on Chicago's hot dogs, however, there's still plenty of doubt.) While ketchup can be made with different vegetables or even fruits, the version we're all familiar with is slightly tomato-y, a little bit sweet, and a little bit vinegary. There are, however, subtle differences in ketchup from brand to brand, and true ketchup connoisseurs can tell their Heinz from their Hunts from their supermarket generic brands.
In order to determine how these different ketchups stack up against each other, Mashed conducted one of our patented polls of the populace. Six hundred five voces populi answered our call and rendered their opinions on 6 different ketchup brands: the aforementioned Heinz and as well as Del Monte, French's, Market Pantry, and Sir Kensington's. The twist in this tale is that we weren't asking which ketchup they liked best, but rather, which one they'd just as soon do without.
Target's house brand of ketchup may not be such a bargain for respondents
According to our poll, the worst ketchup brand, by a not-insignificant margin, is Market Pantry, a Target house brand. Some Target shoppers do seem to like the price – your mileage may vary, but in some markets, the stuff is currently priced below $1.50 for a 32-ounce bottle. Some unhappy shoppers, however, have commented that Market Pantry ketchup can be watery and way too sweet. Our poll results seemed to bear out the perception that it's not exactly setting the gold standard for ketchup since over 31% said that Market Brand was the worst brand
In second place with 25% of the vote was Del Monte, the lowest-rated of the name-brand ketchups. Hunts was a ways back in third place, disliked by just 14%. Fourth place, with 13.5% of the vote, went to Sir Kensington's, a brand that boasts of being free of high fructose corn syrup. Just 11%, however, disapproved of the ketchup made by French's, the yellow mustard people, while fewer than 5% would pass on Heinz Ketchup, HFCS and all.