Instagram Is Psyched About The Return Of Costco's Chicken Penne Pasta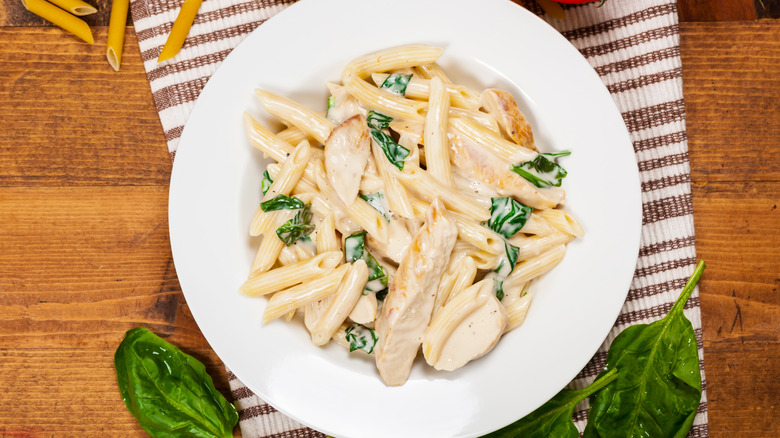 alisafarov/Shutterstock
Keeping some frozen or prepared foods on hand is a great way to make sure you've got a meal when you don't have the time, or the energy, to make dinner. If you're looking to buy in bulk, these are the frozen foods Costco shoppers swear by, which include items you just need to heat and serve, such as salmon burgers and wontons.
But if you want a full meal that's already prepped, Costco's premade foods are a good option. For example, Costco shoppers have raved about the store's affordable chicken alfredo. This cheesy chicken and pasta meal has been spotted once again by the popular Instagram account @costcohotfinds, which is run by mom and self-proclaimed Costco addict, Laura.
According to Laura's Instagram video, this Costco chicken penne pasta is priced at $3.99 per pound, with one package coming out to around $16. This meal comes completely prepped, but not ready to eat. Based on the caption of the post, you'll need to cover the pasta and bake it for 55 minutes before you can dig in.
Costco fans are hyped over the pre-made meal
While you can eat this chicken penne pasta on its own, Costo shoppers are suggesting ways to jazz it up in the comments on Laura's Instagram post. One fan wrote, "So good!! I always add some old bay seasoning on top!" Another commenter said, "So good when you add broccoli and creole seasoning!"
If you need dinner but don't have time to make a meal, this is a dish you can enjoy without the hassle of prepping food. One Instagram user wrote, "We have three in lacrosse right now so their premade section has been heavily repped in our house and will be for the next few months" and another "Used to be my college go to. It fed me all week haha."
Some Costco fans, however, don't believe this dish can feed six mouths. One wrote, "6 people? Not in an Italian clan" and another said, "more like two servings (both for me)." We're not sure how much you can eat on your own, but if you do buy this pre-made pasta, make sure you get enough to feed everyone at the dinner table.
If you don't have a Costco membership, or your local store doesn't carry this item, you can still enjoy a delicious chicken and pasta dish. Try this chicken alfredo recipe or if you like more spice, here's a creamy cajun chicken pasta dish.