Costco Shoppers Love This Affordable Chicken Alfredo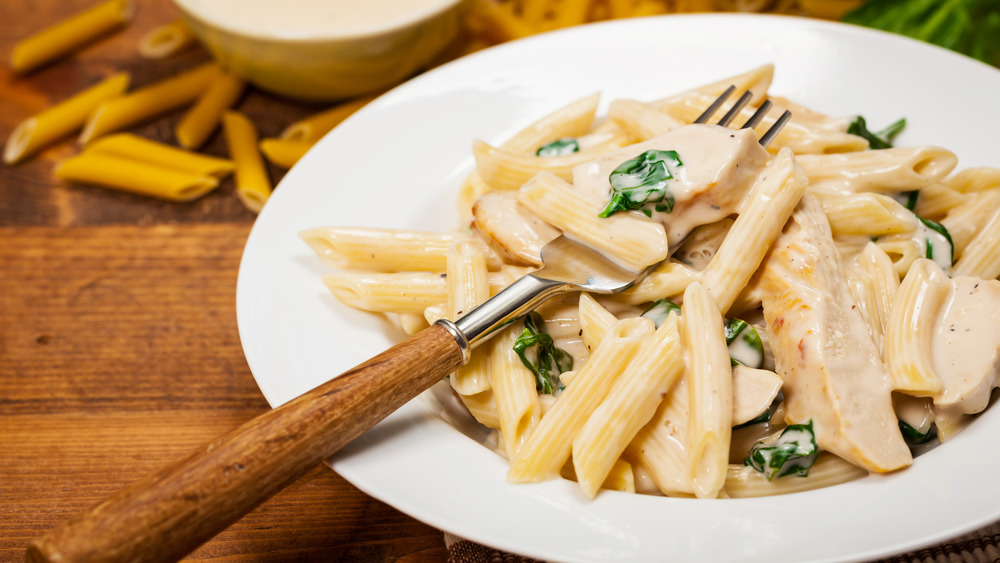 Shutterstock
On a cold winter's night, there are few things more satisfying than the creamy, carb-laden goodness of pasta with alfredo sauce. Add in some chicken for extra protein, and you have the perfect filling, satisfying meal. But if you don't feel like sweating over a hot stove to bring this comfort food fantasy to life, never fear, because Costco has you covered. The supermarket is now selling a pe-made creamy chicken alfredo, topped with parsley and parmesan cheese, that is ready to eat. All you have to do is heat and enjoy.
Instagram user @costcobuys asked their followers: "Have you guys tried the chicken Alfredo from Costco? It looks good...I'm excited to try!" (via Instagram). Their followers had only good things to say about the tasty and convenient dinner. Instagram user @jackie_lashes91 replied: "I just bought it this week for dinner and paired it with some garlic bread, easy and delicious! Enjoy!" Another follower, @annmarieprince, simply raved: "It's a favorite in our household!"
Costco shoppers appreciated the large portion size of the chicken alfredo
While the rich, creamy flavor was a hit with Costco shoppers, many people were also pleased to see they were getting a good value for their money. The packaged Chicken Alfredo on @costcobuys' page showed 4.08 pounds of food for $16.28. The generous portion size makes it the perfect item to satisfy a large family, or for an individual to purchase when strapped for time. 
During a busy week, many people appreciated the convenience of having leftovers already prepared and ready to eat. Instagram user @beemerzmom, wrote: "This stuff is awesome. I buy one for my mom..divide it up into 4 meals and freeze. All she has to do is microwave. She loves it and I feel like she's gotten a decent meal. It's PACKED with chicken." User @barbmilkec confirmed: "It is sooo good! It freezes well," so if you don't plan to eat it all in one sitting, you don't have to worry about food going to waste. You can simply defrost and reheat the meal whenever you are in the mood for an indulgent pasta dish. In fact, Cheapism put the Chicken Alfredo on its list of Costco's best prepared meals to feed the family.
Other shoppers suggest pairing it with Costco's salad, fresh bread, and a dessert from their bakery to make it a complete, satisfying meal. It is available in Costco's Prepared Food section for just $3.99 a pound, according to @costcobuys' Instagram.