The Secret Detail In Trisha's Southern Kitchen You Probably Never Noticed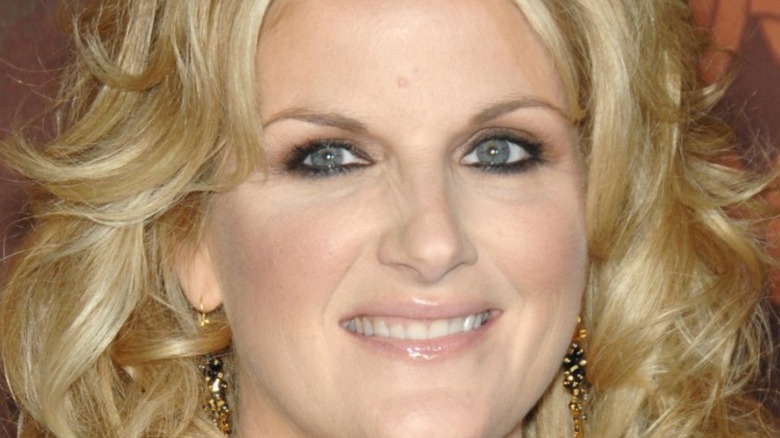 Featureflash Photo Agency/Shutterstock
Country music singer Trisha Yearwood may be best known for her musical career which, per the Recording Academy, has earned her 3 Grammys and 27 nominations — but her cooking savoir-faire is not too far behind. Yearwood has been a part of the Food Network family since "Trisha's Southern Kitchen" made its way onto the food channel in 2012 (via IMDb). Now, the wife of Garth Brooks is sharing some of the secrets from her kitchen studio. 
Yearwood shared in a video posted on Twitter by Delish.com that the kitchen where she cooks on the show is a "real kitchen" in a "real house" that she has owned for 20 years. Yearwood dribbles out some fun trivia along the way, noting it is her first "house" where she does all things "Trisha." She has even dubbed it her "happy place." Yearwood went on to explain it is a "working kitchen set," which means it always looks TV-ready. If you need further translation, that means no kids or husbands are running in and out, leaving a trail of Goldfish crackers or potato chips on the floor.
But a picture-perfect kitchen is not the secret detail Yearwood revealed that has us feeling "in the know." In fact, it is so "cleverly" done, you probably haven't noticed it. 
It's called 'Greeking'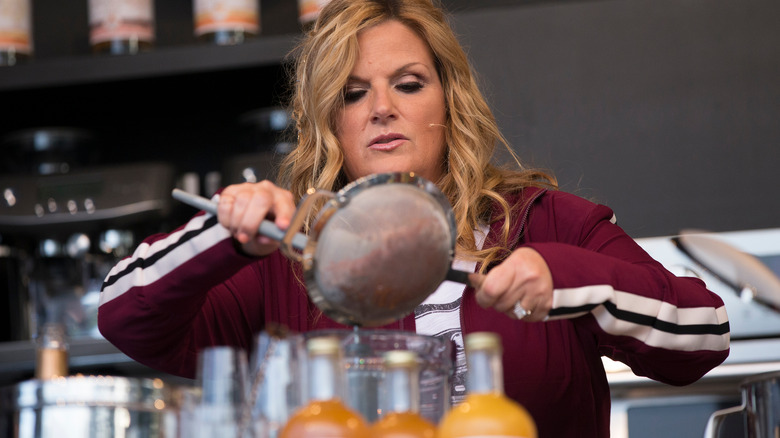 Sterling Munksgard/Shutterstock
During her tour with Delish.com, Yearwood shared a little secret about the products she uses from the "pantry," which she explains is "just a cabinet." She told viewers that her team keeps it stocked with all of the essentials and "whatever we need for whatever we're making on that day." Sounds like a dream come true, right? Yearwood refers to these ingredients as the "show stuff," but this is where you want to lean in, as the cookbook author gives the insider information. 
Yearwood points out they've hidden the brand names on the items in the cabinet, and shares the terminology for this in the biz is known as "Greeking." Instead of a can of Hunts Tomato Sauce, there is just a can with a label that reads "Tomato Sauce." "We make this look cute and real, and nobody notices that the brand is not on there, but it's not on there," Yearwood reveals. That being said, we are impressed the show doesn't try to overly influence viewers about what brand of an ingredient they should use, and we really do feel like we are "in the know." Thanks, Trisha!