Is This How Italian Subs Were Created?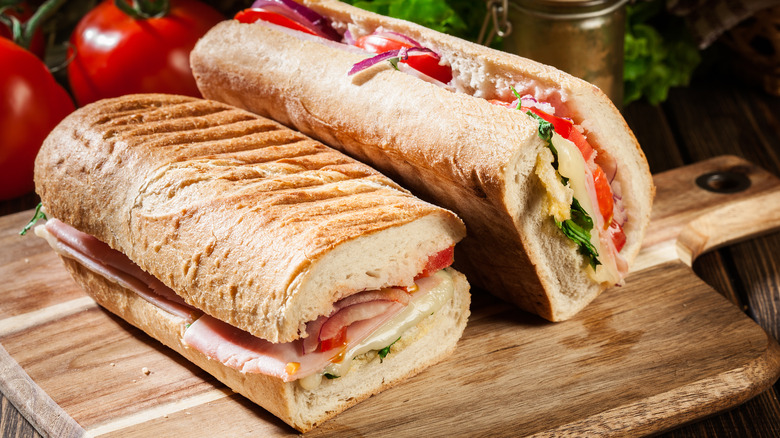 Slawomir Fajer/Shutterstock
Sandwiches come in all shapes and sizes and are layered with elements from just about every food group. Just about every culture around the world includes sandwiches, from the American PB&J to the French croque-madame to the Danish smørrebrød to the Venezuelan arepa (via The Spruce Eats). And when you think of a sandwich of Italian origin, a crusty, chewy, spicy, wholesome sub decked out with mouthwatering ingredients likely comes to mind.
How did this edible masterpiece come to be? An estimated 4 million Italian immigrants entered America between the late 1880s and the early 1920s, a time known as "The Great Arrival," according to the Library of Congress. Along with very few personal belongings, they brought with them recipes from their homeland. One immigrant in particular changed the culinary game in the U.S. for good when he concocted the first Italian sub sandwich. Today, subs are gobbled up by hungry consumers across generations and socioeconomic statuses. The flavorful, Italian-inspired sandwiches have become a classic fare, but their humble roots have a story worth sharing.
The first known Italian sub was made by an immigrant in Maine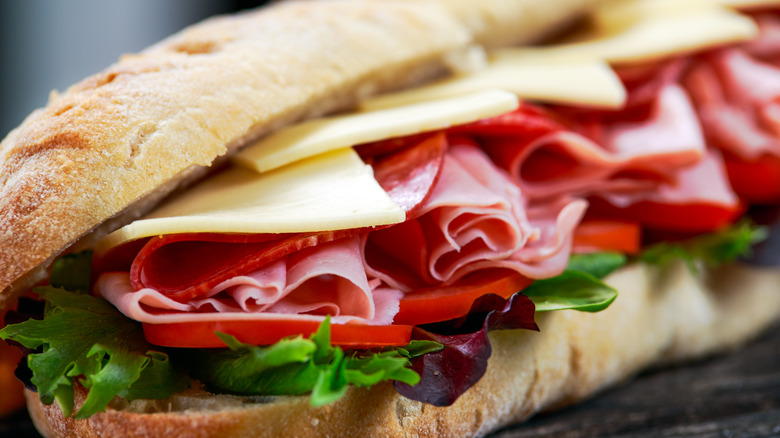 DronG/Shutterstock
In Portland, Maine in 1899, an Italian immigrant baker named Giovanni Amato decided to whip up an affordable, convenient, and hearty meal for road construction workers who were allotted just a short amount of time to eat lunch each day, New England Today reports. His creation — a sandwich made from freshly baked rolls filled with sliced meats, melty cheeses, savory veggies, and other toppings — was an instant hit.
Amato's, a predominantly East Coast deli chain named after the iconic grub's founder, offers a menu of sandwiches, pizzas, pasta, calzones, and more across its locations. The original Italian sub, as made by its inventor, incorporates a medley of ham, cheese, onions, pickles, tomatoes, green peppers, olives, salt, pepper, and oil (via Amato's). Other cured meats commonly found piled generously within Italian subs include salami and prosciutto. According to the official Amato's website, Giovanni initially sold his famous sandwiches from a small pushcart. Then, a couple years later in 1902, Amato's expanded into a brick-and-mortar sandwich shop to keep up with the business's rapidly growing demand.
Today, the Italian sub — despite its varying recipes depending on the vendor — can be found on menus across the nation. No matter how you like to customize your Italian sub, you're sure to enjoy a delicious meal that will leave you satisfied.