Here's Why Danish Smørrebrød Should Be Your Go-To Meal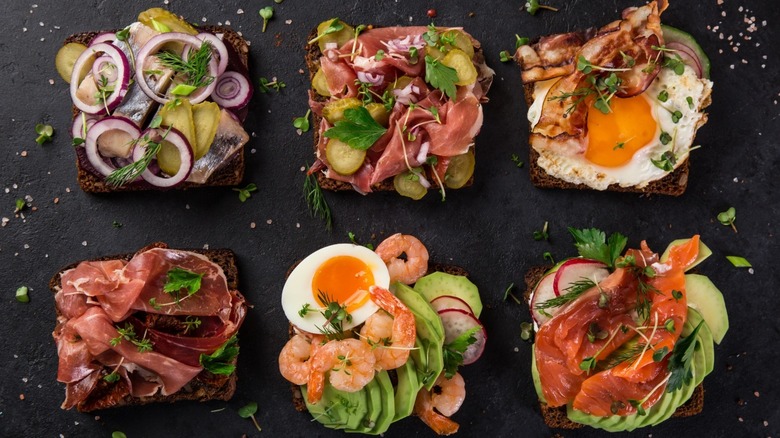 Anna Shepulova/Shutterstock
There are few things in life that are better than feasting on a homemade meal and intentionally relishing in every single bite. To many people, specifically inhabitants of Scandinavia, this act is more meaningful than merely providing our bodies with sustenance and nutrients. If you have ever traveled to Denmark or are familiar with Danish culture, you've likely been introduced to hygge. 
Hygge is a traditional Danish concept that, in short, involves creating a cozy, comforting atmosphere as well as indulging in the things that give us pleasure and spending time with people who bring us joy (per VisitDenmark). It can involve a home's furniture and decor, surrounding sights, smells, and sounds, and of course, delicious foods and drinks enjoyed by oneself or in the company of others.
For feelings of hygge at mealtime, try to whip up a spread of tasty, colorful, hearty smørrebrød. What is smørrebrød, exactly, and why is it so beloved by Danes? Per Serious Eats, food expert Trine Hahnemann characterized smørrebrød as a 19th-century invention by Danish factory workers. Valued as a convenient, inexpensive lunch, it was an open-faced sandwich made from leftovers. And today, it can be found in kitchens and restaurants all over Denmark and other parts of the world. Smørrebrød is not your average sandwich. In fact, this dish is such an important part of Danish culture, there are certain rules to follow when preparing and eating it.
Smørrebrød is a staple of Danish cuisine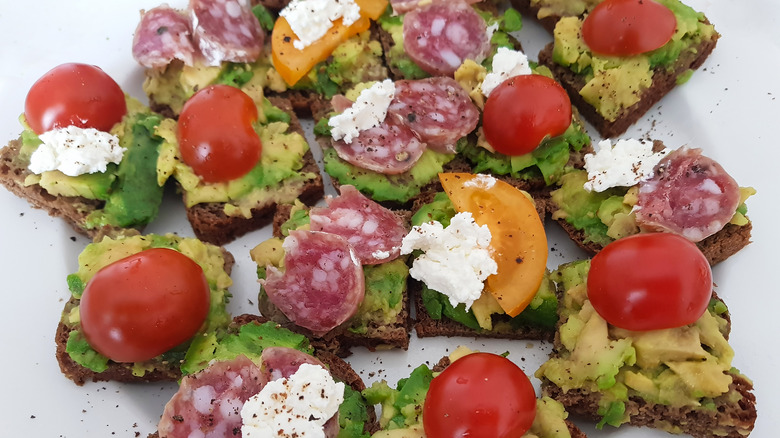 Rvkamalov gmail.com/Shutterstock
According to the official website of Denmark, smørrebrød starts with a slice of rugbrød (rye bread). That serves as the canvas for flavorful toppings, such as cold meats, fried or pickled fish, eggs, or potatoes. People might also add onion and horseradish. So, what does smørrebrød etiquette involve? Saveur explains that, even though the masterful meal provides plenty of room for creativity, there are still a few key rules to follow for an ideal end product.
For the base, Danish-style rye bread works best. Since this variety is made with fermented dough, it offers a density and tangy flavor that compliment the garnish. To prevent sogginess, the slice of rye should be coated with a fatty spread such as butter, avocado, mayonnaise, or cheese. When choosing toppings, opt for fresh produce and proteins that are typical of Danish cuisine. These include herring, shrimp, fennel, asparagus, plums, and apples. And contrary to what one might expect, smørrebrød should be eaten with a fork and knife rather than picked up like most other sandwiches. According to Marcus Schioler, who writes the blog Danish Sandwich, smørrebrød should be "arranged in such a way that it looks nice, with more detailed texture and contrast than an ordinary sandwich" (via Serious Eats). No matter how you decide to craft your smørrebrød, it seems bound to make the art of sandwich making all the more artistic.