Anne Burrell's Quick Tip Makes Spaghetti Carbonara Even Tastier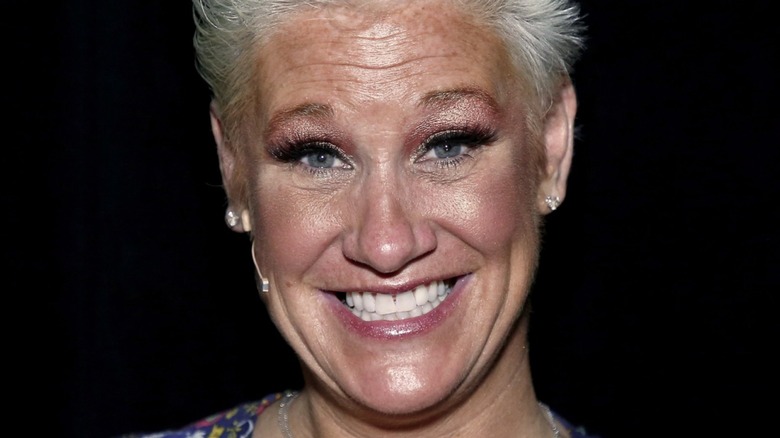 John Lamparski/Getty
Anne Burrell is one of Food Network's resident badass female chefs who specializes in Italian cuisine, and is a fierce competitor on shows like "Iron Chef America" and "Chopped All Stars." While it's entertaining to watch her compete, part of the reason Burrell has become such a popular personality on the network is that she has a passion for teaching people how to cook in a relatable and fun way. Even though she can make some of the most advanced techniques look easy, she is still able to teach some of the "Worst Cooks in America" how to replicate them. "I feel like I have the ability to connect with people," Burrell told her alma mater, The Culinary Institute of America, in an interview. "This is very important to me when I write recipes or when I talk about cooking [with] people, I break it down for people and talk to them, not down to them," she added. 
When Burrell made her first appearance on Food Network in 2005 as a member of Mario Batali's team of chefs on "Iron Chef America," the network took note of her talents, keeping her in mind for a future show of her own. Her first series on the network, "Secrets of a Restaurant Chef," premiered in 2008 (via IMDb), and although that particular show is no longer airing, she continues to share her secrets, like how to make carbonara even tastier.
Burrell uses a combination of cheeses for maximum flavor
Anne Burrell's passion for mentorship doesn't turn off when she leaves the "Worst Cooks in America" set; she continues to share her simple cooking tips with her followers on Instagram. Her feed is a mix of celebrating family and friends, with golden nuggets of cooking knowledge snuck in between. The latest bit of wisdom she's dropped is her full recipe for making pasta carbonara, which she was able to detail in one caption without missing a beat. Burrell's recipe starts with guanciale (cured pork jowl) — which, according to the Kitchn, a majority of chefs agree is required for a "true" carbonara, as opposed to the frequently substituted pancetta and bacon. 
Another aspect of the dish that has been debated by chefs is what kind of cheese to use. Burrell notes in her caption that she likes a mix of Pecorino Romano and Parmigiano Reggiano, which is the same combination used in Bon Appétit and The Kitchn's recipes. A few Italian chefs, like Naples native Simone Falco, however, have argued that Pecorino Romano is the only cheese that should be used in carbonara since it's a Roman dish (via Food52). However, three ingredients in carbonara that seem to be agreed upon across the board are eggs, freshly ground black pepper, and salt, all of which are included in Burrell's recipe, with the final result looking like a comforting and creamy bowl of love.