Why Duff Goldman Dedicated His Masked Singer Performance To His Daughter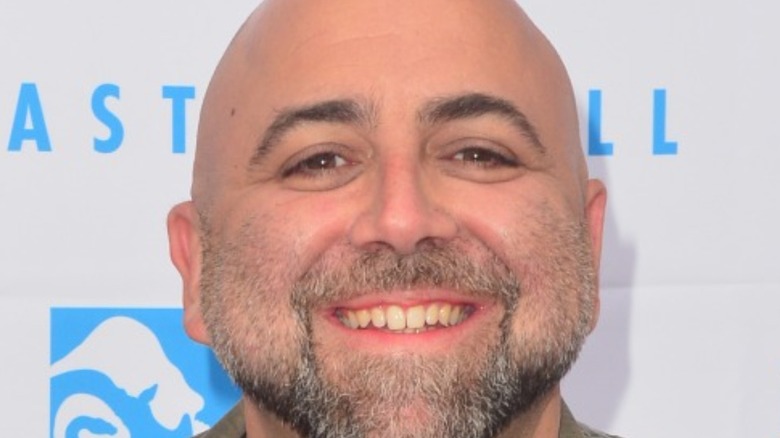 Jerod Harris/Getty
Contains spoilers for "Masked Singer" Season 7, Episode 1
Duff Goldman's performance during the Season 7 premiere of "The Masked Singer," really took the cake, as they say. If you've never seen the show, the concept is that celebrities dress up in costumes that completely hide their identity and perform for a panel of judges. The celebrity with the worst performance is unmasked at the end of the episode (via People). The disguised stars sing with their real voices, but their voices are distorted in the "clue packages" that are shown to the judges to keep their identity hidden.
The Ace of Cake's clue video, which was an infomercial for a "Terry Towel," included subtle hints about his identity — someone smashing their face into a cake, a gold record hinting at his last name, and an ax to signify his appearance on "Chopped All-Stars," (via YouTube). During the episode, the baker extraordinaire hit the stage dressed as "McTerrier," a Scottish terrier dressed in a kilt, and sang "Working for the Weekend" by Loverboy (via Variety). He even put on a fake Scottish accent to throw off the judges. While he was successful in his trickery, his performance was memorable, but not in a good way.
He put his whole head into the performance, literally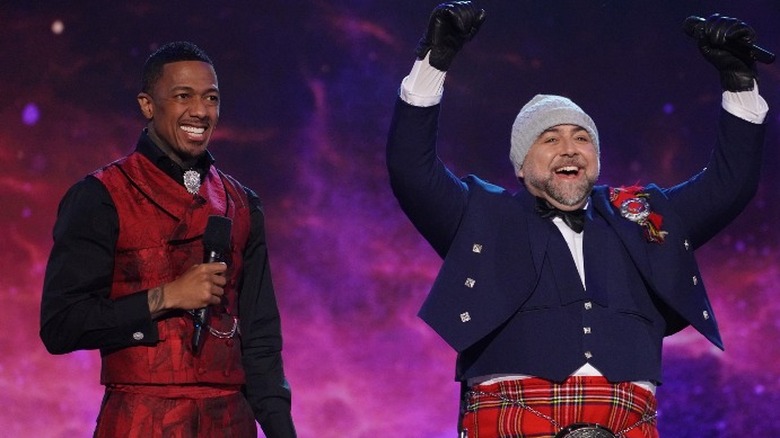 Michael Becker/FOX
There is a lot to unpack from the Season 7 premiere of "The Masked Singer," starting with Duff Goldman's (a.k.a., McTerrier's) performance. The pastry chef revealed in his "Unmasked" interview that he started making cakes as a side gig to pay his bills because he really wanted to be a full-time rockstar. He was in an emo band called "Two Day Romance," so performing on this show was a "dream come true," (via YouTube). Goldman was so excited for his big move — a howl to cap off the performance — that he literally lost his head. As he was walking to the front of the stage, he couldn't see how close he was to the edge because of his mask, so he nearly fell off the stage. Unfortunately, this caused his mask to fall off. Luckily, he was able to cover himself up, and the judges and audience did not see who he was.
During his post-show interview, he explained that he is proud of his performance and revealed that he wants to set a good example for his daughter. "I want her to see me doing really fun things, but I also want her to see me doing things with everything I got," he said (via YouTube). "If you want to do good things in life, you gotta be enthusiastic." Although he was eliminated from the show, his performance will surely be talked about for the rest of the season.