A TikToker Dressed Up As A Baby To Eat At IHOP And Fans Are Divided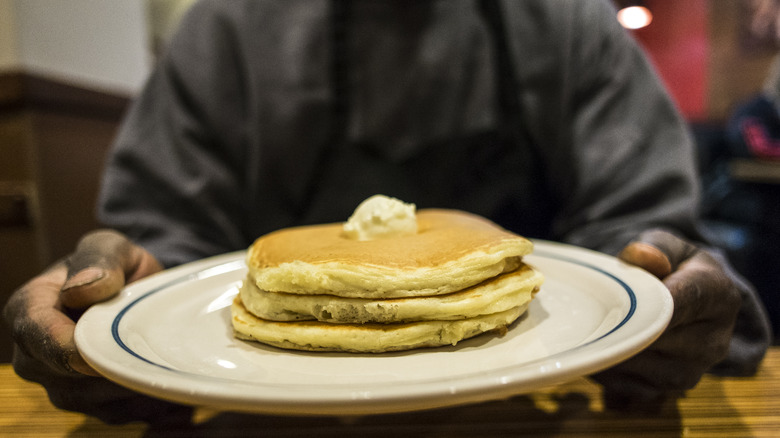 Bill Tompkins/Getty Images
Restaurants often offer some pretty exciting freebies to customers willing to go the extra mile or walk through a few steps. Wendy's recently offered a promo in which customers could get a free hot honey spicy chicken sandwich if they placed an order over $15 on DoorDash. And Papa John's conducted a social media contest where fans could win free pizza for a year. In addition to one-off offers, it is well known many sites offer regular freebies to those who sign up for their mailing lists.
And while those offers are on the easier side, it's pretty clear that people will also do almost anything out of the norm for some free food. Chick-fil-A tested that theory in 2019 by hosting a "Cow Appreciation Day," offering free chicken sandwiches to those who came to their locations dressed as a cow. Another spot, Lucky Candy, in the Bronx, offered freebies to customers for solving obscure math problems. And in a recent TikTok, two boys took a free food challenge from followers, pulling a stunt so odd it has viewers divided over whether it actually worked.
Kids really do eat free
In a recent TikTok posted by @cheekyboyos, two TikTokers put IHOP's "Kids Eat Free" marketing to the ultimate test. In their video, the boys read a comment from a viewer of another post, in which it seems they asked followers to dare them. The comment tells them to "Go to IHOP disguised as a baby and try to get a free kids meal." One of the boys went as himself, while the other was wrapped up and hiding in a stroller under a blanket.
When they walked in, they confirmed the "kids eat free" deal and proceeded to sit and order their meal, including chicken tenders for the "baby." They go on with the charade, with the "baby" being fed by the other. At one point, they removed the cover of the stroller so his head was exposed and people in the restaurant might be able to see his face, but still they were not caught. At the end of the video, they shared their receipt, which showed the kids' meal removed from the final cost.
Followers ranged from those who were impressed to those in disbelief. Many thought the waiter must have known, with one fan commenting "As a waitress, if someone committed that much effort for a kids meal, I'm giving it to them," while another noted its likely there "ain't no way that waitress believed that." Others simply marveled, calling the effort "brilliant." Either way, mission accomplished.