Everything We Know About Krispy Kreme's 2022 St. Patrick's Day Collection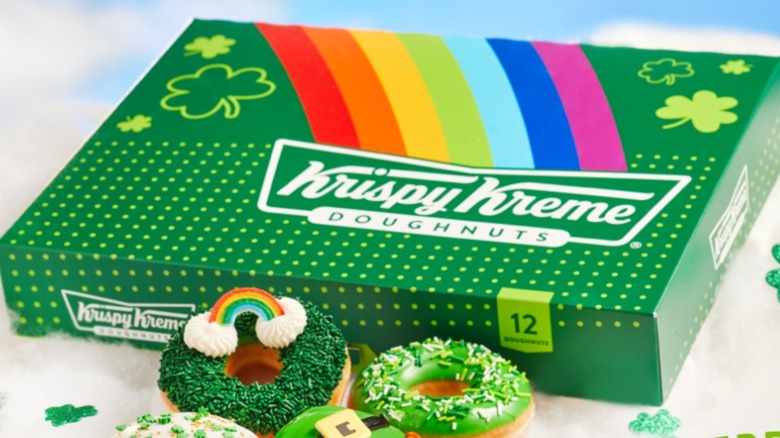 Krispy Kreme
Krispy Kreme may be best known for its classic glazed donut — which is made with a super secret recipe that's been around since 1937 — but the popular bakery brand has also become famous for its seasonal releases. Fans wait all year for the limited-edition donut drops. In the fall, you could dig into a pumpkin spice donut or the Gobbler, complete with a turkey face made of fondant. Come the holiday season, there are chocolate kreme-filled "doughmen" and Christmas tree donuts. And for Valentine's Day, you could show yourself a little self-love with a heart-shaped treat stuffed with strawberries and cream.
Now, just in time for St. Patrick's Day, Krispy Kreme is releasing yet another collection of holiday donuts all decked out in shades of green. From a realistic-looking leprechaun to all things shamrocks and rainbows, the Krispy Kreme St. Patrick's Day donuts look slightly different — but just as festive — in 2022. Here's what you should know about the limited-edition treats, including how to get your hands on them before March 17.
Krispy Kreme has 6 new Irish-themed donuts
A week before St. Patrick's Day, Krispy Kreme announced that its festive new donuts will be available in stores across the United States and Canada now through March 17. Tons of fans on Instagram are already clamoring to try the 2022 St. Patrick's Day donut collection, which includes six new treats on the Krispy Kreme menu. There's Lenny the Leprechaun, which is a thick glazed donut topped with buttercream, icing, and fondant, as well as the Luck O' The Rainbow, also a glazed donut that's coated in green icing and green sprinkles and has a pretty rainbow perched on top. Then there's the St. Patrick's Shamrock, which is a donut filled with cream and topped with icing, sparkles, and shamrock sprinkles. Not to be outdone, there's three more different varieties of St. Patrick's Day sprinkled donuts, which come in green vanilla, chocolate, and strawberry flavors.
Those aren't the only Irish-themed surprises arriving at Krispy Kreme right now, either. According to the brand's website, on March 16 and 17 only, Krispy Kreme will dye its original glazed donuts green to celebrate the holiday. You can pre-order the popular green donuts on March 14 or 15 to ensure you have the "luck of the Irish" before they run out!