Squash Pomegranate Salad Recipe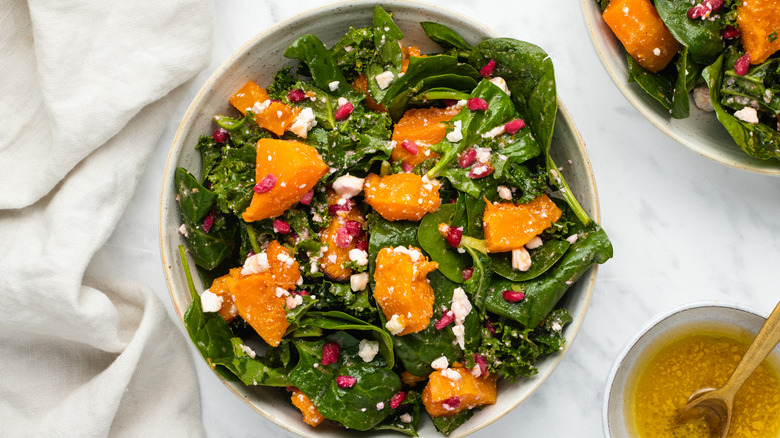 Catherine Brookes/Mashed
If you're craving something light and delicious for lunch, or if you just need a fresh, new side at dinner, then let us introduce you to this delightful squash pomegranate salad. This wonderful salad is filled with veggies, cheese, and a fantastic dressing that's perfect if you want something on the lighter side. Did we mention it also has feta cheese? Yep, it's absolutely amazing!
Recipe developer Catherine Brookes of Blue Sky Eating came up with this amazing salad that you need to try for your next dinner party or girls' lunch. She loves the combination of squash and pomegranate. "I love how adding a few simple additions to a basic salad can completely transform it," Brookes raves. "[It's] perfect for lunch on a warmer day, or to make up in a big batch to use as a side salad if you have guests." Brookes also explains what she loves about the combo of squash and pomegranate. "They both bring a delicious sweetness to the salad which pairs especially well with the saltiness of the feta cheese," she shares. 
Keep reading to find out how to make this dish. 
Gather the ingredients for your squash pomegranate salad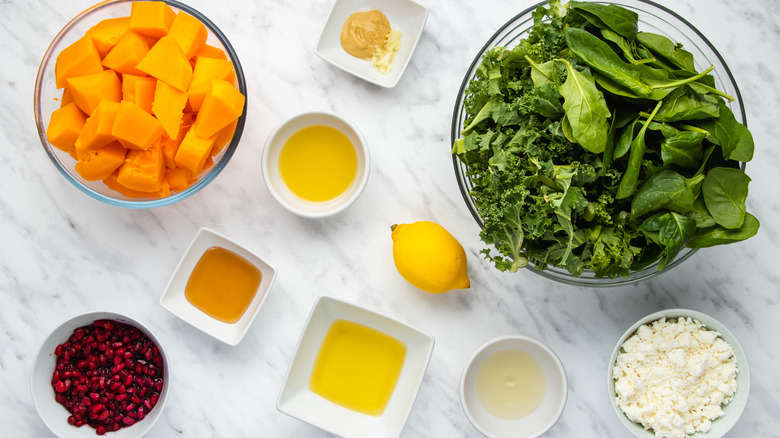 Catherine Brookes/Mashed
Time to get started! You will only need a handful of ingredients, including olive oil, butternut squash, pomegranate seeds, feta cheese, kale, spinach, apple cider vinegar, honey, the juice of one lemon, a crushed garlic clove, Dijon mustard, salt, and pepper. Once you have all of those things, you can begin the prep work! 
Preheat the oven and bake the squash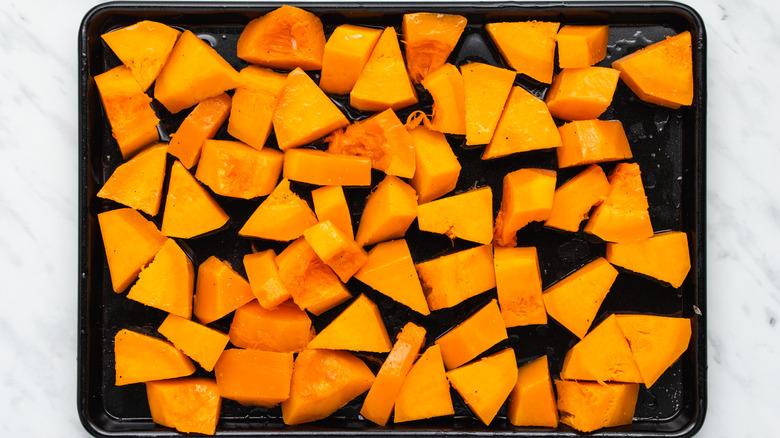 Catherine Brookes/Mashed
Preheat your oven to 400 F. Grab your diced squash and place the squash on a baking sheet, drizzling 2 tablespoons of olive oil over the top. Then, add a little salt and pepper to taste. Ensure the oven is preheated, then toss the baking sheet in the oven for 25-30 minutes.
Mix the dressing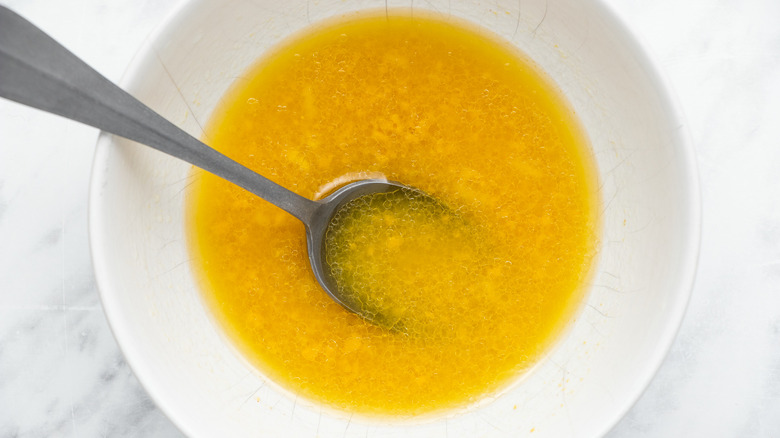 Catherine Brookes/Mashed
While you wait for the squash to bake, you can put together the dressing. Add the remaining olive oil to a small bowl, followed by the vinegar and lemon juice. Mix in the crushed garlic and Dijon mustard along with salt and pepper, to taste. Mix well to combine. 
Brookes raves over the flavor of this salad. "The dressing has sharpness from the lemon, sweetness from the honey, and a slight tang from the mustard," she says. 
Let the squash cool and mix the remaining ingredients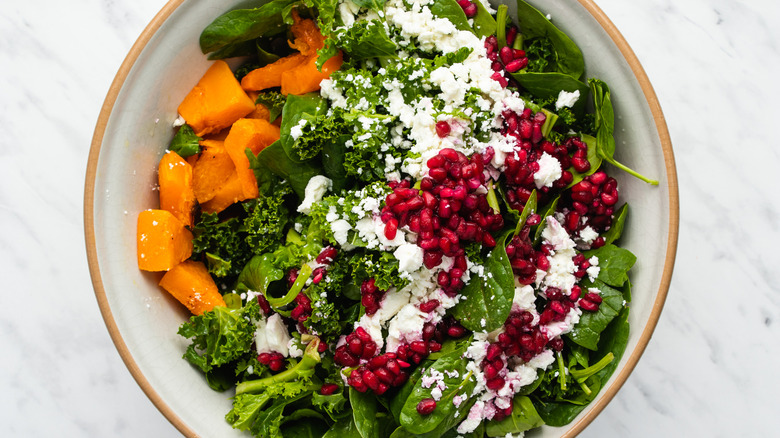 Catherine Brookes/Mashed
Once your timer goes off, remove the squash from the oven and let it cool on baking tray for 10 minutes. "If you add the piping hot squash to the salad leaves it may wilt them a bit," Brookes shares, which is why you need to allow the squash to cool. 
Once the squash finishes cooling, take out a large mixing bowl and start adding the other salad components. This includes the cooled squash, pomegranate seeds, feta, kale, and spinach.
Add the dressing and serve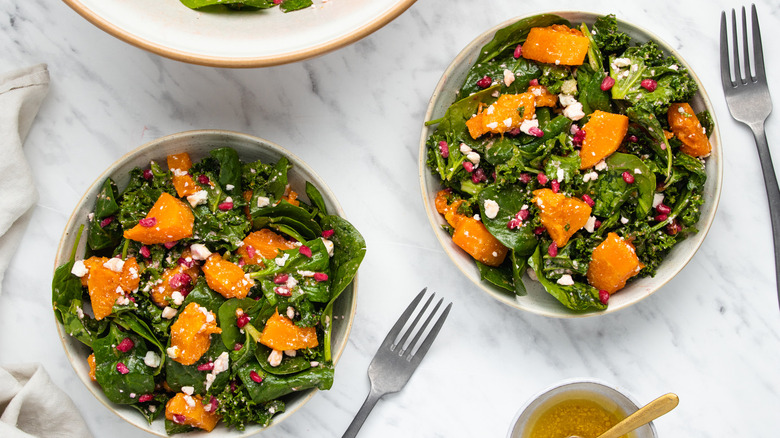 Catherine Brookes/Mashed
The last thing you need to do is drizzle the dressing over the top of the salad. Use your hands or tongs to toss the ingredients and combine. This salad would be great by itself, but Brookes also provides a few serving suggestions. "[Adding] hard boiled eggs or cold roast chicken would be great," she says. 
If you have a little bit leftover, don't sweat it! "I think if you keep it covered in the fridge you could eat it the next day," Brookes notes. 
We hope you love this salad as much as we do! 
Squash Pomegranate Salad Recipe
If you're looking for the perfect sweet-and-tangy side salad for your next brunch, try throwing together this recipe for pomegranate squash salad.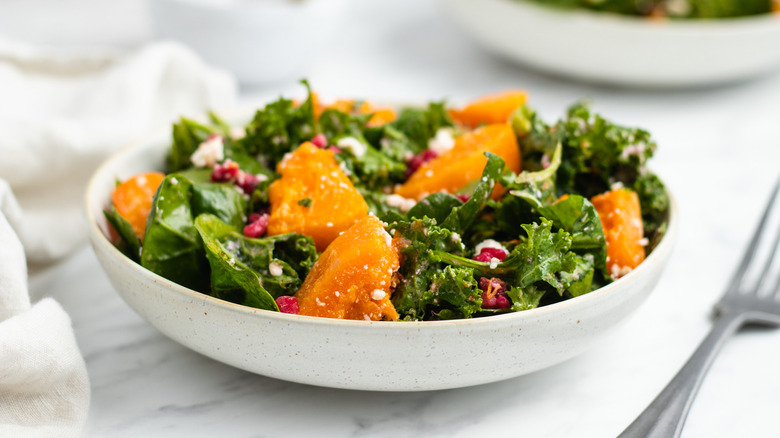 Ingredients
5 tablespoons olive oil, divided
1 butternut squash, peeled and diced
1 cup pomegranate seeds
4 ounces feta cheese, crumbled
3 ounces kale
3 ounces spinach
1 tablespoon apple cider vinegar
2 teaspoons honey
1 lemon, juiced
1 clove garlic, crushed
1 teaspoons Dijon mustard
Salt and pepper, to taste
Directions
Preheat the oven to 400 F.
Add the diced squash to a baking sheet. Drizzle 2 tablespoons of olive oil on top and add salt and pepper, to taste. Toss, then bake for 25-30 minutes, until tender.
In a small bowl, mix the remaining olive oil, vinegar, lemon juice, garlic, mustard, and more salt and pepper, to taste.
Once the squash has cooked, let it cool on the tray for about 10 minutes.
Add the cooled squash, pomegranate seeds, feta, kale, and spinach to a large mixing bowl.
Drizzle the dressing over the top and toss with your hands to combine.
Nutrition
| | |
| --- | --- |
| Calories per Serving | 351 |
| Total Fat | 23.9 g |
| Saturated Fat | 6.7 g |
| Trans Fat | 0.0 g |
| Cholesterol | 25.2 mg |
| | |
| --- | --- |
| Total Carbohydrates | 31.7 g |
| Dietary Fiber | 6.2 g |
| Total Sugars | 13.7 g |
| Sodium | 653.1 mg |
| Protein | 7.9 g |