The Elton John Pepsi Ad You Probably Forgot About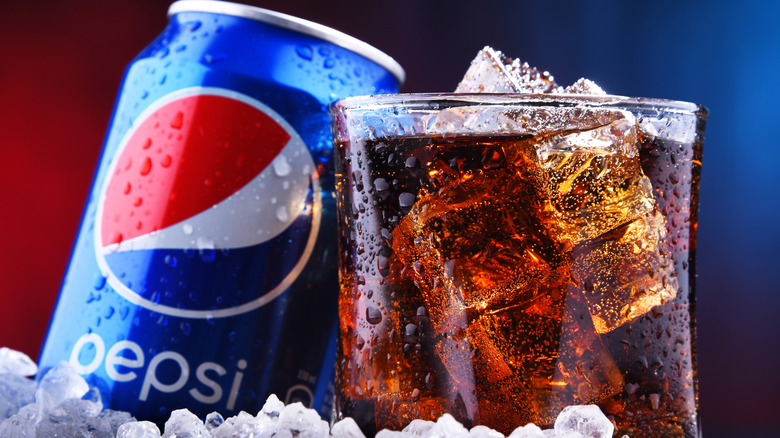 monticello/Shutterstock
The Super Bowl continues to buck the trend for sporting events — for ad revenue, anyway. The huge annual event charges a whopping $7 million for 30 seconds of screen time, according to CNN Business — but, in return, companies are promoted to almost 100 million viewers.
A particularly impressive Super Bowl commercial (now perhaps consigned to the dusty archives of history) is a 2012 creation by Pepsi, which showcases the musical talent of Melanie Amaro being pitched against the might of singing star Elton John.
The commercial, showcased on YouTube, shows Elton John wearing the regalia of a king and abrasively judging a medieval-style music competition. Declaring one performer unworthy of a can of Pepsi and eliminating them through a trapdoor, Elton John is faced with Melanie Amaro singing a cover of Aretha Franklin's "Respect" — which he judges impressive enough to deserve a Pepsi. However, Amaro overthrows John and awards Pepsi to the entire excitable crowd. YouTube viewers have embraced the thrills of the memorable ad.
Elton John may have been trying to upstage a rival singer
Many YouTube viewers have expressed wonderment at Amaro's performance, referencing her success on the "X Factor." Some also believe her cover of "Respect" is superior to the original, and applaud her for taking over the commercial and becoming a queen. Commentators also remark on the impressive height of Elton John's platform shoes, while perceptive viewers have recognized the surprise appearance of rapper Flavor Flav. Of course, users also campaign for the alleged superiority of Coca-Cola over Pepsi.
At the time, the Pepsi commercial was seen as Elton John taunting rival singer Madonna, who was appearing at the same Super Bowl game. According to Time, John told Madonna to "make sure you lip-sync good" in the days leading up to her performance.
The Pepsi commercial is far from Elton John's only participation in food and drink advertisements. The music legend has promoted brands including Diet Coke (via YouTube), Snickers (also shown on YouTube), and Uber Eats.