This Might Be The Most Surprising Thing In Giada De Laurentiis' Fridge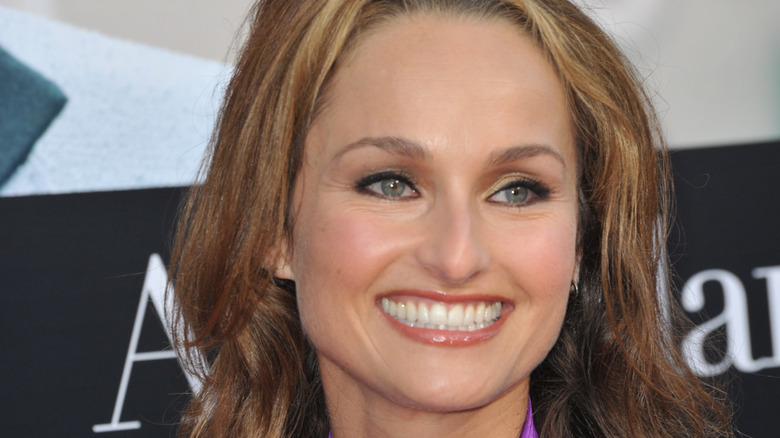 Jaguar PS/Shutterstock
Giada De Laurentiis may be best known for her Italian cooking, her famous family, her big smile, and having Bobby Flay as a bestie. And while that's probably enough to keep us talking, we love when she shares tidbits about what grocery staples she always keeps in her pantry and refrigerator. In fact, the "Giada at Home" host shared with Cooking Light the most "essential ingredient" she keeps in her kitchen is of the citrus variety. As she said, "You're probably thinking I would say garlic or olive oil, but for me, it's lemons." 
But lemons are not the only item De Laurentiis keeps within arm's reach when she is in her kitchen. A couple of years ago, De Laurentiis shared with The Kitchn she always has arborio rice, dried pasta, jarred tomato sauce, Calabrian chili paste, and olive oil lining her shelves so she can pull together a nice Italian dish in a pinch if necessary — all normal items you would expect an Italian chef to have on-hand. But, De Laurentiis surprised us when she revealed a not so traditional item she keeps in her refrigerator, and it might be her secret weapon to keeping that smile in tip-top shape.
De Laurentiis stocks up on teeth whitener in her fridge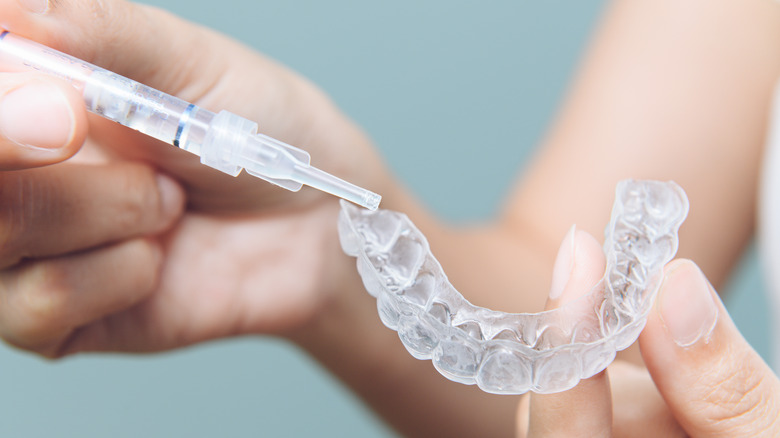 AUWAE PHOTO/Shutterstock
Over the years, Giada De Laurentiis has done a lot to keep her smile beautiful and healthy. Back in 2014, the celebrity chef took to Instagram to share a photo from her high school years, rocking a look and hairstyle straight from the 1980s, while flashing a big smile full of metal. That's right, De Laurentiis had braces. The post racked up over 110,000 likes and revealed to the world why those choppers are so nice and straight. Well, thanks to Living Magazine, we now know why they are so sparkling white, too, and it might surprise you to learn it's because of an item she keeps in her refrigerator at all times: teeth whitener.
She knows it's "weird," but De Laurentiis shared with Bon Appétit Magazine, "The cool temperature makes it last longer. My dentist told me they can lose their potency with the fluctuations in room temperatures." In fact, keeping your teeth whitener in the fridge can help prolong its life for up to two years, according to GoGo Smile, as opposed to just one year if you do not. However, the site also notes that you do not want to ever put your teeth whitener in the freezer, and you should always read the storage instructions on your whitener.