Fans Can't Wait To Try Geoffrey Zakarian's 'Perfectly Poached Eggs'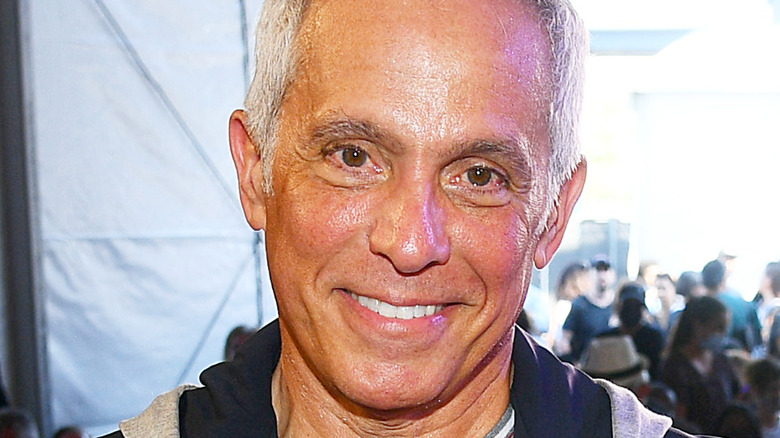 Dave Kotinsky/Getty Images
A poached egg can easily level up your brunch. They are the co-star of Eggs Benedict recipes and can make for an extra-fancy avocado toast. If you've been unable to make good poached eggs, they might need to make more space in the pot. You can also try a recipe for poaching eggs in an Instant Pot if you want a hack. Or you could try Geoffrey Zakarian's method. If you hadn't noticed, Zakarian is a big egg enthusiast. On Instagram, he declared eggs his "favorite food... other than rose." So unsurprisingly, he has an approach to poaching them, which he also recently posted on Instagram.
In a video, Zakarian demonstrates his method of making what he calls "perfectly poached eggs." It involves cracking an egg into a ramekin first. Then, he salts his water and adds red wine vinegar before putting his eggs in boiling water and giving the water a stir. He sets a timer for three minutes and uses a slotted spoon to get the eggs out of the pot. This looks fairly simple, and the demonstration caught the eye of Instagram users, some of whom seem quite excited to try it in their own kitchens.
Instagram is itching to test out Zakarian's poached egg method
How eager are people to give Geoffrey Zakarian's method a shot? His Instagram post has gotten over 19,000 likes, and even the chronically poached egg-challenged might see a chance at success.  As one person commented, "That's one thing I could never make. I am going to try right now. Thanks, Chef GZ." Other folks also said that they'd be trying his technique in the future. A couple of celebrity chefs like Michael Symon and Carla Hall responded with praise. Symon left a simple "perfect" while Hall said, "You're SO classy!!!" followed by heart-eyed emojis.
Zakarian has been sharing different ways to make eggs, and it looks like this series is a hit with his fans and followers. On this particular poached egg post, one person wrote, "OMG. THESE ARE PERFECT. Thank you so much for your entire 'egg series'! I've enjoyed playing with breakfast more than I ever have and it encourages and inspires me to experiment beyond desserts!" It looks like Zakarian has really made an impact through his cooking.
Want to learn more about how different chefs make poached eggs? Robert Irvine tweeted about his method for poached eggs, and Nigella Lawson's poached egg method uses vinegar and lemon juice. Ina Garten makes her poached eggs in a unique way that doesn't involve swirling the water in her pot! Which method works the best for you?