Daphne Oz's Caesar Salad Recipe Omits A Key Ingredient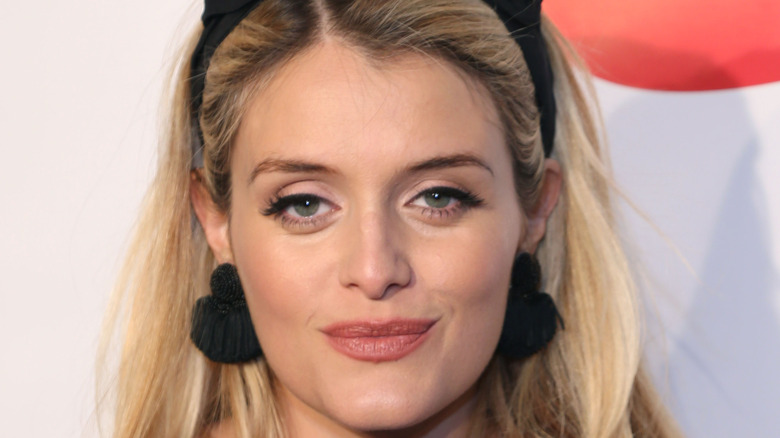 Manny Carabel/Getty Images
The Caesar salad is one of the most famous salads in the world. In fact, this classic dish is on the menu at more than 28% of restaurants (via Tastewise). 
What's in a traditional Caesar salad? According to Britannica, it consists of romaine lettuce tossed with a dressing made from olive oil, lemon juice, Parmesan cheese, pounded anchovies, and raw or coddled (boiled for one minute) eggs.
There are contradicting claims as to who invented the Caesar salad, but Britannica says it was first created in Mexico in the 1920s. The Kitchen Project explains that Cesare Cardini and his brother Alex moved from Italy to San Diego after World War I. They opened a restaurant in nearby Tijuana, Mexico, so that they could serve alcohol while U.S. prohibition laws prevented it.
Cesare is credited with inventing the salad at their restaurant — thus its name — and it eventually became popular among the "Hollywood set," who crossed the border to eat at the Cardinis' establishment. Staff prepared the dressing and tossed the salad tableside for a bit of showmanship.
However, not everyone, including vegans or people who are pregnant, wants raw egg in their salad. Thankfully, Daphne Oz, host of "The Good Dish," has a Caesar salad recipe that skips this ingredient. 
In a recent TikTok post, Oz claims that her dressing still offers the richness that people associate with the classic Caesar dressing, just without the eggs. Hers gets its flavor from "tons of cheese and tons of lemon juice," in addition to other traditional (and nontraditional) Caesar ingredients.
Cheese, lemon juice, and anchovies deliver flavor in this eggless Caesar dressing
Daphne Oz's eggless Caesar salad dressing gets its flavor from other ingredients, per her TikTok post. The recipe includes mashed garlic, dried mustard, kosher salt, chopped anchovies, mashed capers (and their brine), Worcestershire sauce, lemon juice, olive oil, red wine vinegar, honey, and grated Parmesan cheese. She finishes it with fresh ground pepper and shaved Parmesan. (Oz doesn't add croutons.)
Some of Oz's followers called the host out for her use of the "#vegetarian" hashtag, as the dish contains anchovies. However, the majority of the commenters wanted to know where Oz got the beautiful wooden salad bowl and its matching paddle serving utensils, while others questioned her cheese selection, saying Romano is the better option.
Many were all-in for the recipe, with comments like, "I need this salad right now," and "My family loved this!" A grateful follower commented, "I don't eat caesar salad because of the dressing ... I can't handle eggs ... thank you so so much for this recipe[.] I will definitely be trying it." 
Other fans wrote, "This salad looks like heaven!!!!" and "Just made this. Fantastic. Thank u." Another noted that they prefer Oz's acidic version of Caesar dressing versus creamy versions.
More than one commenter argued that Caesar salad isn't complete without the croutons, but one said that Oz's salad pairs well with rotisserie chicken and roasted vegetables. Another suggested topping this salad with a piece of salmon.