15 Cheesecake Factory Appetizers, Ranked Worst To Best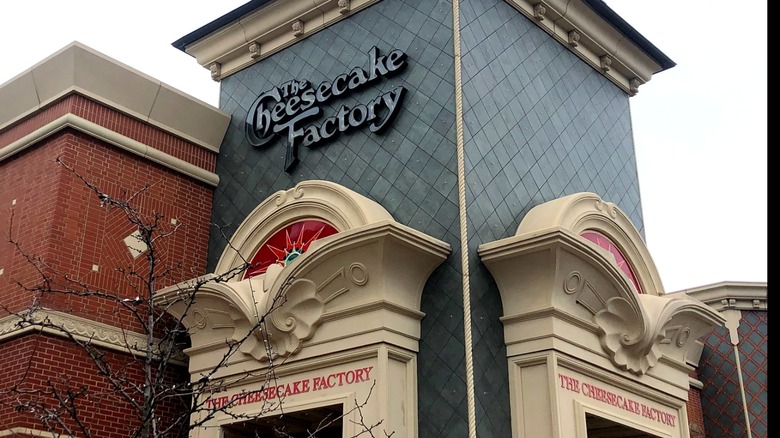 Alex Darus/Mashed
There's no chain with a menu that can even compare to The Cheesecake Factory's sprawling booklet of available items. Since the first location opened in the late 1970s, the restaurant's offerings have grown exponentially. Currently, The Cheesecake Factory menu is so big, it covers over 250 items spanning global cuisines. Everything here is done in excess, from the massive portion sizes to the over-the-top Egyptian-inspired décor.
The Cheesecake Factory as an entity is extremely fascinating. The massive menu has inspired many people to try new things and find out their favorites. It's not a place to go if you're looking for a light meal — everything is big, calorically dense, and there's always too much of it. The only way to do The Cheesecake Factory right is by dining in for a while, taking a to-go bag, and heading home to lay down for the remainder of the day while you contemplate the day's choices. 
That's precisely what we did on a recent Cheesecake Factory trip to sample the chain's appetizers which includes several of the restaurant's most popular items. While there are a few overrated starters that you should avoid entirely, there are plenty of tastier options to choose from. This is our ranking of Cheesecake Factory appetizers from the worst items to the very best eats.  
15. Sweet Corn Tamale Cakes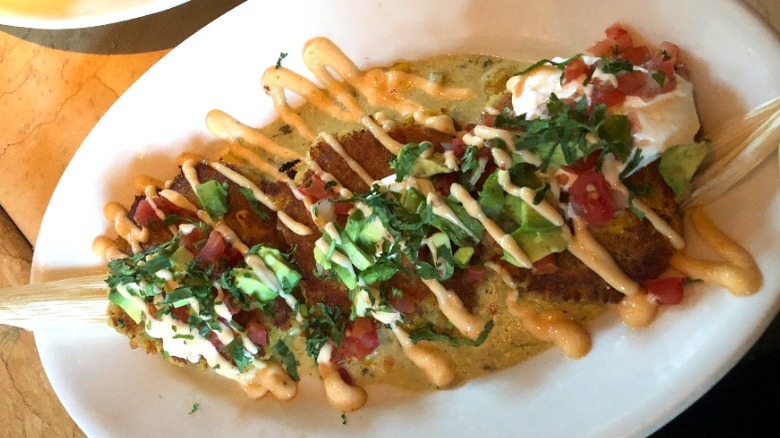 Alex Darus/Mashed
The worst bite we took during our meal at The Cheesecake Factory was the Sweet Corn Tamale Cakes. They are unsettlingly sweet and a truly unappetizing texture. The corn cakes themselves are mushy — it almost feels like you're eating a crab cake made by someone who forgot to mix in the crab. It also includes way too much salsa verde, which doesn't taste bad, but it makes everything on the plate even more soggy. 
In general, the corn cake base almost feels like its are supposed to be the beginning of a dessert. However, with toppings like cilantro, avocado, and sour cream, it's like a mashup of sweet and savory gone wrong. Also, there are just way too many sauces going on — it feels like you're eating a bowl full of salsa soup with a few mushy corn cakes mixed in, which is somehow more unappetizing than it sounds. 
14. Buffalo Blasts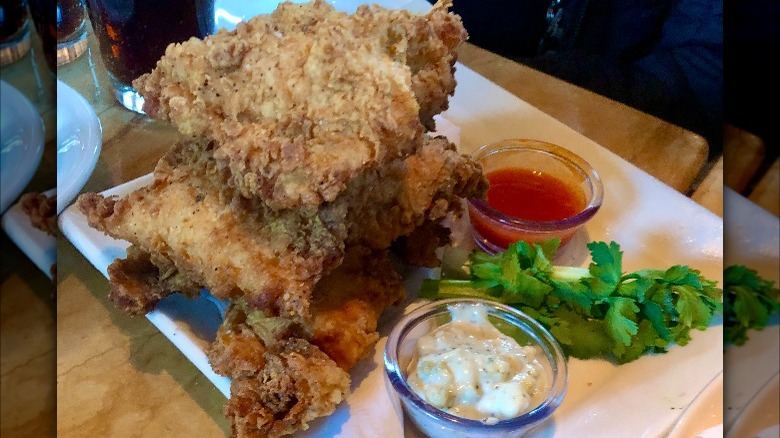 Alex Darus/Mashed
The Buffalo Blasts are another total miss, and it's no wonder they're on our list of Cheesecake Factory menu items with the worst reviews. Every bite feels like you're eating a pieced of fried chicken stuffed with buffalo chicken dip, which is just unnatural. It also falls victim of being mushy, even though the mysterious wrapper is full of crunch. The accompanying sauces also don't make any sense. The "blue cheese dressing" resembles tartar sauce and doesn't do the dish any favors. 
It's also an unsettling starter because it's so massive — a family of five could easily order this, gobble them all up, and be too full to eat their entrees. If they were miniature versions of the chicken pieces, they might be more palatable. In general, this appetizer would be better if it instead attempted to channel a crab Rangoon and stuffed buffalo chicken dip into a wonton wrapper. The size would be better and it would be a more even balance of flavors and textures. 
13. Cheeseburger Spring Rolls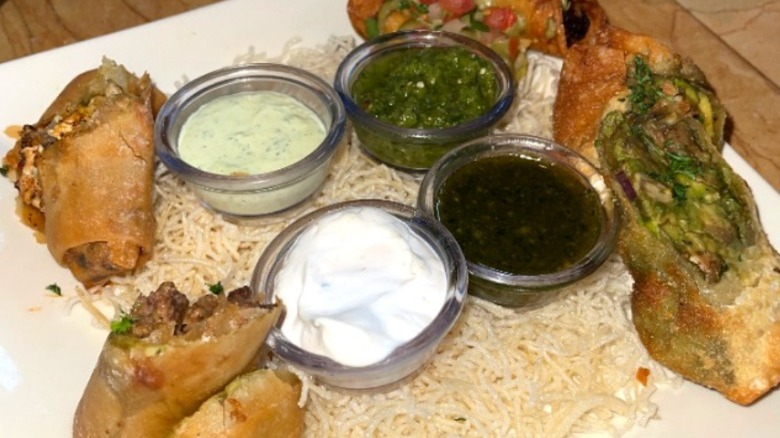 Alex Darus/Mashed
One of the worst appetizers on this entire list are the Cheeseburger Spring Rolls. We ordered the Eggroll Sampler platter, and this was by far the least tasty option on the plate. The spring rolls are so greasy that they almost feel soggy, which is unappealing. The taste just isn't there, and the rolls don't really pair well with any of the sauces offered on the sampler platter. This was one of the few options on the list we couldn't take a second bite of, as the greasy aspect was literally so overwhelming that your body is inclined to spit it out. 
The entire concept of a cheeseburger spring roll is a little hit or miss. These bites would have benefitted from skipping an oil bath altogether, instead baking in the oven or an air fryer. The flavor mashup isn't bad, but the overpowering amount of oil completely takes away from that. It also could use a pickle to further emphasis the cheeseburger concept, although it likely wouldn't stand up well inside if the eggroll is traditionally deep fried. 
12. Factory Nachos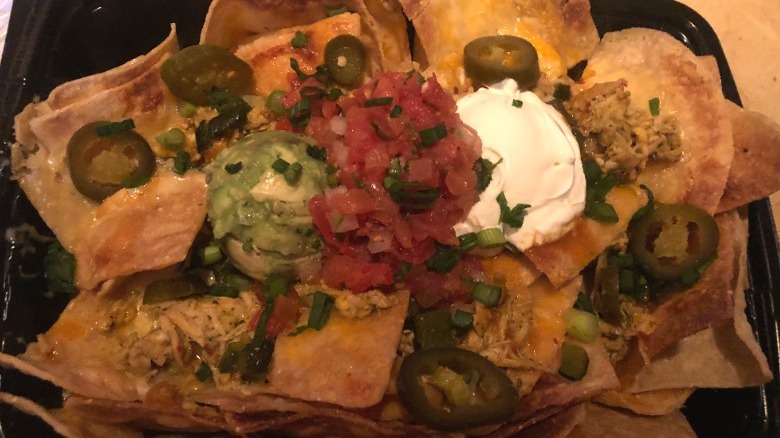 Alex Darus/Mashed
If you're craving well-executed Mexican cuisine, The Cheesecake Factory might not be the best option. It's not that the dishes are inedible — they just tend to sound way better than they taste. Exhibit A: the Factory Nachos. Nachos are a popular pick to share, as who doesn't love a plate of chips smothered in cheese? But The Cheesecake Factory's rendition is lacking. The guacamole is the standout on the plate, with everything else being just average. The toppings were not distributed evenly and the entire plate needed at least double the amount of cheese, as there were plenty of naked tortilla chips at the bottom.
A proven technique to make superior nachos is spreading the chips out with the topping evenly distributed across that entire layer. We're not saying each chip has to have its own individual jalapeño — that'd be a bit much. However, the distribution of ingredients in this case do not make sense. Simplifying the structure of the chips would totally transform this appetizer into a must-order option. 
11. Avocado Eggrolls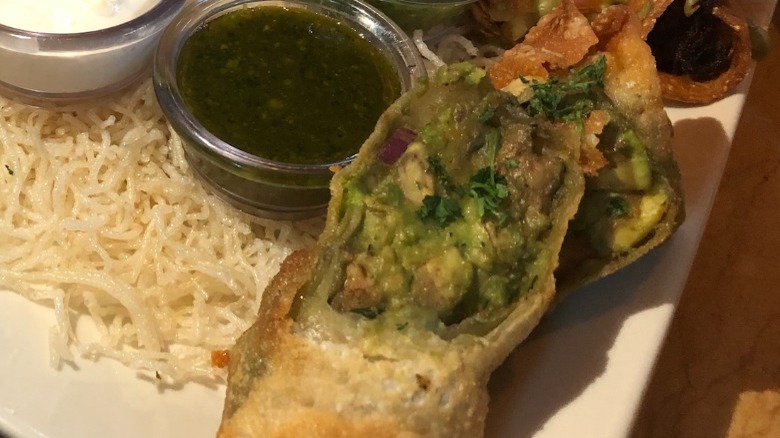 Alex Darus/Mashed
The second worst option on the Eggroll Sampler plate are the Avocado Eggrolls. This appetizer may be a cult-favorite, but we honestly didn't get the hype. First and foremost, the rolls are weirdly sweet. Unfortunately, nature took its course and browned the avocado filling before the appetizer made its way to our table. While it didn't affect the flavor, the drab color was an inherent downfall to the plate. 
Beyond the off-putting color, the flavors don't make sense. The sun-dried tomato feels like a weird addition that is almost an afterthought, and the ingredient isn't doing the roll any flavors. This is one of those dishes you're either going to love or hate. It can't really be improved upon, it's just an acquired taste. If you're someone who eats avocado toast and guacamole on a regular basis, then you'll probably be the person at your table finishing these rolls. 
10. Tex Mex Eggrolls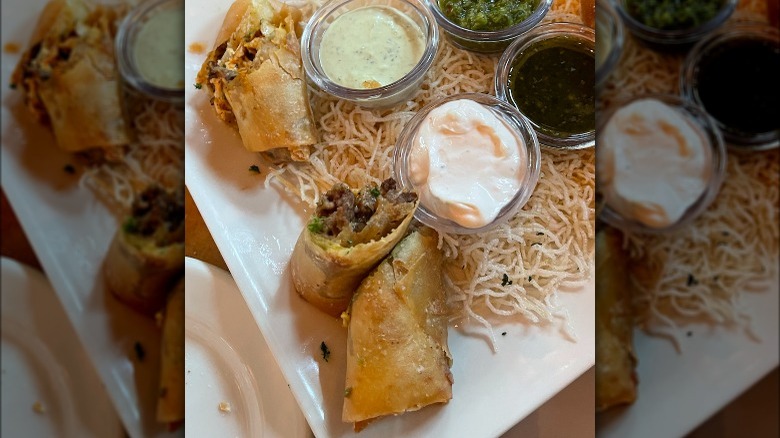 Alex Darus/Mashed
The second-best option on the Eggroll Sampler are the Tex Mex Eggrolls, but that doesn't mean they're anywhere near the top of the list. This appetizer isn't horrible, but it doesn't provide a reason to rush to The Cheesecake Factory. The inside has a little too much going on as the filling includes spicy chicken, corn, black beans, peppers, onions, and cheese all in one roll. The flavors simultaneously blend together while still being a bit bland, but the dipping sauces did help add some flavor. 
The good news is that out of all the eggrolls/spring rolls, these were the crunchiest. They didn't fall victim to being overly-oily like their cheeseburger-inspired counterpart, which is a major plus. In general, these were an example of an appetizer we've tried at other restaurants that did it better, and this one didn't live up to those superior expectations. However, it's not a bad bite and definitely didn't go to waste on our table. 
9. Hot Spinach and Cheese Dip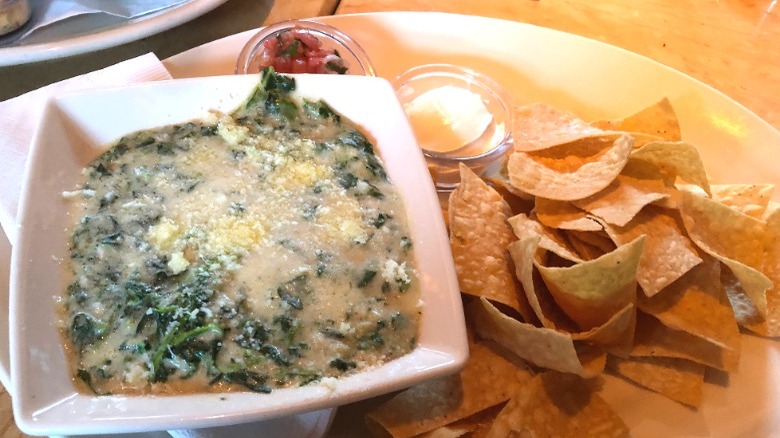 Alex Darus/Mashed
The most middle-of-the-road appetizer out of every plate on the list is this spinach and artichoke dip. If we were blindfolded, ate five different bites of this, and were told that each one was an appetizer that came from a different chain restaurant, we would probably believe it. The dip may be tasty, but it's pretty difficult to make spinach and artichokes mixed in hot, melty cheese taste bad. 
The only big miss is the inclusion of a side of pico de gallo and sour cream. Those might make nice additions on a nacho plate, but for a dip like this, they are completely unnecessary. Since the dish is so mundane, it is definitely not something to scout out from The Cheesecake Factory. If you're deciding between spinach dip or another app, it's probably better to go with an option that is a little more adventurous especially since there are so many unique dishes on the menu. 
8. Southern Fried Chicken Sliders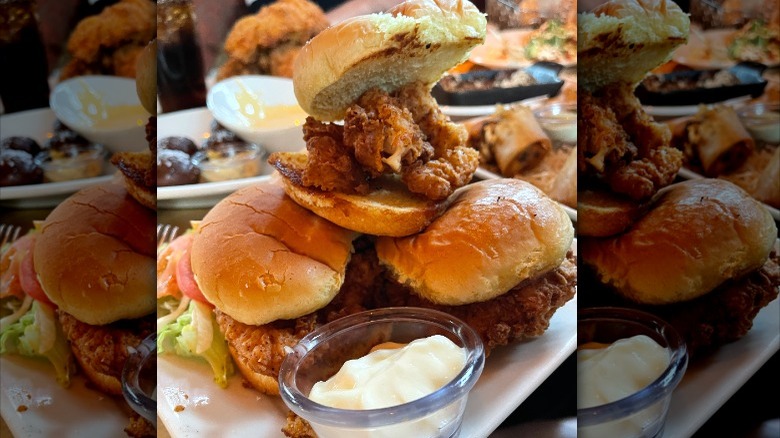 Alex Darus/Mashed
The Southern Fried Chicken Sliders are another standard appetizer option at The Cheesecake Factory. The chicken is pretty solid. It's not real-deal Southern fried chicken, but it's delightful enough to take center stage on the plate. However, the slider accoutrements could use some adjustments to really make this stand-out. The lettuce and tomato are pretty unnecessary (it would be better if there was a coleslaw or a more complex topping for the sandwiches), but thankfully the plate includes plenty of pickles to pile underneath every bun. 
Also, the inclusion of plain mayonnaise is just begging for an upgrade. Why not swap it out with one of the restaurant's signature sauces that can offer the addition of more acid and spice to balance out the hearty chicken? We found ourselves stealing dipping sauces from other apps on the table to add some flavor to these rather plain sliders. 
7. Chicken Taquitos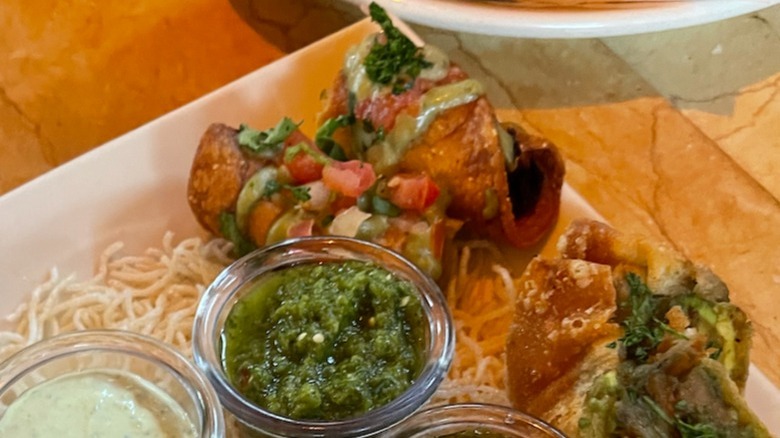 Alex Darus/Mashed
Out of all the offerings on the Eggroll Sampler, the best item on the plate isn't even technically an eggroll. The Chicken Taquitos are the superior options out of the four different roll-ups on the platter. They are folded like adorable tiny tacos and drizzled with a zesty avocado cream sauce that was an ideal counterpart. The shells are also super crispy, which satisfies all the senses in just a couple of bites. Another benefit is that they aren't overly-filled, so the flavors are well balanced. 
Unlike most options on The Cheesecake Factory menu, the taquitos are a perfect small-bite size. They won't be over-filling, but are hearty enough to satisfy you a little more than just brown bread and butter before your main entrée arrives. If you want something in the roll category, our advice is to forgo the Eggroll Sampler and just order the taquitos along with a higher-ranked appetizer on the list. Your stomach will thank you. 
6. Dynamite Shrimp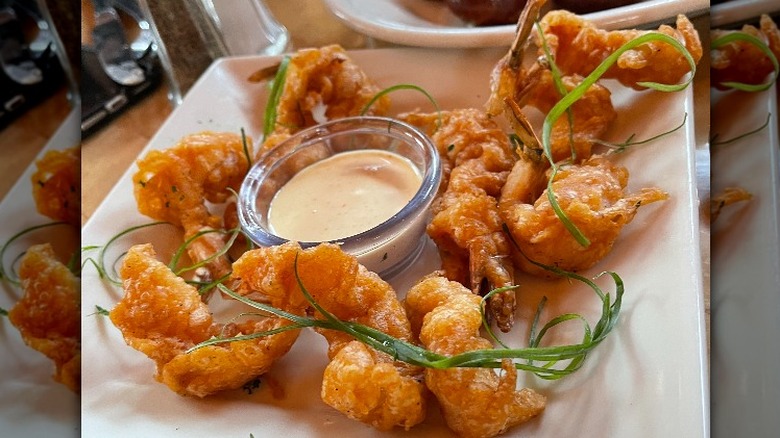 Alex Darus/Mashed
Even those who aren't seafood obsessed will be pleasantly surprised with The Cheesecake Factory's Dynamite Shrimp appetizer. These little shrimp are fried to golden perfection. The outer coating almost resembles a tempura batter rather than your typical breading, giving each shrimp a satisfyingly crunchy exterior. Unlike some of the other fried items, like the Cheeseburger Spring Rolls, the shrimp were not oily at all, almost as if they were air-fried. 
The shrimp are an amazing vehicle, but the spicy dynamite sauce really takes center stage on the plate. It's sweet, tangy, and spicy, which makes it an ideal sauce to dip anything into. In fact, we couldn't help but try other items on this list in the stuff (the sauce would be an ideal candidate for a plain mayo substitution on the Southern Fried Chicken Sliders). If this list were a ranking of Cheesecake Factory sauces, the dynamite sauce would absolutely take the top spot. 
5. Pretzel Bites with Cheddar Cheese Fondue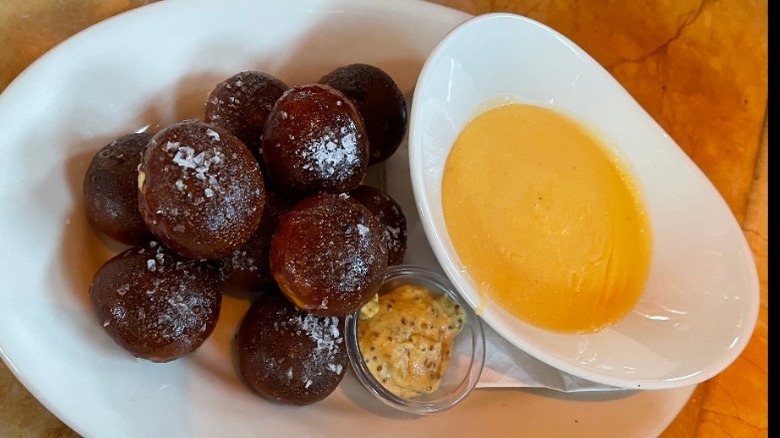 Alex Darus/Mashed
There are plenty of restaurants that you can walk into and order a satisfying combo of soft pretzels accompanied by warm cheese and spicy mustard. However, we were pleasantly surprised by how The Cheesecake Factory knocked this dish out of the park. The pretzel bites are perfectly baked, as they offer the signature fluffiness of soft pretzels, only these are highlighted by a slightly crunchy exterior. The flaky salt is the cherry on top, as it makes each ball tasty enough to eat on its own. 
But yet again The Cheesecake Factory turns things up a notch with its dipping sauces. The cheddar cheese fondue is downright sinful. The restaurant give you a vat of it that almost begs you to pour right over the pretzels and any other bites on your table that are in need of a cheesy blanket. The spicy mustard also packs a punch like any good mustard should. If you're having sinus issues, one bite of that mustard will clear you right up. 
4. Stuffed Mushrooms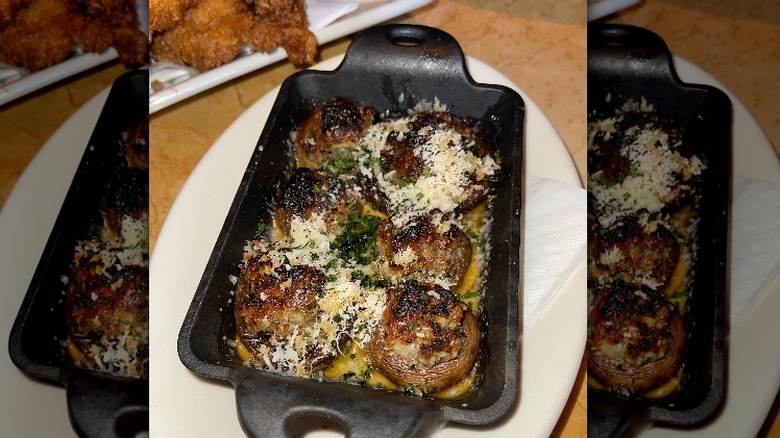 Alex Darus/Mashed
Stuffed mushrooms are one of those dishes that are a hit or a miss. They can be very one-note in taste and texture, and often rely on an overpowering amount of cheese that can be unappetizing. In fact, they would traditionally be a dish we would only eat if we made it home in order to control the balance of mushroom and filling. But The Cheesecake Factory's mushroom appetizer is definitely an underrated pick and totally changed our skepticism. 
First of all, the mushrooms get an A-plus in presentation as they come in an adorable cast iron dish. The six little mushrooms are actually a good portion size for an appetizer, likely because they are considered a "small plate" by Cheesecake Factory standards. The mushrooms themselves are elevated a wine sauce. The flavor profile is well balanced, including the Parmesan cheese which is a nice addition to the dish rather than taking over the mushrooms' focus at center stage.  
3. Fried Macaroni & Cheese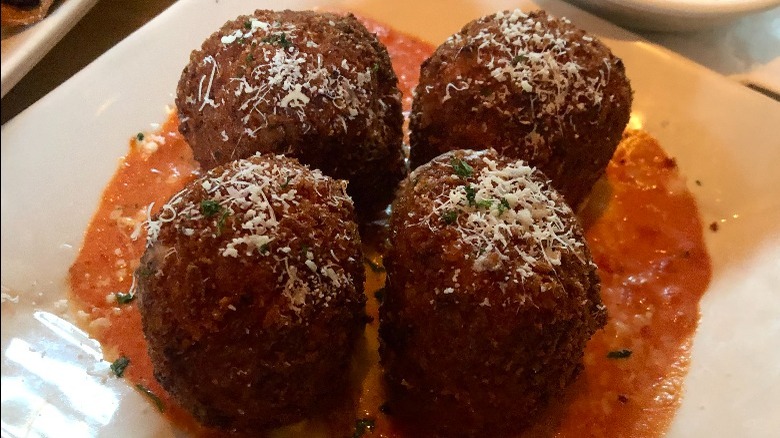 Alex Darus/Mashed
If you've ever been to The Cheesecake Factory, you already know that the chain's Fried Macaroni & Cheese balls are a must-order. What's not to like? The inside is filled with creamy shells and cheese that would be delicious all on its own. But the classic combo is even better fried in crispy breadcrumbs and placed on a bed of amazing pink marinara sauce. The portion is perfect for sharing, and it's one of those appetizers that you can order for the table and know that everyone will like it. 
Sometimes, you have to believe the hype, and The Cheesecake Factory's fried mac & cheese is a good example. However, it should be noted that the dish's extended popularity has overshadowed other equally-amazing (or better) plates that deserve more recognition. Still, it holds up as one of the best appetizers on the menu, and it's always a must-order if you're dining at the chain. 
2. Korean Fried Cauliflower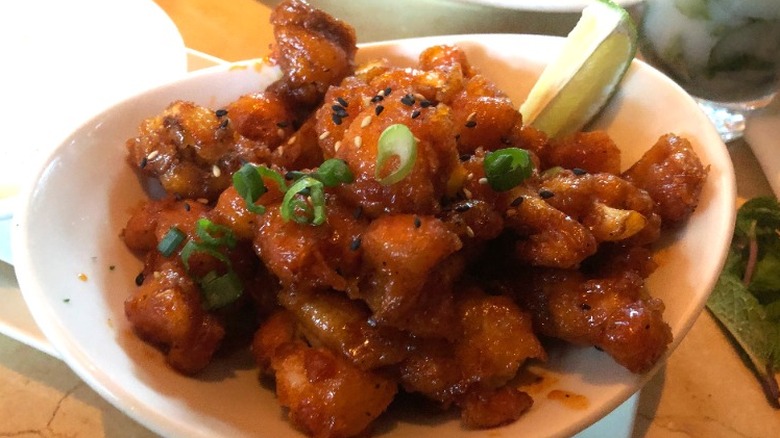 Alex Darus/Mashed
The most shocking plate on the whole list was the delicious Korean Fried Cauliflower. Even die-hard carnivores will be pleasant surprised at this veggie-based appetizer. The cauliflower itself is so crispy, it's like eating an entire plate of the desirable crunchy bits of chicken wings. Each bite is coated in a wonderfully complex Korean-inspired sauce that's an explosion of flavors in your mouth. To amplify the wing feel, the cauliflower bites are served with a boatload of ranch dressing. The dish is also a great option to bring home, as it gets even more crispy if you reheat it in an air fryer. 
We don't know why more people aren't singing this appetizer's praise. Cheesecake Factory customers may be looking to order the most sinful menu items possible when hitting up the restaurant, but don't overlook this somewhat healthy option (at least relative to the rest of the chain's offerings) because it's an absolute knockout. 
1. Thai Lettuce Wraps with chicken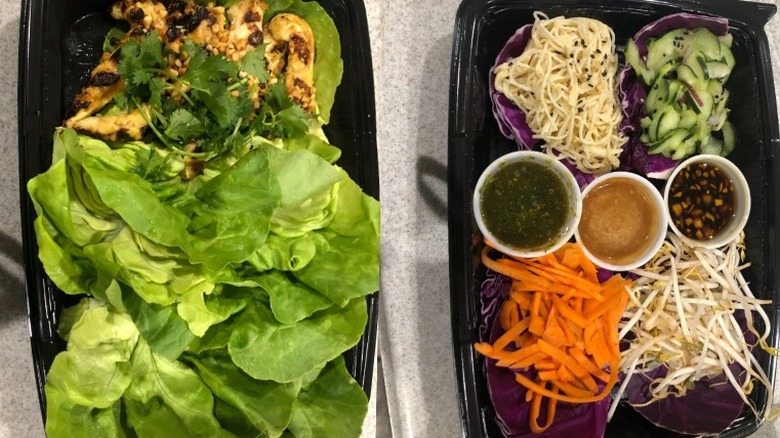 Alex Darus/Mashed
Hands-down the best appetizer to order at The Cheesecake Factory is the Thai Lettuce Wraps with chicken. It's the perfect balance of fresh and flavorful with bonus points for presentation. The Cheesecake Factory essentially gives you a bunch of tasty ingredients and tells you to build your own combinations — and it's genius.  The chicken satay strips are a solid base and are perfectly seasoned. The accompanying toppings are just as delicious — curry noodles, multiple sauces, peanuts, veggies, and more, all wrapped up in crispy lettuce.
This may be one of the few dishes out of 250 on the menu that doesn't make you feel like you're over-eating. We actually decided to bring this dish home to eat the next day, and it made for an ideal leftover lunch that kept great in the fridge. There is an avocado option on the menu for the same price, but the chicken is really the star of the show on this plate.