The Truth About Crab Rangoon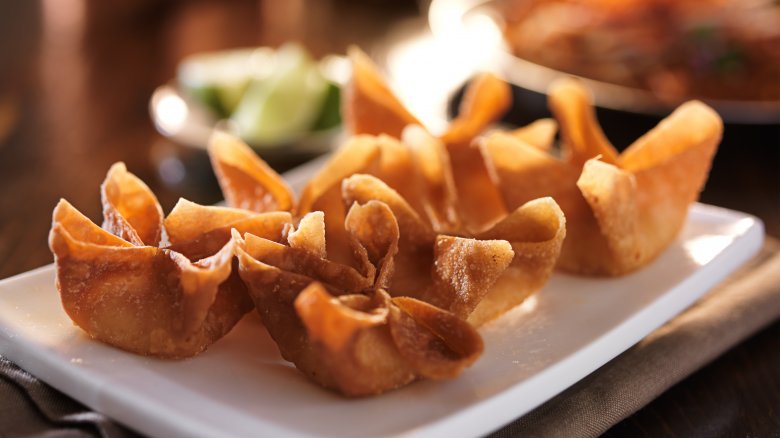 Shutterstock
Crab rangoon can be found on the menu of many Chinese restaurants. There's no mistaking the delicious contrast that comes from the first crispy bite of the outer shell followed by the sweet and creamy ball of flavor inside. The popular appetizer may be served with fried rice or another Chinese specialty, but it's not to be mistaken as an authentic Chinese dish. In fact, the real story behind crab rangoon may shock you. 
Some say that crab rangoon first graced American palates at the World's Fair in St. Louis, Missouri back in 1904, while others give credit to a popular restaurant in the 1950s (via Epic Portions). According to the Portable Press, the dish is said to have been the genius idea of Trader Vic's, a Polynesian-style chain of tiki-themed restaurants. This is curious, though, since their website says their claim to fame is actually the Mai Tai. No ingredients from a Mai Tai can be found in crab rangoon, though, but it is also possible that when you bite into the crispy appetizer, you won't find any crab, either.
What is crab rangoon really made of?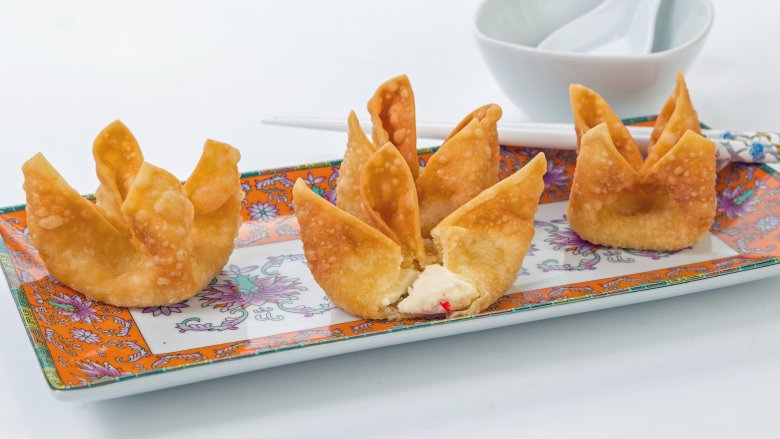 Shutterstock
Chowhound says that when it comes to crab rangoon, it's actually best to not use real crab because the rest of the ingredients would overwhelm the light flavor of real crab. When making crab rangoon, it's better to go with imitation crab — also known as surimi. No matter which way you fold it (and there are quite a few ways to fold crab rangoon before frying), the subtle flavor of surimi just works better with the cream cheese-filled wonton wrapper.
If that doesn't make you want to stop at your nearest Chinese restaurant and scoop up a few, then check this out — there is an actual day set aside on the calendar in celebration of this delectable deep-fried snack. Yep, crab rangoon is so popular that February 13 has been dedicated as National Crab Rangoon Day (via Checkiday). Though crab may be in the name, Serious Eats' Adam Kuban says he knows what it's really for. "It's just a big ol' excuse for crazy non-Chinese people to eat deep-fried cream cheese," he said.