A Guinness-Shaped Headstone Is One Way To Leave A Lasting Impression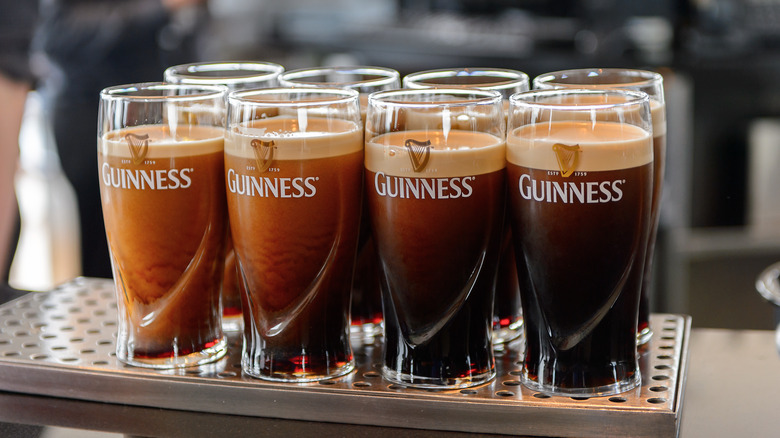 Anton_Ivanov/Shutterstock
Gone are the days of boring headstones. While some family members and friends may opt for a traditional headstone to commemorate the life of their late loved one, others have gotten pretty darn creative when it comes to memorializing the lives of people who we suspect must have been pretty unique themselves. For example, this Ouija Board headstone could possibly be used as a means of attempted communication with the departed. This innovative recipe headstone features what we imagine to be Great Aunt Kay's secret fudge recipe, detailed right down to the "pinch of salt" (via Bored Panda). In a way, she ended up taking the recipe to the grave.
Now there's a new imaginative headstone available that's perfect for anyone with Irish heritage or an appreciation for a good beer. Memorials of Distinction has a "Stout Glass with Celtic Symbols" headstone that resembles a pint of Guinness, and it's an interesting way to remember a loved one who enjoyed the beverage.
One last pint of Guiness
The Guinness-shaped headstone is for ultimate stout connoisseurs. It features a polished black granite 'pint' and base with a head of cream polished marble. You can engrave up to 80 letters into the three-foot-high memorial — extra letters and extra height are available for an extra fee — in gold lettering that's centered beneath a Celtic harp flanked by two green shamrocks. The headstone may be awesome, but it costs £2,377, or about $3,100. While the stone is made in a U.K. warehouse, it can be exported and delivered abroad as well if the Guinness lover was from a different country (via Memorials of Distinction).
According to Food & Wine, Memorials of Distinction's operations manager Emma Verity said sales of personalized headstones have been high lately. "With something as personal as a loved one's memorial, the idea of ordering something that is really applicable to that person is of great help to family and friends during the grieving process," Verity said.