The Truth About Natasha Leggero From Rat In The Kitchen Season 1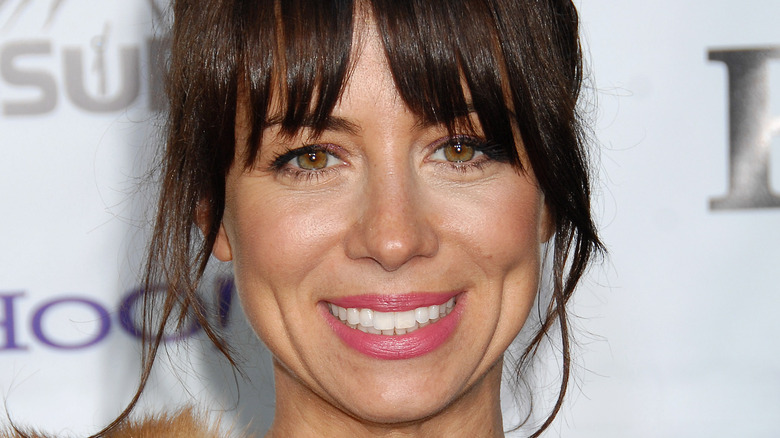 Ga Fullner/Shutterstock
Comedian Natasha Leggero will serve as host for the new TBS show "Rat in the Kitchen," which Leggero calls "a culinary whodunit" in the show's trailer. Each episode details the adventures of a cooking cohort as they compete for a grand prize, all while trying to avoid the sabotages of the "rat in the kitchen," one of the contestants who is out to destroy the others' efforts, maintain their own secrecy, and nab the cash prize. Ludo Lefebvre, a Los Angeles-based award-winning celebrity chef (per Lefebvre's website), serves as the judge on the show, tasting contestants' creations to determine if they're tasty, or if they've been compromised by the rat (via Deadline).
Leggero has certainly worked her way up to appearing on national television, coming from humble beginnings in a lower-middle-class family in Illinois, then finding herself financially challenged in New York as an adult before moving to Los Angeles, where she embarked on her comedy and entertainment journey (via Forbes).
Natasha Leggero is the real comedy deal
Natasha Leggero hit it big on the reality show "MTV's The '70s House," launching her into a TV career that would include appearances on "Chelsea Lately," "The Late Late Show with Craig Ferguson," "Last Call with Carson Daly," "Comedy Central Roasts," "The Tonight Show Starring Jimmy Fallon," and as a judge on "Last Comic Standing" (via The Famous People). Despite her frequent TV appearances, however, Leggero says she prefers doing live stand-up comedy, an art form she hadn't thought about until she attended another female comedian's show. "She was just talking about her life, and I hadn't made the connection that you can just go on stage and react to society and talk about what's on your mind," Leggero told The Denver Post.
These days, in addition to her "Rat in the Kitchen" duties, Leggero can be found donning her signature stylish clothing and serving as co-host of the podcast "The Endless Honeymoon" alongside her husband, fellow comedian Moshe Kasher, with whom she welcomed a baby girl in 2018 (via The Washington Post). Catch her hosting "Rat in the Kitchen," starting March 31 on TBS.