This Jimmy John's Sandwich Is NFL Quarterback Drew Brees' Inspiration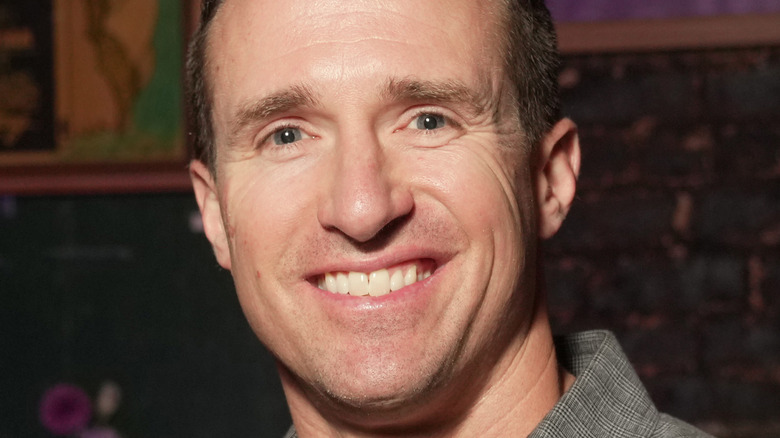 Josh Brasted/Getty Images
As of 2021, former New Orleans Saints' Super Bowl-winning quarterback Drew Brees has hung up his cleats and swapped the football field for the broadcast booth as a studio analyst for NBC's Notre Dame football coverage and a commentator for "Sunday Night Football." His storied 20-year NFL career, which saw him retire as the leagues' all-time leader in passing yards and completions (since surpassed by some guy named Tom Brady), is one that will eventually land him in the Hall of Fame.
During their playing days, a lot of athletes discover a specific meal that serves as their pre-practice treat, game ritual, or another source of inspiration, and Brees was no exception. Dating back to his time as the signal caller for Purdue University, Brees adopted the habit of ordering a particularly symbolic sandwich selection near and dear to his heart several days a week: the #9 Italian Night Club from Jimmy John's. The significance of the choice was that it mirrored the number on his uniform (Brees wore a nine on his jersey both at Purdue and later in the NFL).
Bringing the Night Club to New Orleans
Brees truly loved Jimmy John's, but neither San Diego, where he started his career, nor New Orleans, where he spent the bulk of his playing days, had any stores. A deluge of "can't miss" business investment opportunities are often pitched to famous athletes and celebrities equipped with a brand name to sell products, but Brees and his agent actually chose to approach Jimmy John's with the goal of bringing it to New Orleans (via Franchise Times).
A connection from Purdue, his old back-up quarterback Carl Buergler, with a name perhaps more befitting of hamburger chains, worked as Jimmy John's director of operations. You might think that partnering with Brees would be an easier decision than throwing a pass to a wide open receiver in the end zone, but founder Jimmy John Liautaud needed convincing that Brees could hack it in the equivalent of the fast food pros.
Buergler persuaded Liautaud of Brees' rock solid work ethic on and off the field, and Brees became a franchisee, opening one Jimmy John's store in New Orleans and quickly expanding locations throughout the Big Easy. Brees could now have his beloved #9 sandwich and sell it, too.
The Italian Night Club is not just a fan favorite of Brees' either. The sub, made with hand-sliced salami, capocollo, and smoked ham, topped with mayo, lettuce, onions, oil and vinegar, and oregano-basil, took top honors in our survey of the best Jimmy John's sandwiches.