Why Christian Petroni Is Grateful For His Mentorship With Guy Fieri - Exclusive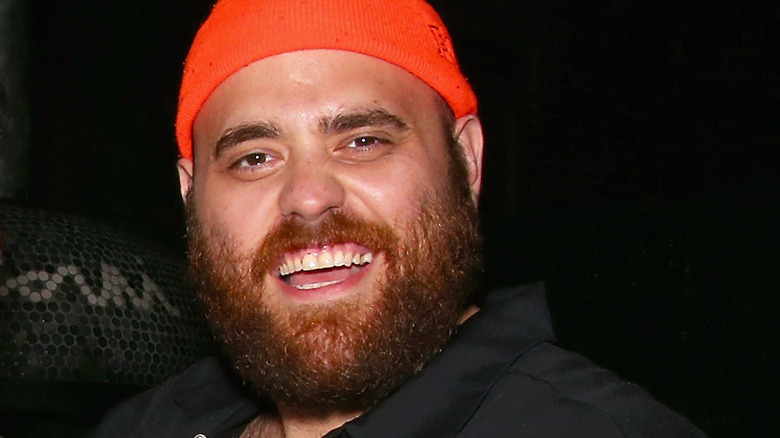 Paul Zimmerman/Getty Images
When Food Network powerhouse Guy Fieri met the winner of "Food Network Star," Christian Petroni, he probably had no idea that he had been part of Petroni's life for a long time. In an exclusive interview with Mashed, Petroni revealed there were many nights when he'd fallen asleep on the couch and woke up to Fieri's distinctive voice while "cooking something on 'Triple D' (aka 'Diners, Drive-ins, and Dives')." The "Food Network Star" is unabashed in his admiration for "his idol," as he called Fieri. "I've sat at Guy Fieri's counter in his house, and he's cooked for me." 
Petroni also recognized a similarity in their career paths. Before winning "Next Food Network Star" in 2006, Fieri was an established restaurateur, and remembering the advice of a PR consultant to not let any opportunity pass him by, he sent in an audition tape to Food Network in 2005. The rest, of course, is television history, beginning with Fieri's first show, "Guy's Big Bite," followed by his mega-hit, "Triple D."
In 2010, Petroni also had five restaurants to his name when he competed on Season 4 of "Chopped." He won the episode and was asked by Food Network executives to return to the series as a judge. Petroni appeared in a number of "Chopped" episodes, and Food Network subsequently wanted him to compete in "Food Network Star." He was reluctant at first, but like Fieri, Petroni wasn't going to look a gift horse in the mouth, and he agreed to compete. Petroni won "Food Network Star" (tying with Jess Tom) in 2016, which is when he got a phone call from Fieri.
Guy Fieri treats Christian Petroni like family
"I got the call that Guy wanted to check me out after 'Food Network Star,"" Petroni told Mashed. In fact, Fieri invited him to judge on "Guy's Grocery Games," so Petroni flew out to California and filmed the first of 25 episodes in which he would appear as judge or competitor between 2019-2021. When Petroni landed in "Guy Fieri World," as he fondly called it, Petroni was pleasantly surprised to see Food Network casting director Vivian Sorenson — who had given him his big break on "Chopped" — working on the show. "[Guy] knows how to bring in good people and surround himself with good people," Petroni said.
Since then, he and Fieri have forged a close relationship, or mentorship, as Petroni sees it. "He's the big brother I needed and that I have." In fact, when they were both at the Food Network South Beach Food and Wine Festival, Fieri tugged Petroni over to meet José Andrés. As Petroni recalled, "He's like, 'This is my little brother.'" In that instant, the memory of those nights he'd woken up to Fieri's voice on television came flooding back, and Petroni would never have imagined his idol would treat him like family. "The whole thing is surreal. Like I said earlier, it's really not lost on me."