Why Fans Waited In Line For Hours To Order At A New Popeyes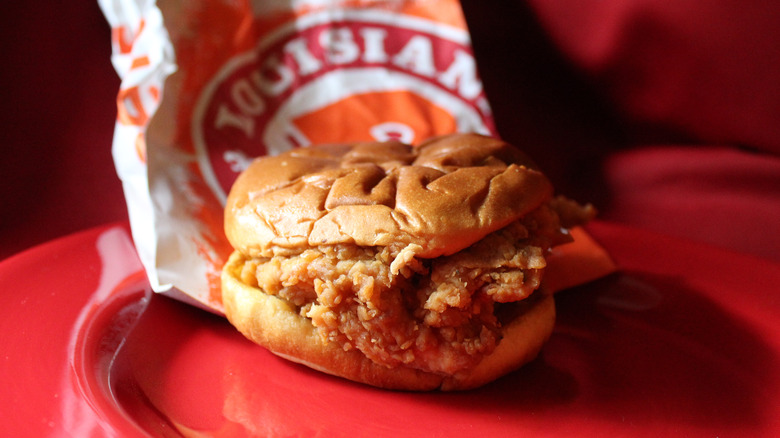 KDC-1/Shutterstock
When Popeyes first came out with its crispy chicken sandwich in 2019, it was so popular it started what we now know as the Fast Food Chicken Sandwich Wars. In the U.S., people would wait in line for the chicken sandwiches for hours, and sometimes the crowds got so rowdy, they even became violent. But some folks claim that the chain's Louisiana-style fried chicken is totally worth waiting for. Even recently, a new group of hungry diners got the chance to enjoy Popeyes chicken, but once again the crowds resulted in long lines.
The reason though wasn't for a new menu item or anything of that nature. It was simply that a group of Canadians were eager to try the popular menu items at the very first Popeyes location to hit the Canadian Atlantic region (via Audacy). Though there are more than 200 Popeyes locations throughout the country, the Eastern provinces have been lacking until now. The chain plans on opening up 20 more locations in the region, per the Audacy article, and those stores should take what happened at this first location in Bedford, Nova Scotia as a warning for what may come.
The Popeyes in Bedford caused a traffic jam
The long lines at the newly opened Popeyes in Bedford, Nova Scotia, "snaked through two roundabouts," according to the CBC. Cars were lined up for hours, causing a traffic jam. In fact, the drive-thru line was so long that it even sparked fears about how emergency vehicles would access the area if needed. The line of hungry customers didn't subside, either — there were reports that the traffic at the new location was heavy the day after it opened, too.
According to one Twitter user, Popeyes got so desperate to dispel the line that they started offering people free biscuits if they agreed to leave. "Some people started throwing the biscuits and yelling," the Twitter poster said. But others saw the long line of traffic as a blessing. "Pro Tip: Sleep in, arrive late to work and blame it on the Bedford Popeyes," joked one person on the thread. And yet another Twitter poster wondered how much worse the problem could get. "Haligonians are losing their mind over Popeyes? God help you if a Church's Chicken ever comes to Halifax."