Costco Shoppers Are Pumped To Try This Easter Layer Cake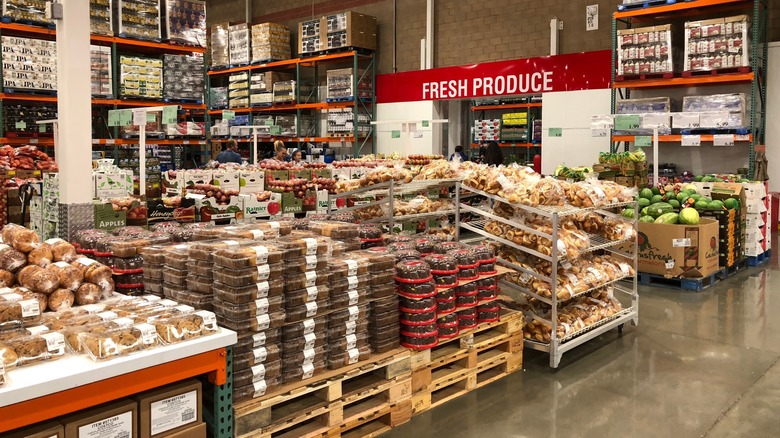 Cassiohabib/Shutterstock
When stores start to put up Halloween and Christmas displays in the middle of the summer it can cause people to panic about how quickly the year is flying by, but there often isn't the same reaction when Easter candy comes out a bit early. It's understandable because Easter decorations and treats are so colorful and fun, plus they're associated with the promise of warmer weather without the stress of a larger gathering for the winter holidays. If you do have family coming over for Easter it's usually just for the day, which requires less prep and planning. Plus, if you have to feed a crowd, Costco has their Easter items out and ready for you to grab.
Items may vary by location, but they usually offer conveniently pre-assembled Easter baskets, any egg-shaped candy you could want, and floral arrangements perfect for a spring table (via Costco's official website). The items like the candy are out in the center aisles for everyone to see, but some of the fan-favorite Easter desserts are hiding in the coolers, like Junior's Layered Easter Egg Cake.
Shoppers are here for any and all egg-shaped desserts
Going to Costco can be overwhelming, but luckily there are plenty of social media accounts dedicated to finding the best deals and interesting items, like @costco_doesitagain with a whopping 1 million followers. They recently posted about the Junior's Layered Easter Egg Cake at Costco, and the comments are filled with excited fans, looking to devour this festive dessert. If you zoom in and read the packaging on the cake, it's described as "layers of dark chocolate cake filled with white and milk chocolate mousse, enrobed in chocolate and finished with white chocolate and curls," (via Instagram).
"We got this and it's a 10 outta 10 for sure," commented one Costco fan. "Yes can't wait. Been planning for it," commented one user. This cake has clearly been a fan favorite over the years and also garnered social media attention on Reddit last year. Along with Redditors drooling over the cake on the thread, there was one helpful tip to find out if your store has this dessert in stock. "Call them up and give them the item #- 572486 and they should be able to tell you if they have it, or neighboring Costcos have it," commented one Redditor.