Here's What Happened To Proper Good After Shark Tank
Proper Good, the brainchild of siblings Christopher and Jennifer Jane, was featured on "Shark Tank," during episode 2 of season 13 of the show, which aired on October 15, 2021. The Janes dressed to impress during their pitch to the sharks, sporting Victorian period clothing and donning wigs in a nod to their brand's British-sounding moniker.
Their Austin-based company offers a healthy and convenient home-delivered meal service consisting of 90-second heat-and-eat soup pouches. The shelf-stable soups are available in a variety of flavors including red pepper and meatball, broccoli cheddar, and cream of chicken, and are designed to provide a nutritious food option made with simple but high-quality natural ingredients for busy people with limited time to cook. There are soups catering to different lifestyles and dietary preferences such as keto, vegan, gluten-free, and dairy-free.
The Janes requested $400,000 for a 10% stake in their business, which had seen more than $1 million in sales at the time of their appearance, and made a deal with Mark Cuban, who, after some negotiation, ultimately offered to invest $400,000 for 20% equity shares.
A proper good sales boost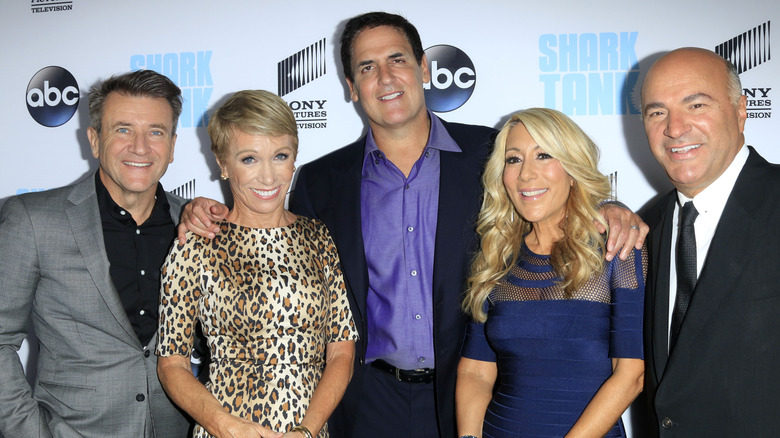 Kathy Hutchins/Shutterstock
There is typically a sales bump for any business promoting their product on "Shark Tank" after the episode airs. For some, like Fat Shack who saw a nearly threefold increase in the number of franchises they had three years after their appearance, the effects are long-lasting. 
Proper Good was no exception to the typical post-show sales bump. Following the airing of their episode, Christopher Jane estimated that Proper Good sold around three and a half months' worth of soup within a week of their "Shark Tank" appearance, according to Austin Inno. With expectations to earn $2 million in revenue in 2021, the Janes are still actively in business offering their soup products direct-to-consumer.
Their soups, along with different types of chilis, broths, and oatmeal, are available for shipping nationwide through their website and Amazon. You can buy individual items, build your own six-pack of soups, or you can sign up for their subscription service which gives you a slight price break of 15% off every order. Forbes named cofounder Christopher Jane to its list of the Next 1000 Entrepreneurs in 2021, and Proper Good has been featured in a number of publications including Food Business News, Women's Health, and Reader's Digest.