Doritos Just Dropped A New Collab For 4/20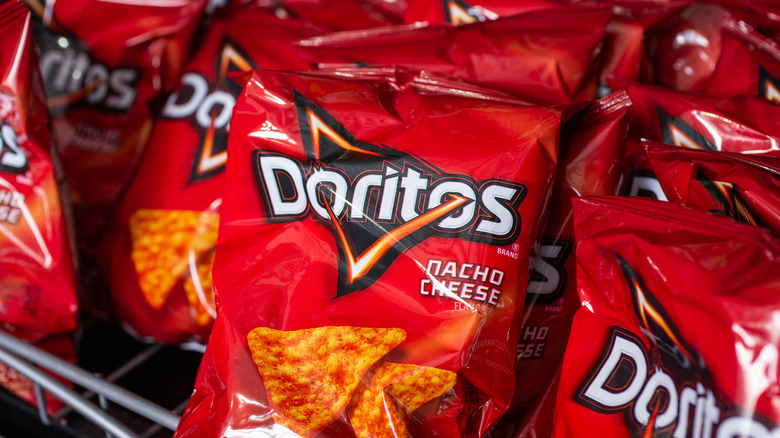 The Image Party/Shutterstock
If there's one thing that goes together, it's stoners and junk food. Maybe it's the usual case of the "munchies" or perhaps food just flat-out tastes better when you're high, but either way, there's no denying a correlation between smoking marijuana and getting a craving for some cheap fast food. Did Harold and Kumar not brave the perils of New Jersey to get their hands on some White Castle? 
While you may assume that the pairing of stoners and fast-food is nothing more than a stereotype found in early 2000's comedy films, nowadays some fast food companies are cashing in on 4/20, that marijuana-related "holiday", to cater to some of their more "high-minded" customers. For example, California-based hamburger chain Fatburger recently announced a collaboration with cannabis store Wonderbrett to release THC gummies and cartridges flavored like the chain's strawberry milkshakes. 
But sometimes, no matter how strong your munchies are, you're not in the mood to go out and get a burger. Instead, you want to just stay home and tear into a bag of Doritos. Fortunately for you, the chip brand is also joining in on the high times with a surprising collaboration to make sure you can tune in and drop out in style.
You can buy Doritos-themed earbuds
What better way to celebrate 4/20 than chilling out to some classic music? As you break out your copies of Shakedown Street, The Yes Album, and Dark Side of the Moon, you find that, to your horror, you lost your headphones! How can you lose yourself in Bill Bruford's mastery of the percussion without headphones? No need to worry, as Doritos has paired up with audio company Skullcandy to bring you a pair of stylish and spicy-looking wireless earbuds.
According to PR Newswire, Doritos and Skullcandy are releasing a limited-edition run of Doritos-themed wireless earbuds, colored and styled after the neon-orange colors of the titular tortilla chip. The first 100 customers that get their hands on these nacho cheese-colored buds — which have a price tag of $34.99 — will also receive an exclusive "dust tray" (which Digital Trends describes as a plastic, neon-red, triangular tray for the assumed use of uh, collecting Dorito dust). Even if you're unable to get the dust tray, the team at Skullcandy notes that you'll still be able to enjoy your albums for as long as possible, as the headphones have 12 hours of battery life.
The Doritos buds drop today and it's suggested that you should order them as soon as you can so they arrive in time for April 20. But even if you miss out on this promo, you can still enjoy 4/20 with a bag of Cool Ranch and some Genesis records.