Fatburger Just Dropped A New Deal For 4/20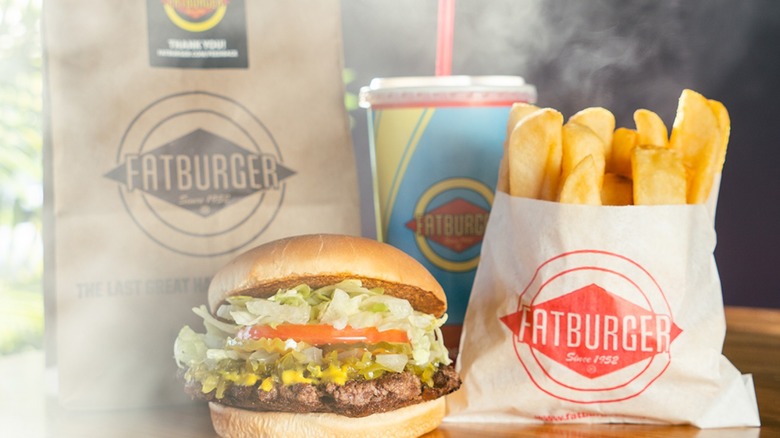 Fatburger
Do you know the origins of Fatburger? The hamburger chain, with franchises all over the world, was founded in the South Central region of Los Angeles by Lovie Yancey, a single mom who dreamed big — or shall we say fat? Yancey and her former partner teamed up to open the tiny, three-stool burger stand, using leftover supplies from local construction projects. The joint was originally known as Mr. Fatburger, the story goes, but the Mr. was dropped after the couple went their separate ways.
Fatburger may have gotten huge, but it still pursues its retro, "Last Great Hamburger Stand" appeal with a neon interior and nostalgic menu of burgers, scratch-made sides, and milkshakes swirled together with real ice cream. The chain aims to appeal to just about anyone who likes a cheeseburger and fries, but this month, it's widening its target market with a timely promotion. Like other food chains, Fatburger is going high profile this April — especially on 4/20 — with deals designed for weed enthusiasts and anyone else with a case of the munchies. 
Fatburger's 4/20 promotions are 'highly' anticipated
Fatburger is getting in on the hype surrounding 4/20 with some deals that Cheech and Chong of "Up in Smoke'' fame would surely appreciate — as may anyone on a budget. On April 20, customers will be able to get an OG Fatburger for $4.20, per Foodbeast. Meanwhile, for the entire month, those ordering Fatburger online will receive free delivery on all tickets of $20 or more. Some restrictions may apply, according to Fatburger, and the freebie is not valid on orders placed with third-party delivery apps.
Those who partake in marijuana in Los Angeles will also be able to find Fatburger's strawberry milkshake in THC form. The burger chain worked with cannabis store and fellow California brand Wonderbrett to create limited-edition bud, live resin cartridges, and gummies inspired by the sweet treat. These will be available at Wonderbrett on 4/20 only.
For those not up on the cultural lore surrounding 4/20, a group of teenagers growing up in California in the 1970s would meet at 4:20 p.m. each week to conduct a search for a pot plant rumored to be growing in a forest near their school, explains Newsweek. Little did they know that 4/20 would become a lasting buzzword for pot smoking — and blossom into an unofficial holiday for those living the high life.