This Is The World's Largest Matzo Ball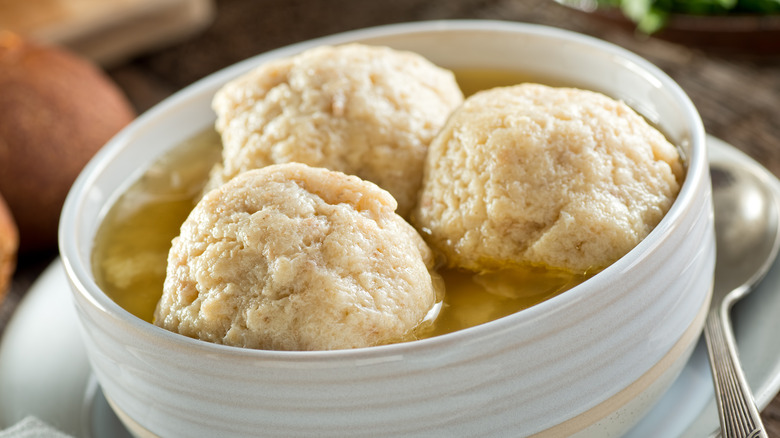 Foodio/Shutterstock
Along with smoked brisket, gefilte fish, kugels, and charoset, matzo ball soup is one of the most traditional Passover foods. Dating back to ancient Egypt, the Jewish dish appears on many Seder tables. 
Matzo balls are essentially a type of dumpling that, in their original form, are made with three staple ingredients: matzo meal, eggs, and some type of fat, per All Recipes. The dough is rolled into spheres, poached, and then served in a broth to be eaten as soup during Passover but also year-round.
While Bon Appetit notes that matzo balls are traditionally about 1.5-inch in diameter — the perfect size and shape for spooning out of soup — they can be made in any size you desire. So, just how big can they get? According to the Arizona Jewish Post, the world's biggest matzo ball was made back in 2010 in Tucson, and you might be shocked at how much it weighed.
The matzo ball broke a Guinness World Record
World Record Academy
According to Guinness World Records, the official largest matzo ball in the world was made in 2009 by Noah's Ark Original Deli in New York City. It weighed 267 pounds and measured 29.2 inches in diameter. However, that record was broken unofficially by Chef Jon Wirtis of Shlomo & Vito's New York Delicatessen in 2010 at the Tucson Jewish Food Festival, per Kold News 13. The Tucson matzo ball weighed a whopping 488 pounds — nearly double that of the one in New York — and measured 106 inches in diameter.
The Arizona Jewish Post reported that the recipe to make the massive matzo ball came from the chef's grandmother. It used more than 1,700 eggs, 160 pounds of matzo meal, 20 pounds of potato starch, 36 pounds of chicken fat (also known as schmaltz), and 30 pounds of canola oil. It was made in a custom 1,200-gallon, 6-foot-deep pot and took about 30 hours to cook. 
Chef Jon Wirtis told Tucson Weekly that it took him four tries to get it right, but he had confidence. Referring to the previous record, he said, "Fugghedabout it. Come and get it. I dusted him, man."