How To Make Matzo Ball Soup To Perfection, According To Andrew Zimmern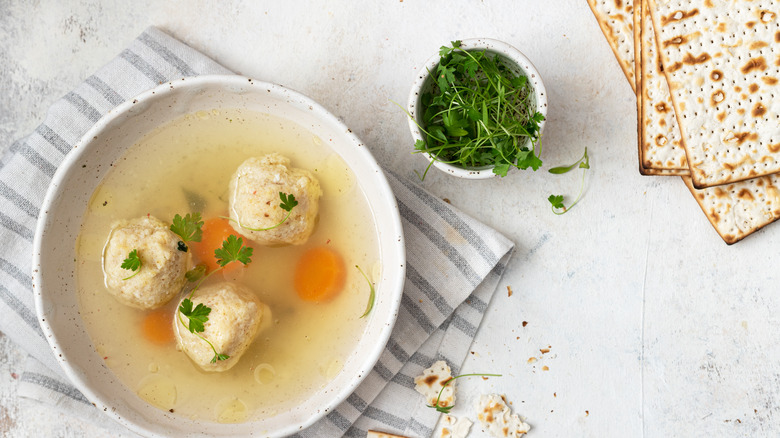 Viktoria Hodos/Shutterstock
Many Jewish Americans — this writer included — will tell you that the best matzo ball soup in the world is made by their mother (or someone else in their family). Like most comfort foods, the dish's simple ingredients make way for a host of possible adaptations, which is why you'd be hard-pressed to find two bowls of matzo ball soup that are completely alike. While one family may prefer large, airy matzo balls surrounded by tender vegetables and topped with a mountain of dill, other households might be used to smaller, denser matzo balls that sink to the bottom of a schmaltz-enriched chicken broth that's strewn with greens. Likewise, the instructions on a box of Manischewitz matzo meal might suffice for some, while others might get fancy by adding seltzer to the mix, which yields "floaters with substance," according to Serious Eats.
Whatever the case, matzo ball soup in all its glorious multitudes is sure to grace countless Seder tables this Passover, which commences tonight at sundown. Celebrity chef and TV host Andrew Zimmern is one of those people who swears by his grandmother's recipe, and he took to Twitter this morning to share his family secret. 
Zimmern adds egg whites to his matzo meal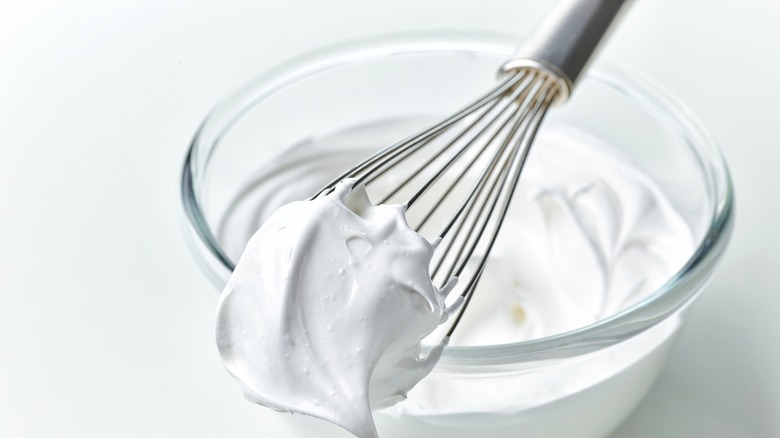 MaraZe/Shutterstock
"Thrilled that on Passover I get to make my grandmother's matzo ball soup for my friend Rachael on 'Rachael Ray Show,'" wrote Andrew Zimmern on Twitter. "Food allows us to explore culture, remember loved ones and takes us back to a kitchen on the Upper West Side of Manhattan in the 1960's...and we eat it!" he added. 
In response to a Twitter user who sought his advice about matzo balls that "didn't come out fluffy," the "Bizarre Foods" host explained that the meal was probably too dense, and suggested adding fat (such as olive oil or rendered chicken fat), broth, and whipped egg whites to the mixture. That unconventional third ingredient has "grandma's secret recipe" written all over it, and we imagine it lends the matzo balls the same kind of buoyancy that comes from adding sparkling water. 
If you have tons of egg whites left over, you could even whip up a pavlova or plate of meringues to complete your kosher feast. Meanwhile, you can catch Zimmern making matzo ball soup on "Rachael Ray Show" tonight, April 15, on Food Network.