Taco John's Wants You To Celebrate Cinco De Mayo All Week Long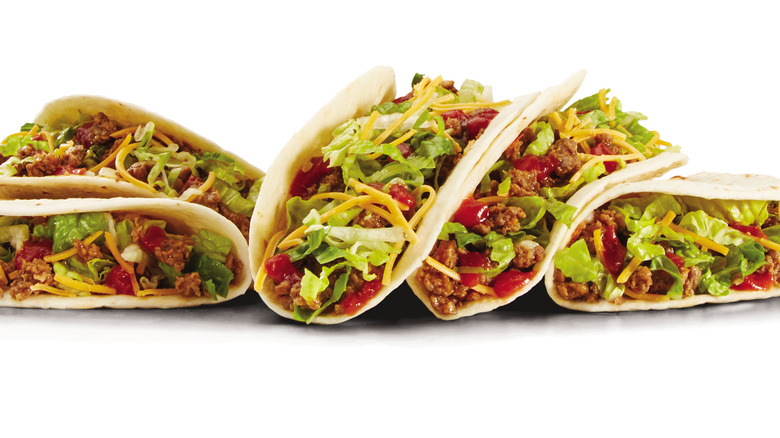 Taco John's
Taco John's is not playing around with the Cinco de Mayo festivities this year. The chain, which has locations in 21 states across the country, is running a "Five-Day Fiesta" in recognition of the Mexican holiday. During the event, which runs May 1 – 5, customers can purchase five tacos (softshell beef) for $5.55, per a press release obtained by Mashed.
However, a customer can't just walk into a store and expect to get the special. They must be Taco John's loyalty members and have the app fully downloaded. For many, that technicality is a small price to pay for the softshell tacos, which the chain describes as a "fan-favorite," that features specially seasoned beef as well as mild sauce, lettuce, and "all-natural cheddar cheese," folded up in a flour tortilla. 
Taco John's Chief Marketing Officer Barry Westrum states, "We can't think of anything more delightfully simple and delicious than five of our famous tacos for $5.55."
Celebrating Cinco de Mayo in the U.S.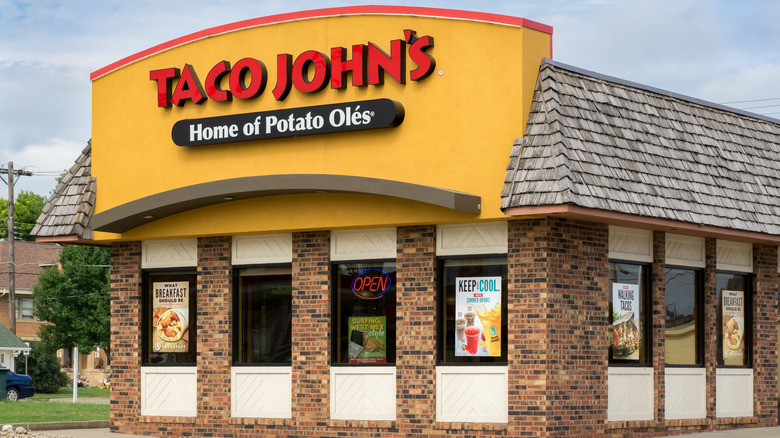 Ken Wolter/Shutterstock
Ironically, Cinco de Mayo is not as huge of a holiday in Mexico, where it recognizes the country's defeat of France during the Battle of Puebla, which famously took place during the Franco-Mexican War in 1862. Per History, in the United States, the holiday rose to popularity back in the 1960s as a result of efforts to recognize and celebrate Mexican culture. This was done largely in areas with significant numbers of Mexican immigrants, but today the holiday is celebrated in every state to one degree or another.
These days, although the Taco John's special is a nice touch, it's a drop in the bucket of thousands of commemorative activities, which include parades, festivals, and other promotions. Tons of restaurants and retailers get in on the action every year. So far in 2022, Costco has dropped a six-piece taco set in recognition of the holiday with more deals sure to launch soon. 
Cinco de Mayo deals in 2021, for example, included Applebee's specials on their Mucho Cocktails and the margaritas at Bahama Breeze were discounted to only $5. Keep an eye out in the coming days for deals on everything Mexican-inspired or associated. You likely spend enough money on tasty tacos the rest of the year, so might as well save some cash when you can.