The Food That Makes The Pioneer Woman's Heart Skip A Beat
There are plenty of things in Food Network chef Ree Drummond's life that go pitter-pat. The Pioneer Woman lives on a ranch in Oklahoma, so there's all them thar cattle, first and foremost, and it wasn't all that long ago that Drummond's four children (with husband Ladd) were running around the ranch, knee-high to a grasshopper. Plus, Drummond recently added another wolf to her pack by welcoming a foster son, Jamar, in 2019. So, when you hear the sounds of pittering and pattering at Casa Drummond, there could be any number of possible sources, both big and small.
But, as Showbiz Cheat Sheet reported, Drummond has related on her show, "The Pioneer Woman," that there is also a dish that can cause her twiterpations, flusterations, and general pits and pats. "There are not enough words in the English language to describe how much I adore lamb," Drummond said on her show, explaining that lamb causes her heart palpitations (in a good way): "It's just one of those things that make my heart go pitter-pat."
Living on a cattle ranch means lamb doesn't make an appearance on Drummond's dinner table as often as she might like. In fact, since no one else in her family is much of a lamb fan, it's one of Drummond's go-to dishes when she is hosting a party of one. (Though with the busy life Drummond leads, it's hard to imagine that a night alone, with no one to cook for but herself, happens very often.)
Lamb is good and good for you ... but mostly good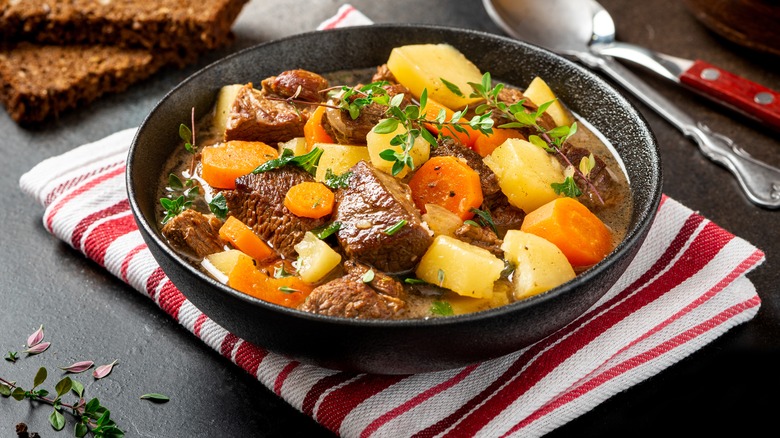 Svetlana Monyakova/Shutterstock
Because she loves lamb so much, Drummond has an entire section of her website devoted to the protein, and all of its possible iterations on a Pioneer Woman's plate. From a traditional Irish Shepherd's Pie (made not with ground beef, as many people might think, but with minced lamb) to Moroccan meatballs, Drummond offers a multitude of lamb possibilities. Like the little black dress of the carni-verse, lamb can be dressed up or down; Drummond's herb-crusted rack of lamb, sitting next to her one-pot lamb stew in the recipe book, is proof of that.
Eat the Seasons points out that we are fast approaching the peak of lamb season in North America, with the popular spring lamb giving way to early summer's more tender cuts of this protein. The meat may be fattier than beef, but lamb also contains plenty of iron and zinc. Plus, there are plenty of vitamins (like vitamin B, for example) that, at least for Drummond, are much nicer to consume via a tasty roast leg of lamb with garlic and potatoes than they are by swallowing a tablet. So when it comes to menu planning, ewe shouldn't be sheepish; think "lamb, bam, thank you ma'am," and tip your cowboy hat towards the Pioneer Woman, hoof you herd it from first.