Who Invented The Chocolate Chip Cookie?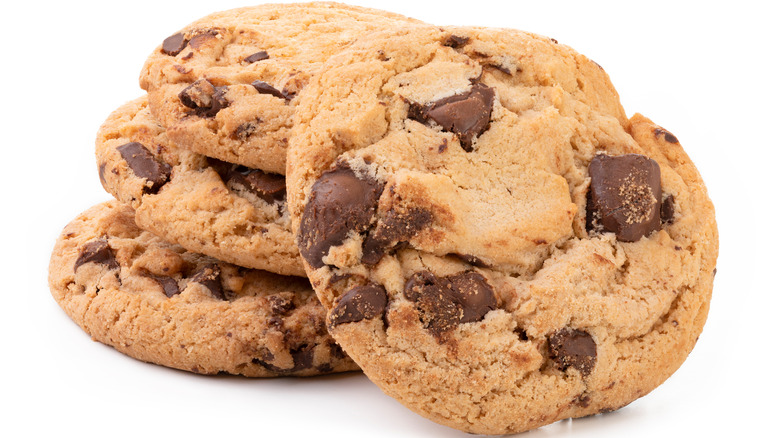 Suradech Prapairat/Shutterstock
The chocolate chip cookie is such a ubiquitous part of American food culture, few of us have ever stopped to wonder where it came from. This iconic dessert just seems to have been around forever, but the classic cookie does have a mysterious origin story. According to a compilation of polls by the Savory Experiments, the variety is favored by a majority of Americans. It was invented by Ruth Wakefield, who was born in 1903 in East Walpole, Massachusetts (via The New York Times).
Wakefield attended what is now Framingham State University, then a school of household arts. She graduated in 1924 and went on to teach home economics for two years. In 1926, she married Kenneth Wakefield, a meatpacking company executive, and worked as a food lecturer and hospital dietitian over the next four years. In 1930, the couple purchased a 200-year-old lodge in Whitman, Massachusetts, which had once housed late colonial-era travelers. According to Massachusetts Institute of Technology, it was there that travelers changed horses, were given meals, and paid tolls. The Wakefields reopened the lodge and named it the Toll House Inn. Ruth's background in home economics made taking on the food services at the Inn an obvious choice — and that's where the chocolate chip cookie story begins.
The first chips came from a bar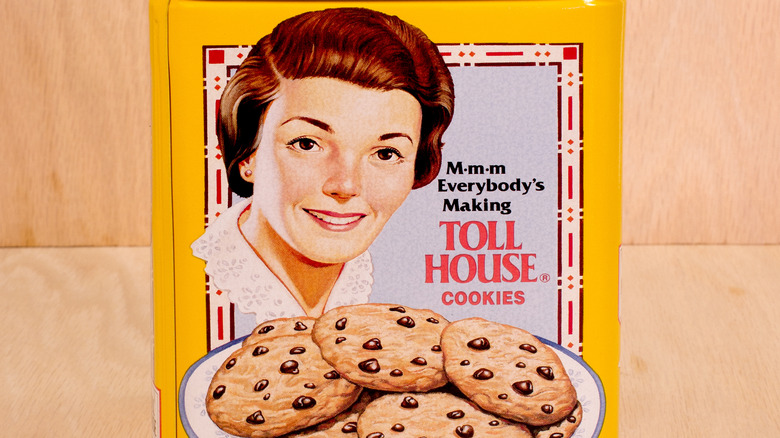 digitalreflections/Shutterstock
Ruth Wakefield's culinary creations made the Toll House Inn quite popular in the 1930s. According to Massachusetts Institute of Technology, her desserts were the biggest draw. Ruth borrowed recipes she'd learned from her grandmother in addition to creating her own, and the Inn regularly featured her Butter Drop Do cookies (via The New York Times). Looking for a new take, she came up with the idea to add melted baker's chocolate to the dough. On the day she attempted this twist, Ruth had run out of baker's chocolate and reached for a bar of Nestlé semisweet chocolate instead. Ruth was also pressed for time that day, so she skipped the melting process, chopped the bar into small pieces, and added them to the dough. The bits didn't melt into the cookie but stayed whole with a soft texture. while some claim the first chocolate chip cookies were a mistake, Carolyn Wyman, the author of "Great American Chocolate Chip Cookie Book," refutes this, saying Wakefield knew just what she was doing.
The baker's new cookie caused a sensation and several newspapers published the recipe. As sales of semisweet chocolate bars increased at Nestlé, the company struck a deal with Wakefield to print her Toll House cookie recipe on its packaging. Ruth also published her "Toll House Chocolate Crunch Cookie" recipe in a late-1930s edition of her cookbook "Ruth Wakefield's Tried and True Recipes." The rest, as they say, is sweet history.