The Mysterious Origin Of Chocolate Chip Cookies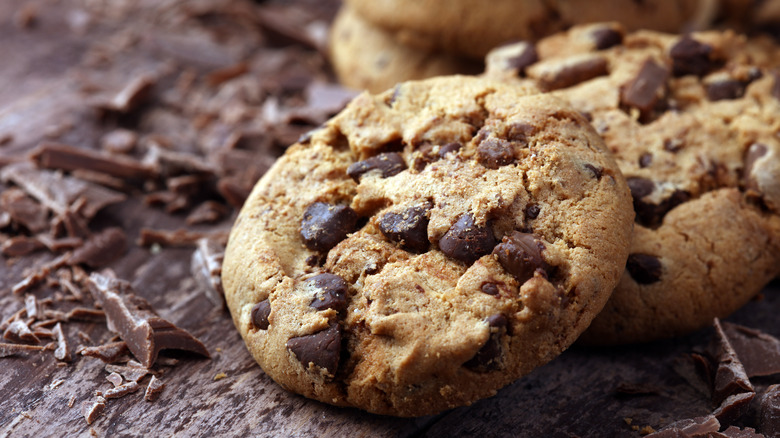 beats1/Shutterstock
When you think of a cookie, you likely think of the classic: a chocolate chip cookie. It's simple but delicious, and if you eat one fresh out of the oven, the chips are still a little gooey. The way it melts in your mouth always leaves you wanting more. 
In 2021, Biscuit People nicknamed the chocolate chip cookie as one of the most American cookies in recognition of its history and widespread popularity. And dozens of companies, including Famous Amos, Chips Ahoy!, Entenmann's, and more, have gifted fans with their takes on the classic recipe. Of course, there are plenty of less-traditional chocolate chip cookie recipes out there, too, including mint, strawberry, M&M's, double chocolate chip, and white chocolate chip options. 
So, where did this wonderful classic come from? What genius first lovingly crafted it? Who should we be thanking? You might be surprised to learn about its origin story. 
How the chocolate chip cookie was born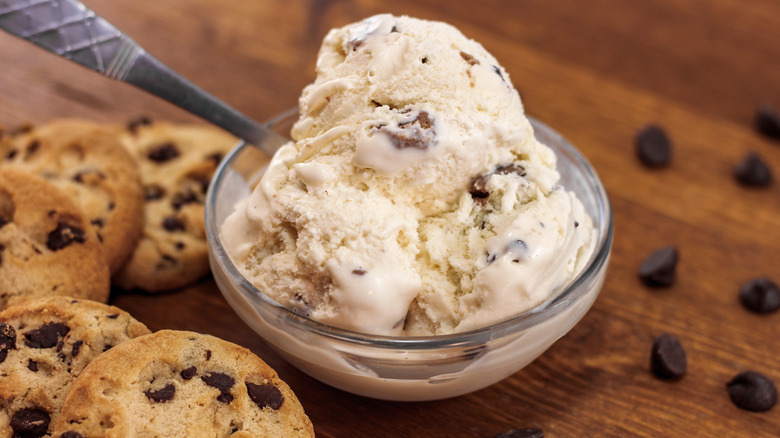 Kellentinesday/Shutterstock
While you might see the chocolate chip cookie as a standalone dessert, that wasn't always the case. According to The New Yorker, when Ruth Wakefield first made her now-famous chocolate chip cookies in the late 1930s, they were intended to accompany ice cream. Wakefield's recipe found immediate success and was made even more popular when Betty Crocker shared it on her radio show. By 1939, Wakefield and her husband sold both the recipe and the name rights — Toll House — to Nestlé.
To make things even more complicated, Eater reports that Wakefield may not be the sole inventor of the chocolate chip cookie. According to the outlet, supermarket chains were selling chocolate chip cookies as early as 1928, well before Wakefield's recipe was published.
You can still find Wakefield's recipe on Nestlé packaging today, more than 80 years later. Nestlé has even launched a new line of allergen-free chocolate chips available in white and dark chocolate, as well as a semi-sweet variety, so cookie lovers with food allergies can still enjoy the classic dessert.