Traditional Tomato Pie Recipe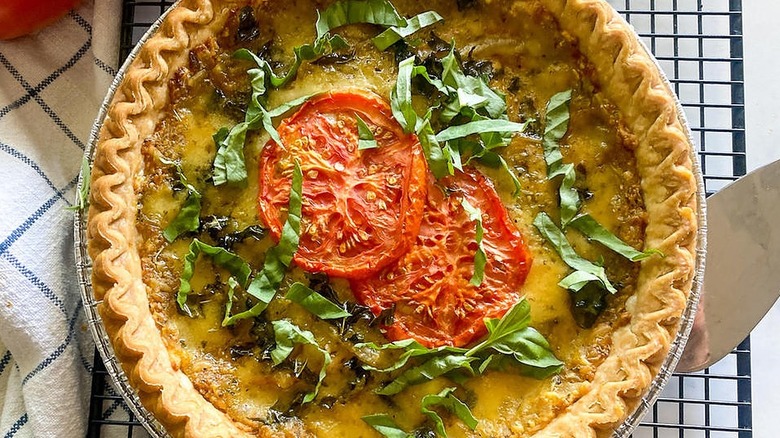 Miriam Hahn/Mashed
When you hear the word "pie," your mind may conjure up tempting images of blueberry, apple, or cherry filling inside a sweet crust. You may even think of a chicken pot pie, a shepherd's pie, or maybe a tomato pie ... wait, a tomato pie? Okay, a tomato pie may not be the first direction your mind wanders in, but after following this recipe by developer and wellness coach Miriam Hahn, it just might be.
"This is an easy, make-ahead recipe that is savory and satisfying," Hahn says of her traditional tomato pie recipe. Not only does this pie taste good, but Hahn also notes that making this dish is "a great thing to do with summer tomatoes when [they] are overgrowing in your garden or in prime season at the farmer's market." Indeed, once tomatoes are ripe, there isn't much time before they turn to mush. But this recipe will save them from an untimely fate. 
Gather the ingredients for traditional tomato pie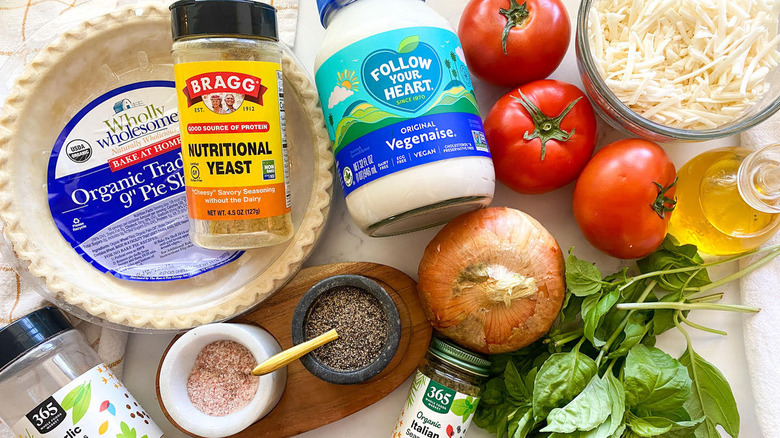 Miriam Hahn/Mashed
Tomatoes are the star of this recipe, but there are plenty of other tasty ingredients that will help round out the dish. To make this pie, you'll also need a frozen pie crust, a sweet onion, mayonnaise (or vegan mayo, as Hahn uses), mozzarella cheese, nutritional yeast, Italian seasoning, garlic granules or powder, salt and pepper, avocado or olive oil, and some fresh basil.
Okay, let's talk nutritional yeast, perhaps the one odd-ball item in this list. "The nutritional yeast adds an extra dimension of the cheesy flavor while also adding extra protein and B12," Hahn says of the special ingredient. "It also acts as a thickening agent, which helps counteract the extra water that the tomatoes may have."
Slice and season the tomatoes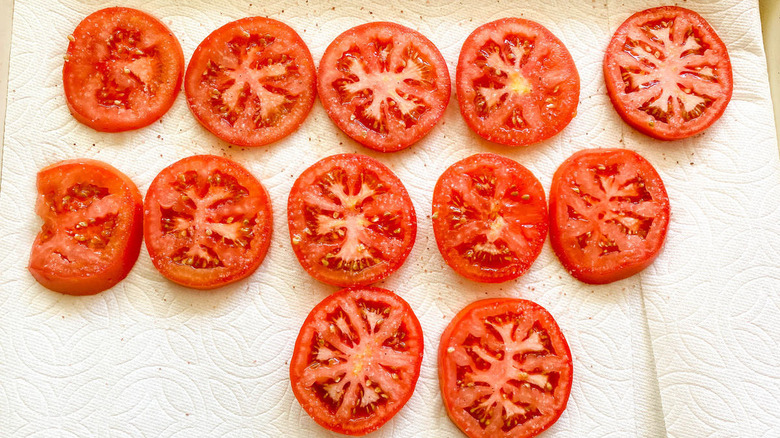 Miriam Hahn/Mashed
Before you do anything else, preheat your oven to 350 F. Then, thinly slice the tomatoes until you have 7 to 10 slices. Layer a baking sheet with paper towels, then lay the tomato slices in a single layer across. Sprinkle ½ teaspoon salt onto the tomatoes, then layer more paper towels on top. Let the tomatoes sit like this for 15 minutes. Halfway through, pat the paper towels down onto the tomatoes to absorb some drawn out moisture, then discard the top layer and place fresh, dry paper towels back onto the tomatoes. This process helps remove some of the excess liquid in the tomatoes, which will prevent your pie filling from becoming soggy.
Mix together the creamy, cheesy filling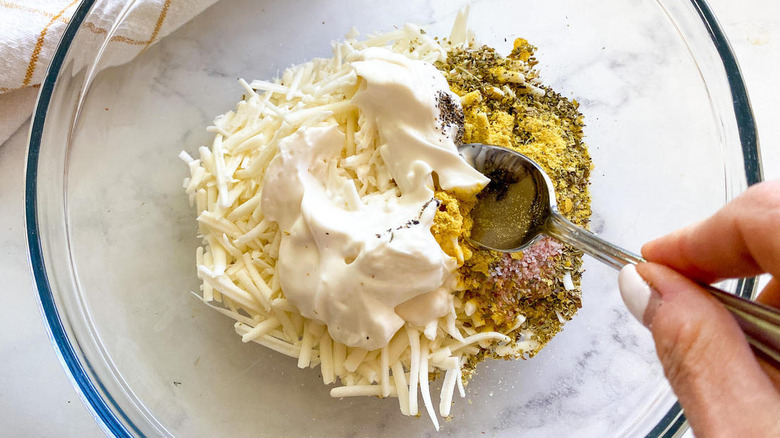 Miriam Hahn/Mashed
As your tomatoes rest on the paper towels, you can turn your attention to the pie filling. In a bowl, add the mayonnaise, cheese, nutritional yeast, Italian seasoning, garlic granules, the remaining salt, and pepper. Mix everything together then set the bowl aside.
Layer the tomatoes into the pie crust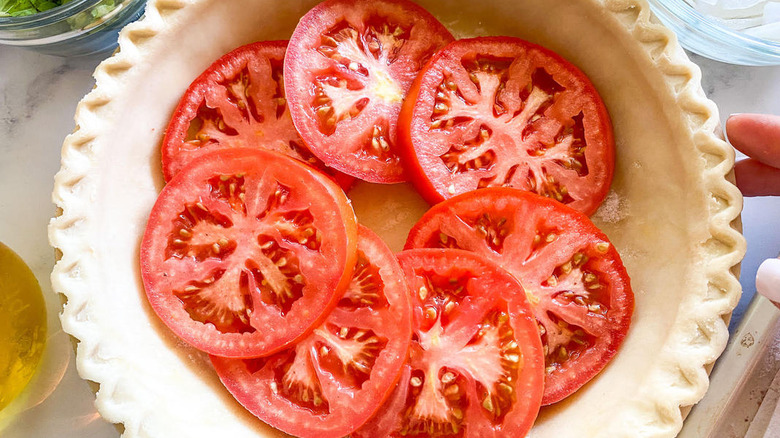 Miriam Hahn/Mashed
Once the paper towels have absorbed a decent amount of the tomatoes' excess liquid, you can begin to build the pie. Grab your crust, then layer the tomatoes at the bottom in a circular pattern — it's okay to overlap the slices. Save a few extra slices on the side, as you'll use those to top off the pie. 
Assemble the rest of the pie and bake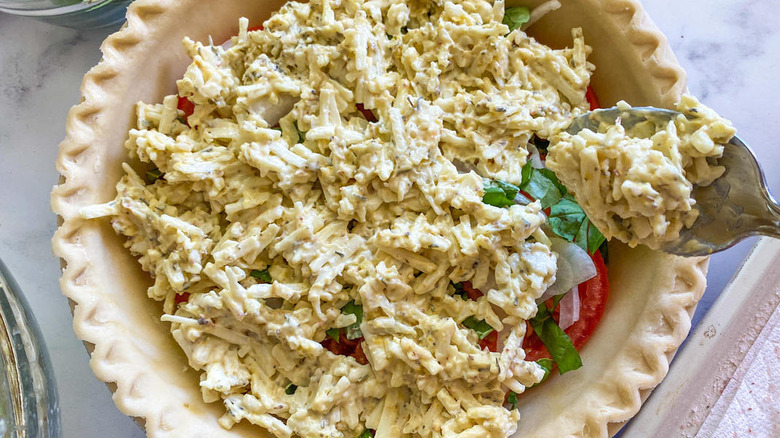 Miriam Hahn/Mashed
With the tomatoes at the bottom of the pie, next scatter the onion slices on top of them, then drizzle on the oil. Sprinkle half of the basil on top, then spoon in the creamy filling. Finally, add the remaining few tomato slices on top, gently pressing them down so they stick to the filling. Now, you're ready to bake the pie!
It will take 45 to 50 minutes for the pie to cook in the oven, and when you first take it out, it may look a little jiggly. Fear not, as it will have plenty of time to firm up. Just be sure to let the pie rest and cool for at least 30 minutes before slicing into it. 
Enjoy your savory tomato pie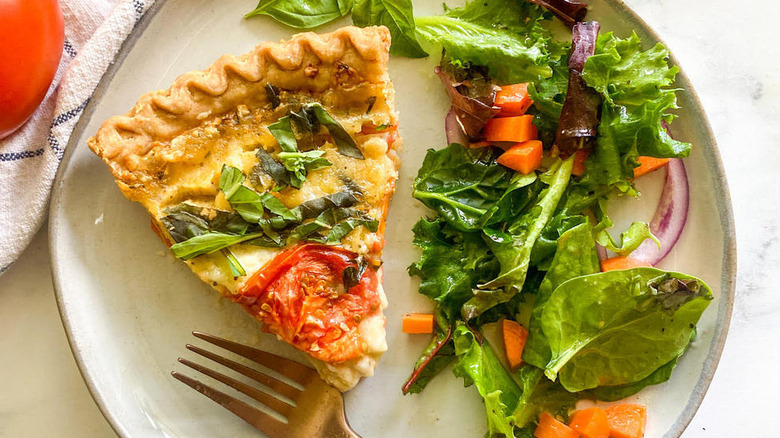 Miriam Hahn/Mashed
Once the pie has had a chance to cool, top it off with the remaining basil. Then, you're ready to slice into it, serve, and enjoy!
If you're looking for pairing options, Hahn has plenty of suggestions. "I think this pairs well with a green salad, steamed broccoli, or a vegetable soup if you are serving it for dinner," she says. "For lunch or brunch, it can be served on a bed of greens, with asparagus, sliced avocado, or fresh fruit." You could even serve this buffet-style, along with an assortment of other quiches. Who knows? Maybe you'll also want to serve it right alongside a dessert pie. Both deserve a place at the table.
Traditional Tomato Pie Recipe
Pie doesn't have to be for dessert. This savory version, packed with tomatoes and cheese, would make an excellent addition to your next summer brunch spread.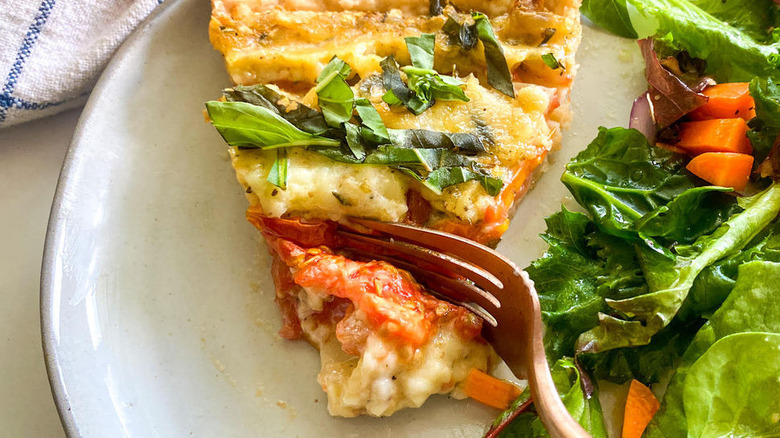 Ingredients
3 large tomatoes
1 teaspoon salt, divided
½ cup mayonnaise (or vegan mayonnaise)
1 ½ cups mozzarella cheese
1 tablespoon nutritional yeast
1 teaspoon Italian seasoning
½ teaspoon garlic granules or garlic powder
¼ teaspoon pepper
1 frozen pie crust
¼ cup sliced sweet onion
1 teaspoon avocado or olive oil
¼ cup fresh basil, julienned, divided
Directions
Preheat the oven to 350 F.
Thinly slice the tomatoes; you will need about 10 slices. Lay them on a baking sheet lined with paper towels. Sprinkle ½ teaspoon salt over them. Cover with more paper towels and let the tomatoes sit for 15 minutes. Halfway through, pat the tomatoes dry and replace the top layer with dry paper towels.
Meanwhile, mix the mayonnaise, cheese, nutritional yeast, Italian seasoning, garlic granules, the remaining salt, and pepper in a bowl. Set aside.
Pat tomatoes dry and layer them in the pie crust in a circular pattern, overlapping to fit 7 or 8 slices. Reserve a few slices for later.
Scatter the onion slices over the tomatoes and drizzle oil on top. Top with half of the basil.
Add the cheese mixture, spreading it evenly across the top. Add 2 or 3 reserved tomato slices and press down gently into the cheesy mixture.
Bake the pie in the oven for 45 to 50 minutes. It will look bubbly and jiggle when you pull it out, but it will firm up as it cools. Let pie rest for at least 30 minutes before slicing.
Garnish with the remaining basil and serve.
Nutrition
| | |
| --- | --- |
| Calories per Serving | 406 |
| Total Fat | 31.2 g |
| Saturated Fat | 12.1 g |
| Trans Fat | 0.0 g |
| Cholesterol | 49.0 mg |
| | |
| --- | --- |
| Total Carbohydrates | 19.4 g |
| Dietary Fiber | 1.9 g |
| Total Sugars | 2.4 g |
| Sodium | 550.5 mg |
| Protein | 13.0 g |