Why Moms On Twitter Are Buzzing About Emeril Lagasse's Olive Oil Cake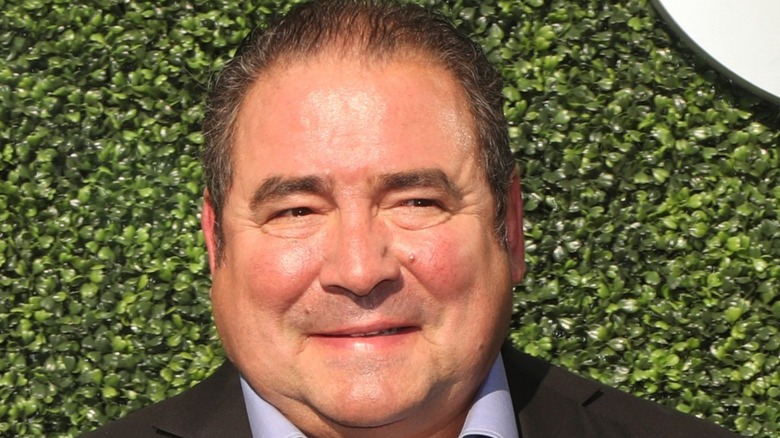 Leonard Zhukovsky/Shutterstock
Mother's Day is creeping up on us fast, and if you are still looking for a way to celebrate and maybe impress the moms in your life with your cooking skills, Emeril Lagasse has a sweet way to do so. Whether you're planning a Mother's Day breakfast, a fancy brunch, afternoon tea, or a family picnic to celebrate mom, you might want to incorporate Lagasse's olive oil cake recipe.
Like many other celebrity chefs, Lagasse learned his way around a kitchen thanks to his mom, Hilda Lagasse. Per Britannica, Lagasse was just 7-years-old when his mom showed him the ins and outs of crafting vegetable soup. It wasn't perfection at first, but Lagasse recalls his mom's patience and passion for cooking when he was just learning. In fact, the celebrity chef gives his mom all the credit for instructing and entrusting him with her family recipes that are steeped in her Portuguese heritage (via Dignity Memorial). 
While we don't know if these individual-sized olive oil cakes are part of that maternal treasure trove, they definitely look delicious, and we think you will appreciate the preferred cooking method recommended by the seasoned chef.
Break out the air fryer for these mini cakes
As Bon Appetit explains, the beauty of an olive oil cake is the moisture the extra virgin olive oil creates, largely due to the fact that it maintains its liquid form at room temperature. According to Lagasse's Instagram post, his personal-sized Citrus Olive Oil Cakes can be made in the "it" appliance of the year, — also known as the air fryer – or the traditional oven. But regardless of which method you prefer, we love that it requires just 25-minutes to bake these cakes that are infused with orange and lemon juice, along with a little Grand Marnier to make that citrus flavor pop. To give it that extra special touch, Lagasse sprinkles powder sugar over the cakes and garnishes them with blackberries and raspberries. 
Fans are all-in with making this cake to "kick it up a notch" and celebrate mom. One even tagged her people and wrote, "I want this for mother's day!" Another summed up the overall sentiment of Lagasse's followers with this comment: "These look spectacular!! Wow!" 
Another great thing about these miniature cakes is that they can be stored on the countertop in airtight containers for several days so mom can enjoy this treat with her first cup of coffee on Monday morning. The gift that continues to give.