Air Fryer S'mores Recipe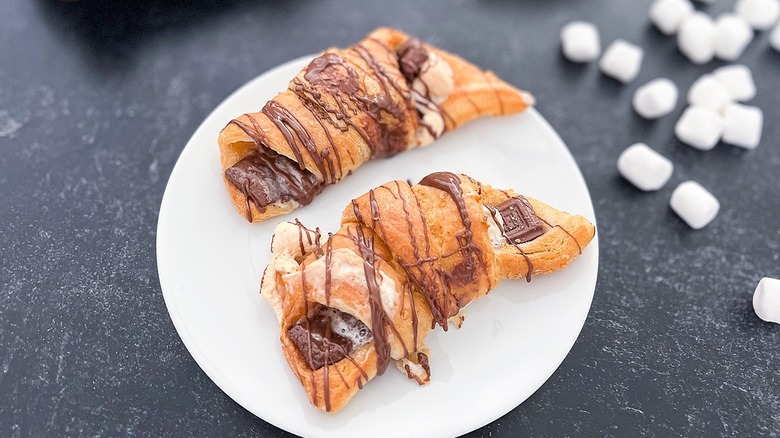 Erin Johnson/Mashed
When you think of the quintessential summertime dessert, s'mores likely pop right into mind. The chocolatey treat conjures up images of roasted marshmallows over a bonfire — but who says you need a flame to make s'mores? Believe it or not, you can enjoy this delicious treat during any season, and moreover, you don't need to mess with any type of fire to make them.
Recipe developer Erin Johnson has created the perfect hassle-free treat with her air fryer s'mores, without skimping on any of the marshmallowy or chocolatey goodness. "This is so simple, fast, and delicious but also feels a touch more elevated than a traditional s'more," Johnson says of her recipe. As for when to serve these sweet treats, Johnson says they're great for a simple dessert or for movie night. "They also could make for a sweet breakfast addition," she adds. Of course, with a recipe this sweet and simple, you could enjoy these s'mores at pretty much any time of day — because, as Johnson perfectly puts it, "There's never a bad time for s'mores."
Gather the air fryer s'mores ingredients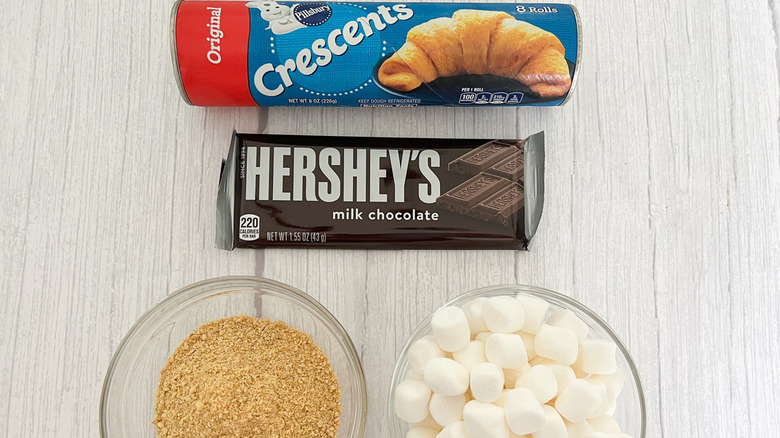 Erin Johnson/Mashed
It doesn't take much to make an air fryer s'more. For this recipe, you'll of course need chocolate and marshmallows. You'll also need a tube of crescent roll dough, which Johnson uses as the vehicle for the treat (instead of graham crackers, as featured in a classic s'more). But don't worry, because graham crackers will still come into play here; you'll sprinkle graham cracker crumbs onto the crescent roll to achieve that essential s'more flavor. "You can omit the graham cracker crumbs if you'd like, but I think they help to enhance the s'mores-like taste," Johnson explains.
Roll out the dough and sprinkle on graham cracker crumbs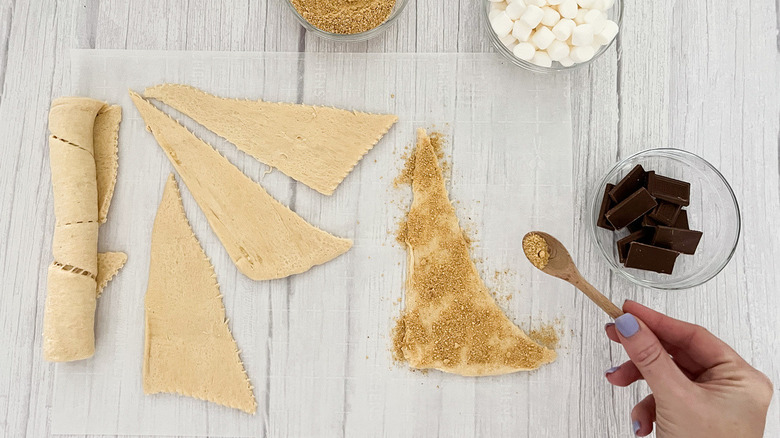 Erin Johnson/Mashed
Preheat your air fryer to 350 F. Roll out the crescent roll dough and break off individual triangles based on the handy perforations. Now, sprinkle the graham cracker crumbs onto each dough triangle.
Fill with chocolate and marshmallows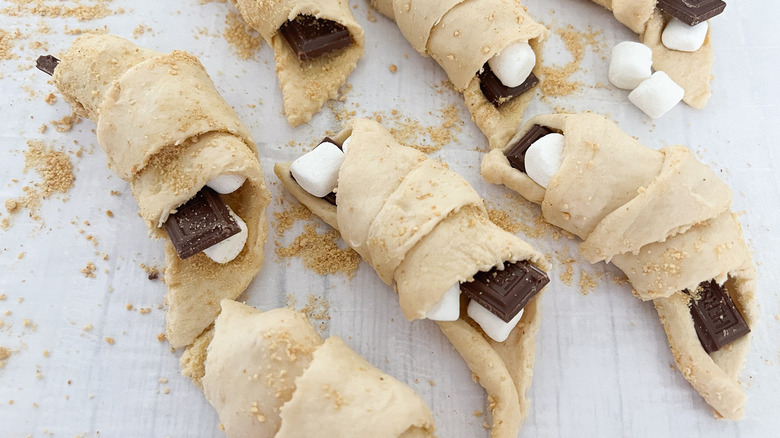 Erin Johnson/Mashed
It simply wouldn't be a s'more without chocolate and marshmallows! In this step, place 2 pieces of chocolate and 6 to 8 marshmallows onto the wide end of each crumb-coated dough triangle. As for the marshmallows, Johnson uses mini ones, but if you only have the large variety on hand, you can simply cut them into smaller pieces. Roll up each triangle as you would a normal crescent roll, but make sure that all of the goodies stay packed inside. 
Air fry the s'mores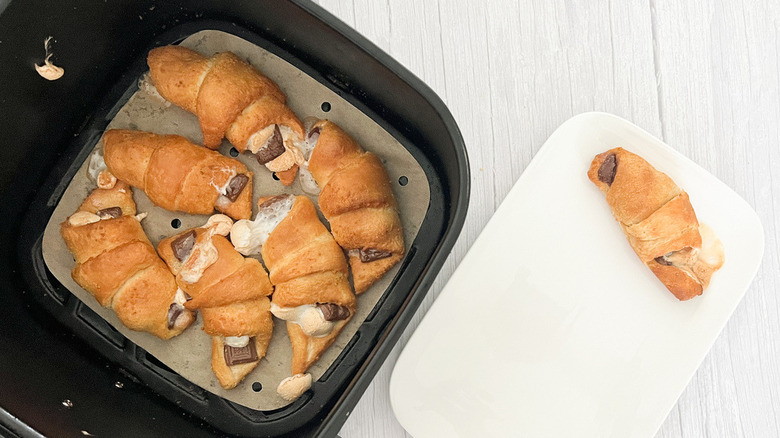 Erin Johnson/Mashed
Line the bottom of your air fryer basket with parchment paper, then place each s'more on top. Be sure to leave space in between them, as they'll puff up when they bake. You may have to work in batches to cook all of the s'mores, depending on how large your air fryer is.
Once you have the s'mores lined up in the basket, air fry them for about 6 minutes, or until the dough is puffed up and golden brown. At that point, remove the cooked s'mores and set them aside; repeat the process until all of the s'mores are cooked. 
Drizzle on some extra chocolate and enjoy your air fryer s'mores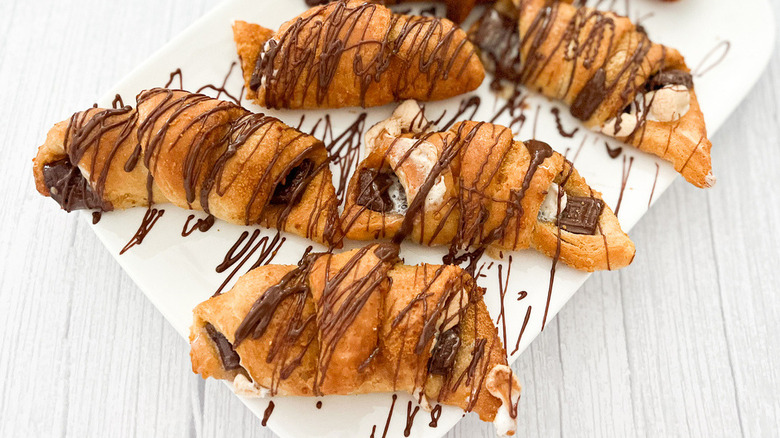 Erin Johnson/Mashed
Now that all of your s'mores are air fried, you can organize them on a serving platter. Then, melt the remaining chocolate in the microwave and drizzle it on top of the s'mores. "To change up the flavors, you could also top with Nutella or caramel sauce," Johnson notes. Just like that, you now have gooey, flaky air fryer s'mores, without the hassle or danger of a bonfire. Much like a classic s'more, you will want to eat these right away while they're still warm. With each bite, you'll get a hint of buttery goodness from the crescent roll, plenty of sweetness from the marshmallows and chocolate, and a perfect flavor boost from the graham crackers — this treat will definitely have you begging for s'more!
Air Fryer S'mores Recipe
Who says you need a bonfire to make s'mores? This fun hack involves rolling the classic ingredients into crescent dough and cooking them in the air fryer.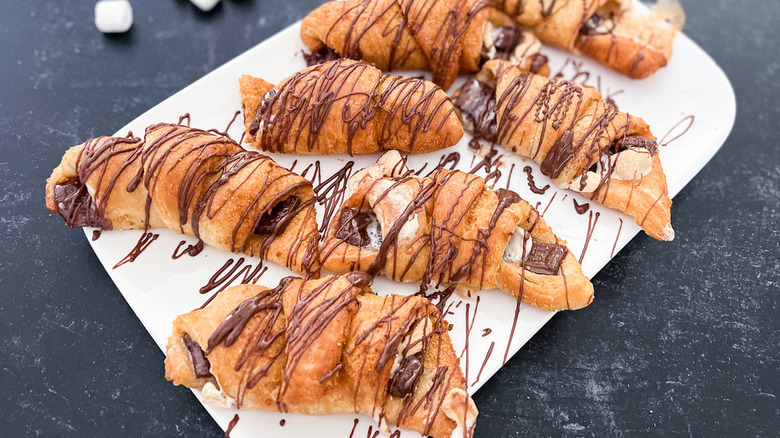 Ingredients
1 (8-ounce) package crescent roll dough
¼ cup graham cracker crumbs
2 chocolate bars, broken into pieces, divided
1 cup miniature marshmallows
Directions
Preheat air fryer to 350 F.
Unroll the crescent dough into 8 individual triangles (using the pre-cut perforations) and sprinkle ½ tablespoon graham cracker crumbs onto each.
Put 2 pieces of chocolate (using about 1 ⅓ bars total) and 6 to 8 mini marshmallows at the wide end of each triangle, then roll the dough into crescent shapes.
Line the air fryer with a piece of parchment and place the rolls on, making sure to leave space in between. You may need to cook in 2 batches, depending on the size of your air fryer.
Air fry the s'mores for 6 minutes, or until the crescent dough is golden brown.
Melt the remaining chocolate in the microwave (in short increments to avoid burning) and drizzle over each s'more.
Serve the s'mores while warm and enjoy.
Nutrition
| | |
| --- | --- |
| Calories per Serving | 206 |
| Total Fat | 6.0 g |
| Saturated Fat | 2.9 g |
| Trans Fat | 0.0 g |
| Cholesterol | 0.0 mg |
| | |
| --- | --- |
| Total Carbohydrates | 35.7 g |
| Dietary Fiber | 1.9 g |
| Total Sugars | 12.7 g |
| Sodium | 255.6 mg |
| Protein | 4.2 g |