Easy Kettle Corn Recipe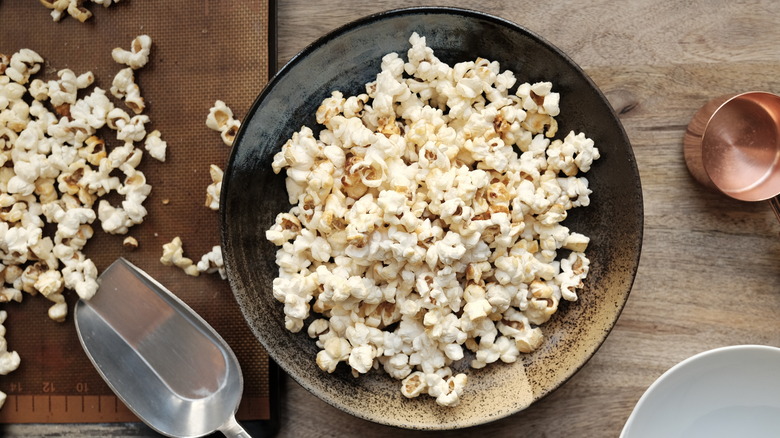 Eric Ngo/Mashed
There's nothing quite like a fresh batch of popcorn. This light and airy snack is perfect to grab-and-go for car rides, pack in lunches, and of course it would be fantastic to serve at a home movie night. You don't need any fancy equipment to make this popcorn — all it requires is a large pot with a lid and a handful of ingredients. Easy as pie! You can whip up this tasty popcorn in about 15 minutes from start to finish. Rather than traditional buttered popcorn, this kettle corn includes a hint of sugar, giving it that kettle corn taste and the perfect balance of sweet and salty.
Recipe developer Eric Ngo is the brains behind this spectacular kettle corn recipe. "What I like most is you can control the amount of sugar," Ngo says. "You can take out or add sugar depending on how you like your kettle corn. Also, these are common ingredients you can find in your household, and it only takes 10 minutes to prepare!" Ngo also explains his inspiration for this recipe, explaining that he used to purchase kettle corn by the bag in college. "Making this recipe brings me back to my younger days," he says. It's possible that this recipe will spark some nostalgia for you, too — the only way to find out is by making it!
Gather the ingredients for easy kettle corn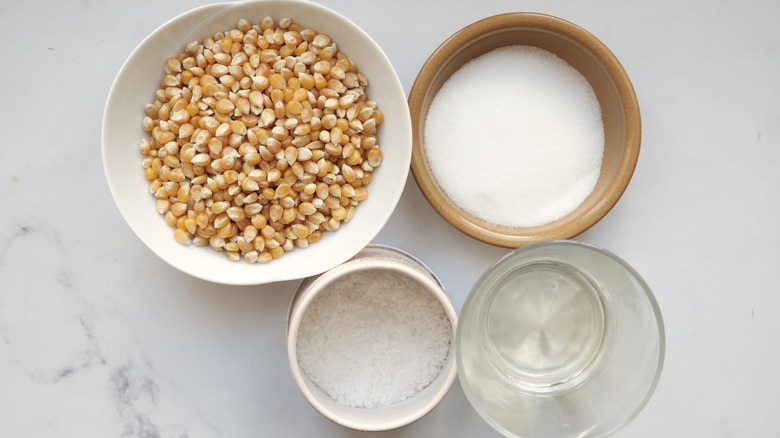 Eric Ngo/Mashed
For this recipe, you will need popcorn kernels, sugar, oil, and sea salt. Once you have all the ingredients, you can make this delicious and easy kettle corn.
Heat the oil and test a kernel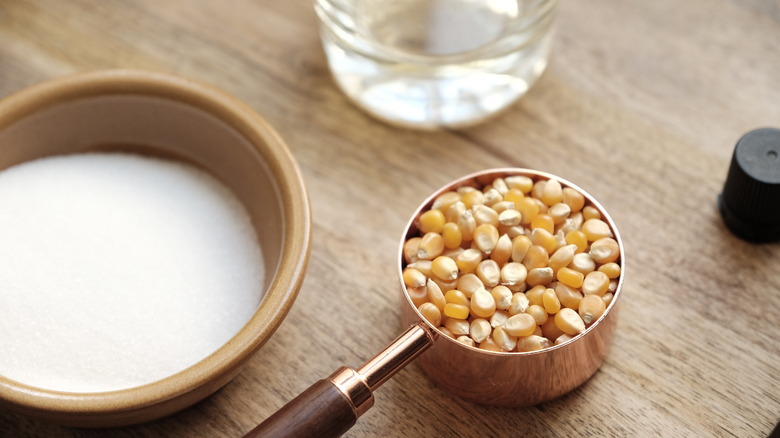 Eric Ngo/Mashed
Grab a large pot with a lid. Fill the pot with oil and turn the heat to medium, which is just the right temperature to cook the popcorn. Add a single popcorn kernel to the oil as a test. "You can substitute the neutral oil for butter," Ngo shares. 
Once the kernel pops, that means the oil is ready. "Be careful not to overheat the oil; if it becomes too hot, the kernels will not pop but rather burn," Ngo says, noting that the oil should never reach a smoking point.
Add the sugar and kernels to oil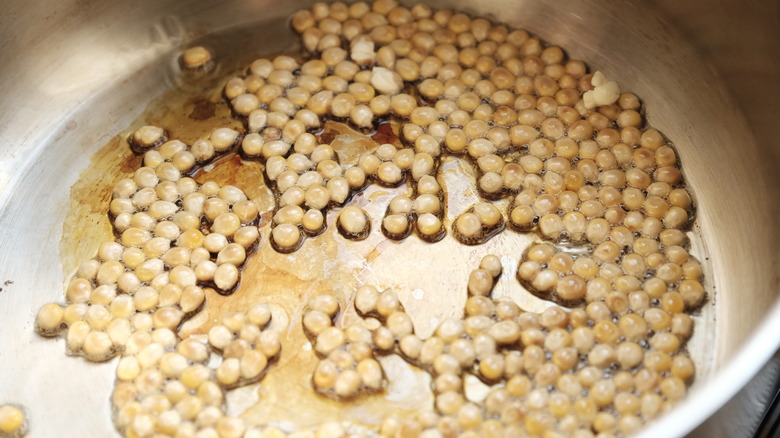 Eric Ngo/Mashed
Now that the oil is ready, toss in the sugar and kernels. Stir the kernels and sugar for a few seconds to coat the kernels and distribute everything evenly. You want to be sure that each kernel gets a nice coat of sugar for optimal taste! 
Cover the pot with a lid and wait for the kernels to pop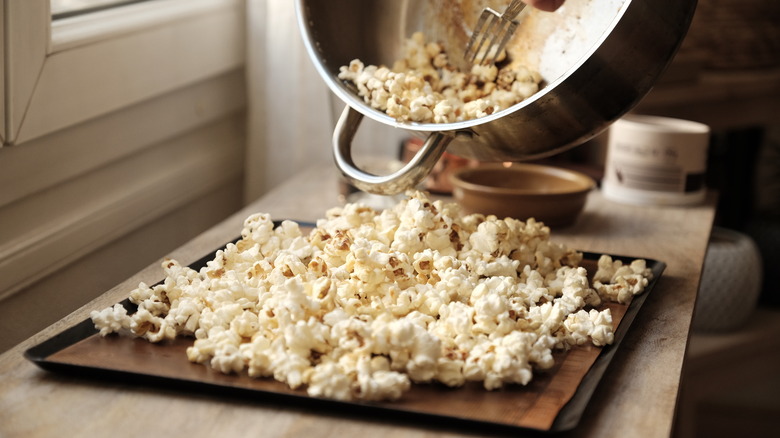 Eric Ngo/Mashed
Place the lid on the pot and continuously shake it over the stove. Continue shaking until all the kernels have popped. "Depending on the amount, this should take 2 to 4 minutes. Once you [hear] 5 seconds of silence between each pop, your batch should be done," Ngo shares.
Then, transfer the popped kettle corn to a large tray and spread the popcorn pieces out to prevent them from clumping or sticking together.
Add sea salt and serve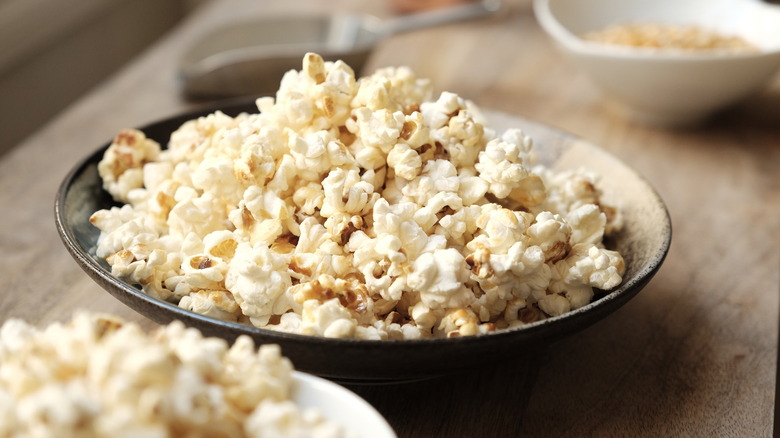 Eric Ngo/Mashed
Transfer the kettle corn to a large bowl and add sea salt. GIve the popcorn a few good shakes to coat evenly with the sea salt. Now, it's time to enjoy this sweet and salty snack! "Serve this kettle corn for your movie nights along with your favorite drinks just like at the cinema," Ngo suggests. And, if you want any additional snacks, you can't go wrong with a candy classic like M&Ms!
"You can keep the kettle corn in an airtight container for up to 2 days for optimal taste," Ngo notes of leftovers. Cheers to an easy and delicious snack recipe!
Easy Kettle Corn Recipe
Why buy store-bought popcorn when you could make it fresh at home? With this easy, you can pop up some sweet kettle corn in a breeze.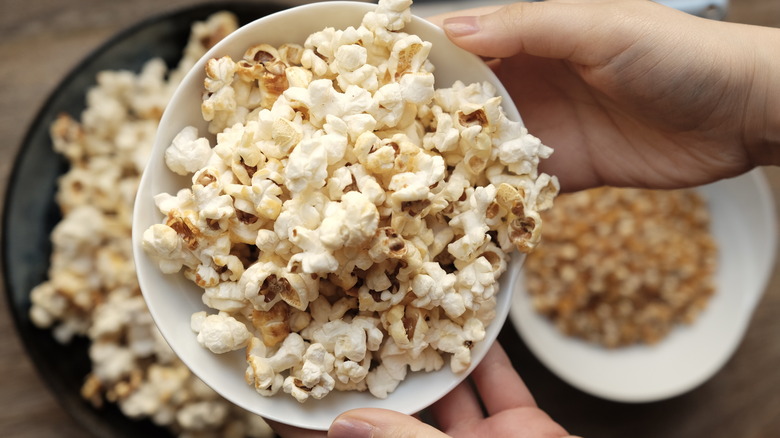 Ingredients
⅓ cup popcorn kernels
¼ cup sugar
3 tablespoons neutral oil
¼ teaspoon sea salt
Directions
In a large pot, add oil and one kernel on medium heat. Once the kernel pops, this indicates that the oil is hot enough to make popcorn.
Add the sugar and the rest of the kernels all at once. Stir for a few seconds to coat the kernels.
Cover the pot with a lid, and continuously shake the pot around over the stove until all kernels have popped.
Pour the kettle corn on a large tray in a single layer, to prevent them from sticking to one another.
Add sea salt and toss around in a large bowl.
Serve and enjoy.
Nutrition
| | |
| --- | --- |
| Calories per Serving | 179 |
| Total Fat | 10.9 g |
| Saturated Fat | 0.8 g |
| Trans Fat | 0.0 g |
| Cholesterol | 0.0 mg |
| | |
| --- | --- |
| Total Carbohydrates | 19.9 g |
| Dietary Fiber | 1.3 g |
| Total Sugars | 12.6 g |
| Sodium | 76.7 mg |
| Protein | 1.1 g |