Instant Pot Kettle Corn Recipe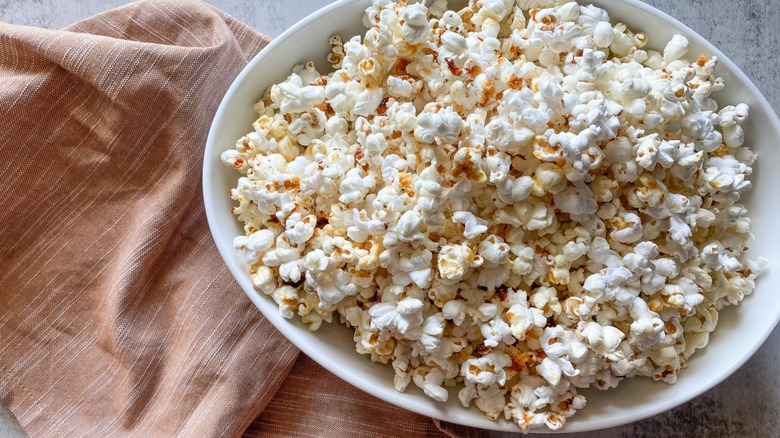 Kristen Carli/Mashed
What's poppin'? We have a sweet snack that will take you way back! Do you remember coming home from the fair or flea market with bags of kettle corn? Well, recipe developer and dietician Kristen Carli gave us the not-so-secret recipe to pop it from home. Fair warning, once you pop, you might not be able to stop! 
Not to be too corny, but according to Popcornopolis, the origin of kettle corn isn't quite exact. It is likely this snack originated in Europe, possibly in Germany. The perfect combination of flavors was achieved by combining lard and sugar, which also preserved the popped corn (via Gold Medal Popcorn). It was made in a large pot or kettle suspended above a fire and it was generally eaten in the evening. Kettle corn was then brought to the Americas by settlers and is now enjoyed by many across the country.
Instead of lard and a kettle, Carli uses olive oil and an Instant Pot for this method. Since you'll actually be using the sauté function only on the Instant Pot, there's no difference from making this recipe with a regular large pot with a tight-fitting lid, except that with an Instant Pot you know that the pot will heat consistently and less likely to burn some of the kernels. So you'll have six servings of this savory corn popped in no time. Let's get to it!
Just four ingredients to get poppin'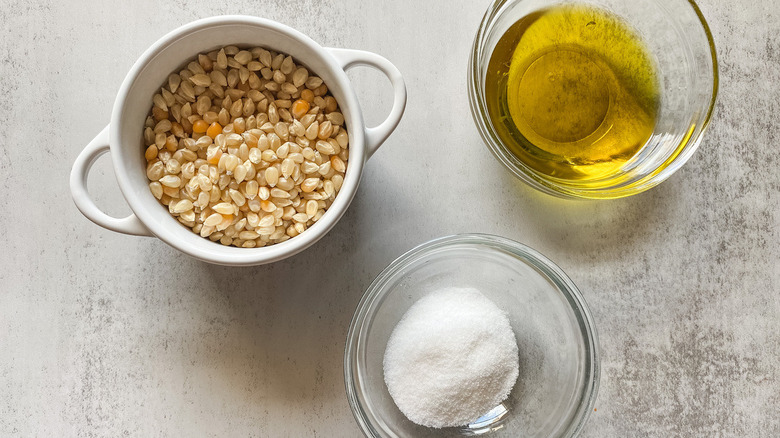 Kristen Carli/Mashed
Are you ready for the shortest shopping list ever? Kettle corn requires just four simple ingredients: olive oil, any brand of popcorn kernels, sugar, and a teeny bit of salt.You might wonder why we didn't use canola or veggie oil. With Carli's health consciousness and our goal to give you the best recipes, we arrived at olive oil, with its healthy fat, antioxidants, and anti-inflammatory components. 
According to Healthline, the properties in olive oil also protect against heart disease, aid digestion, and may reduce the risk of developing Alzheimer's.
Heat the Instant Pot and add the oil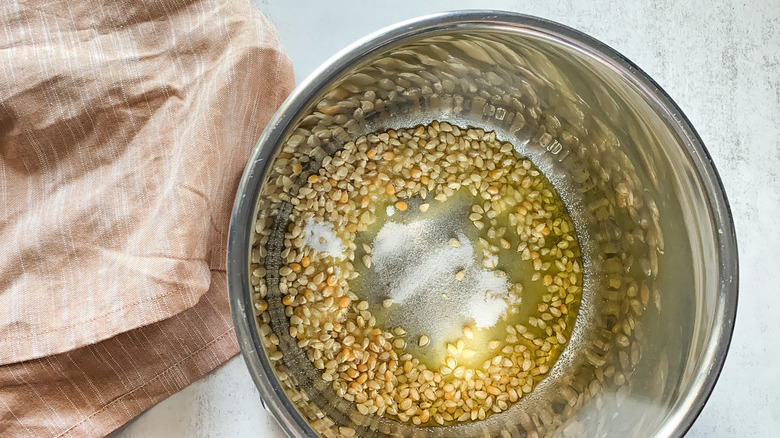 Kristen Carli/Mashed
Before we start popping off, you'll want to heat up your Instant Pot on it's sauté setting. Once it is well heated, drizzle in two tablespoons of olive oil. Drop in a quarter cup of popcorn kernels, along with three tablespoons of granulated sugar, and half a teaspoon of salt. Stir these together to combine them.
Because popcorn is a whole grain like wild rice, every part of the original grain is intact. Here's how popcorn works: Inside the shell, each kernel is filled with starch and moisture. When the kernel is heated in the oil, the moisture and pressure inside the kernel cause it to expand, and the shell pops!
Snap, crackle, pop!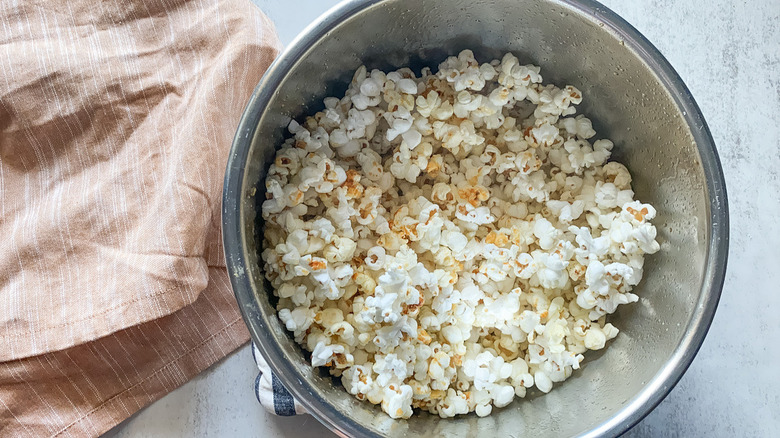 Kristen Carli/Mashed
Cover the Instant Pot with a lid and wait two minutes, until the heat rises and the kernels begin to pop. As an Instant Pot virtuoso, Carli recommends shaking the Instant Pot every 30 seconds or so to rotate the kernels over the heat. Be sure to keep the lid tight on the pot as you shake it to avoid spills. 
Shake the pot consistently until all the popcorn has popped. Usually, this takes just about three minutes or so.
Serve your sweet and salty snackaroo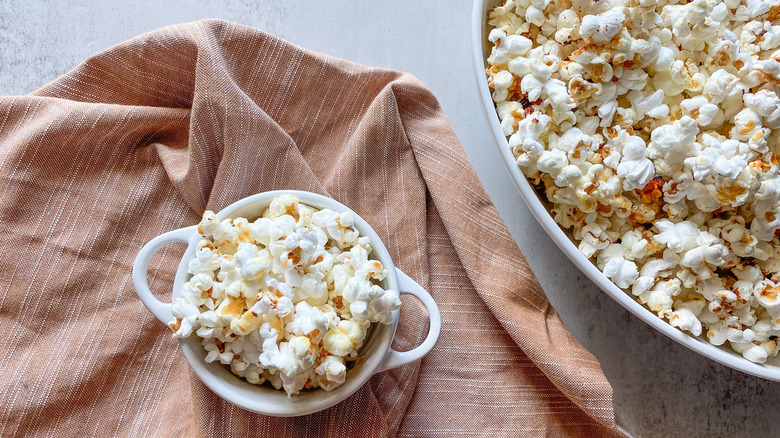 Kristen Carli/Mashed
Once the popcorn has all popped, remember to turn off the Instant Pot. Remove the lid (there's no need to wait for the pressure to reduce because you didn't use the pressure cook setting) and pour your popcorn into a large bowl to serve! 
Kettle corn is just as ideal for movie nights as for a healthy cure for the midday munchies. Bagging up two cups makes a full serving that you can easily send with the kids for a lunchpack snack. Kettle corn also works great for edible craft ideas like necklaces or bracelets for the little ones.  
Carli told Mashed, "I love popcorn, especially kettle corn because of its sweet and salty taste." We hope you take advantage of this quick and easy recipe! Until next time.
Instant Pot Kettle Corn Recipe
Once you pop, you might not be able to stop! This Instant Pot kettle corn recipe uses olive oil and an Instant Pot for a salty-sweet snack in just five minutes.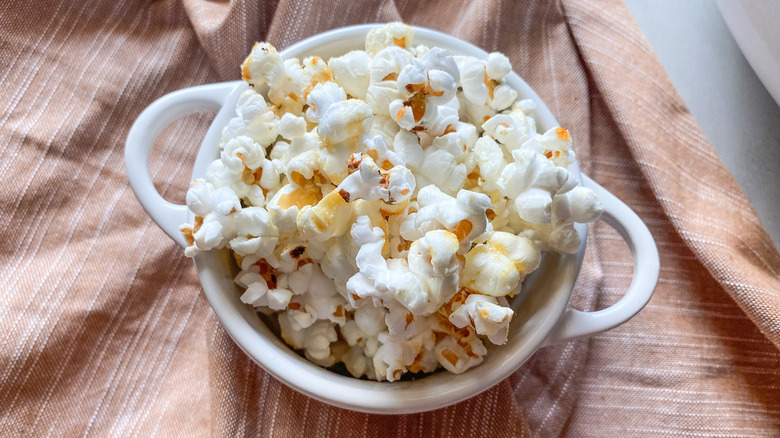 Ingredients
2 tablespoons olive oil
¼ cup popcorn kernels
3 tablespoons sugar
½ teaspoon salt
Directions
Turn the Instant Pot to the sauté setting.
Once the Instant Pot is hot, add the oil, then add the popcorn kernels, salt, and sugar, and stir to combine.
Cover the pot with the lid and wait 2 minutes until the popcorn starts to pop.
Carefully shake the Instant Pot every 30 seconds, holding the lid on so the popcorn doesn't spill, until all the popcorn has popped, about 3 minutes.
Turn off the Instant Pot and remove the lid.
Pour the popcorn into a bowl and serve.
Nutrition
| | |
| --- | --- |
| Calories per Serving | 83 |
| Total Fat | 4.7 g |
| Saturated Fat | 0.7 g |
| Trans Fat | 0.0 |
| Cholesterol | 0.0 mg |
| | |
| --- | --- |
| Total Carbohydrates | 9.9 g |
| Dietary Fiber | 0.6 g |
| Total Sugars | 6.3 g |
| Sodium | 36.6 mg |
| Protein | 0.5 g |