The Base Ingredients Rachael Ray Uses When Making Ranch Dressing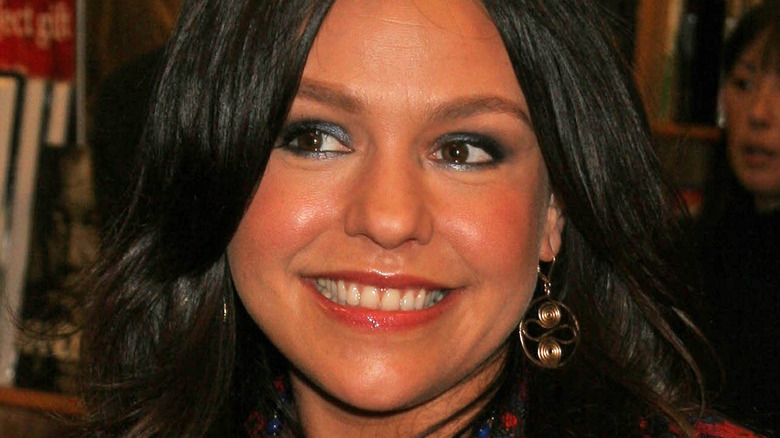 s_bukley/Shutterstock
People love Rachael Ray for her hearty Italian dishes, such as her pasta carbonara, but she's taught us plenty of cooking tips and tricks through the years. Ray's personality earned her a spot as a cooking show host and a talk show host, and both of her projects centered around doable recipes that amateur chefs could make. In fact, per HuffPost, Ray doesn't even like to refer to herself as a "chef" because she doesn't have any professional culinary training. However, the lack of training might actually help her recipes be more digestible for those who aren't experts in the kitchen — and it's actually made Ray worth a lot over the years.
Though Ray might be known for heavier specialties, such as chicken parm and burgers, she does occasionally love to make a filling salad on her show. When it comes to dressings, she might choose something with a little more meat to it, such as ranch versus a vinaigrette. And those looking to make Ray's ranch recipe at home likely even have its ingredients already waiting in their refrigerator or pantry.
Here's what you'll find in Rachael Ray's ranch dressing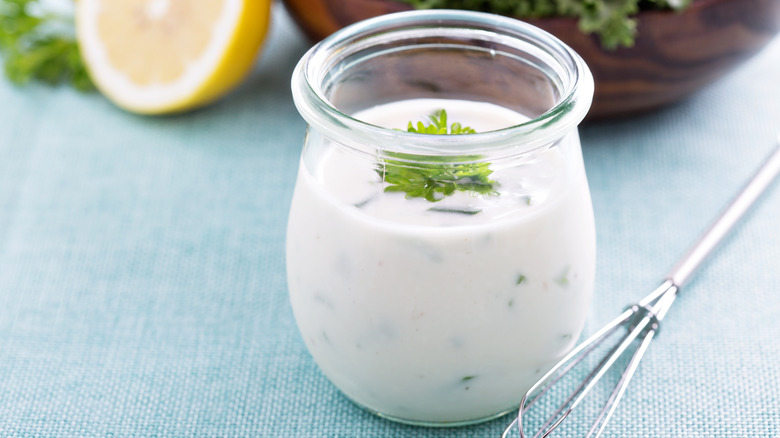 Elena Veselova/Shutterstock
When it comes to making Rachael Ray's ranch dressing recipe, it's all about the thickness. She revealed in a TikTok video that she does not use the traditional base ingredients of mayonnaise and buttermilk for her version of the dressing. "I do not like making ranch dressing with ... [mayonnaise] and buttermilk; it's too thin," she said.
Rather, Ray uses base ingredients of either Greek yogurt or sour cream to give the dressing a thickness that it otherwise wouldn't have. "I like the viscosity and the weight of this," she said. "It's more of a dip." She flavors the dressing with Worcestershire and hot sauce, among other things. Plus, since ranch dressing is traditionally made with fresh herbs (via The New York Times), she adds parsley, dill, and chives to the mix. This may ultimately be just one recipe you didn't know you could do with greek yogurt!
Though Ray prefers the dressing to be thick like a dip, she adds that those who prefer something thinner are welcome to substitute mayonnaise or buttermilk in place of the sour cream or Greek yogurt. Just like she knows that she prefers one style over the other, she welcomes viewers to adapt her recipe to their own liking.