If You've Ever Wanted To Stay At A Mike's Hard House, Now's Your Chance
Mike's Hard
Pool parties and cookouts with friends are a quintessential part of summer — and Mike's Hard is giving its customers just that experience. In celebration of the new Mike's Hard summer drink lineup, which includes the launch of slushy-inspired Mike's Hard Freeze, the brand has created a pop-up summer getaway. 
The Mike's Hard Freeze House in Los Angeles has everything from a pool to a "sampling kitchen" and even an arcade room, according to a press release sent to Mashed. Most notably, the setup includes different rooms that correspond with each one of its new Freeze flavors: Red, White, Blue, and Pink.
The brand has already put in lots of effort to hype up the new product that inspired this pop-up, such as with '90s-inspired music videos promoting Hard Freeze, which "tastes like your favorite slushy flavors from back in the day," but with 5% ABV, according the company's website. If you're a millennial who grew up on 1990s boybands and dance hits, fashion, and video games, Mike's Hard's upcoming house experience just might remind you of your youth. Here's how to get a chance to stay there.
There's a giveaway to stay in the Freeze House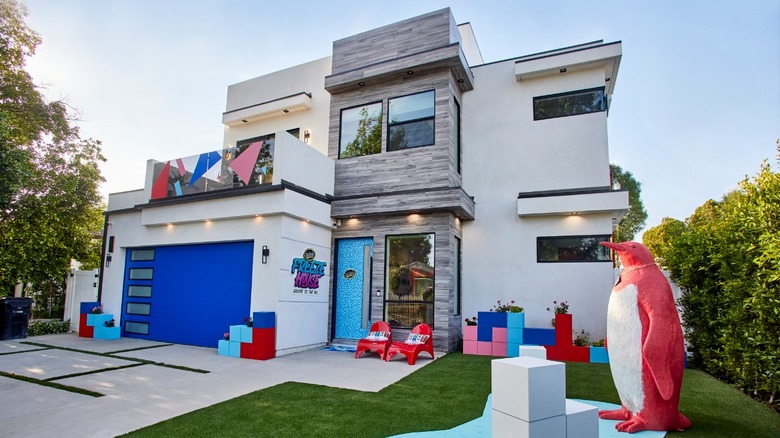 Mike's Hard
For a shot at staying in the colorful California mansion, Mike's Hard fans need to visit the Freeze House website and enter the giveaway between May 11 and May 18. The winner will get $10,000, along with a vacation at the Freeze House from June 3 through June 5. 
They can also bring up to three friends — that's one guest for every room, each of which has a different color scheme. Guests can spend their time raiding the beverage fridge and dancing to '90s music in front of a lava lamp wall.
Themed lodging is actually a pretty common way for food and beverage companies to promote new products or spur brand recognition. Last fall, Planter's hosted guests at a peanut-shaped inn by a lake in Duluth, Minnesota, while Hi-Chew just held a sweepstakes for a Palm Springs, California, vacation. Similarly to the Mike's Hard experience, the vacation home features rooms inspired by signature flavors and lots of included treats.