Padma Lakshmi's Meme About Grandmas' Cooking Is So Relatable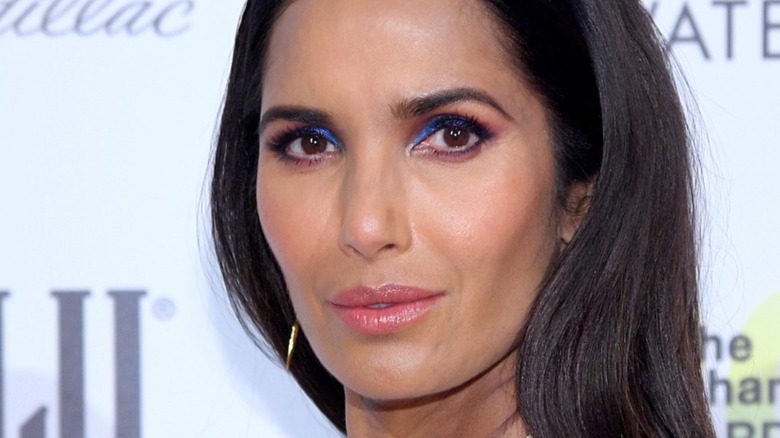 Dimitrios Kambouris/Getty
Padma Lakshmi, the 51-year-old co-host of Bravo's "Top Chef," has had an impressive career as a New York Times best-selling cookbook author, tabloid fodder, actor, entrepreneur, activist, and philanthropist (not to mention being a mother, too). Deemed "India's first supermodel," Lakshmi, well known for her long, deep scar on her arm, has been in the public eye since top designers like Armani and Versace began hiring her for their modeling campaigns. After a successful stint in modeling, where she got to explore the world, and some film roles (she was in Mariah Carey's movie "Glitter"), Lakshmi pursued her passion for food with her award-winning first cookbook, "Easy Exotic," in 1999.
In her 2007 memoir, "Tangy Tart Hot and Sweet: A World of Recipes for Every Day," Lakshmi writes about living in both India and the United States. She was raised in Los Angeles by her mother but was sent back to Tanjore in southern India each year to spend time with her grandmother, Rajima. According to People, Lakshmi gives her grandmother credit for being her first cooking teacher and teaching her the importance of balancing flavors in a dish (think hot and sweet or sweet and salty). Clearly, her relationship with her grandmother was food-centric, which likely inspired a funny meme she posted on Instagram this week.
Fans totally understood Lakshmi's meme
Sadly, earlier this year, Lakshmi lost her beloved grandmother, and she shared an emotional tribute to Rajima with her 1.3 million Instagram followers about their relationship. In the post, Lakshmi said of her paati's (grandmother in Tamil) influence, "​​She didn't just teach me about food, but about life, often through food." Lakshmi went on to credit her paati with shaping her personality and career and called her a constant support, her "rock."
Recently, Lakshmi posted a meme on Instagram featuring a woman making an enormous amount of food for "just a snack" for someone who has already eaten — an especially timely post in the month of Mother's Day — with the caption, "It is me. I am grandma." Based on the more than 26,000 likes the post has received at the time of writing, it has tugged at the heartstrings of those who have experienced a loving grandparent who always wants to feed their families a bit more food than they could ever need. Commenters chimed in with memories of their own relatives' bountiful cooking, and one related to Lakshmi, "I am also Grandma. I'm going to be the most awesomest ancestor."