Judy Joo Takes Us Behind The Cameras On Iron Chef - Exclusive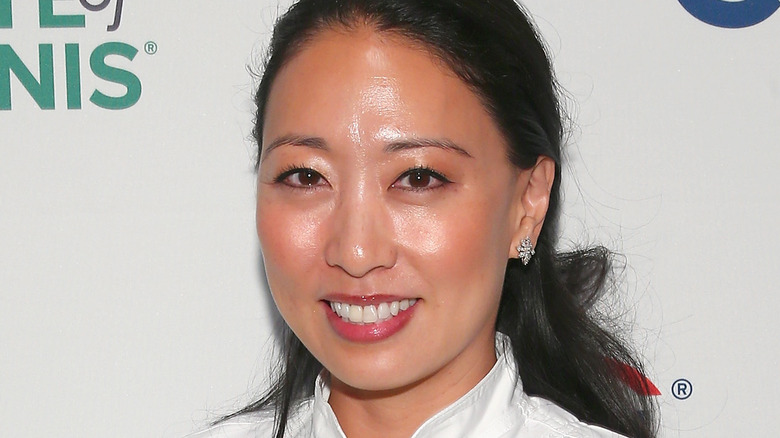 Paul Zimmerman/Getty Images
We may receive a commission on purchases made from links.
Judy Joo is putting her foot down. In an exclusive interview with Mashed, the "Iron Chef" judge recently declared that no one should judge the show who hasn't competed on it. If you've never been a contestant, Joo said, "You don't have that 360-degree view that lets you understand the blood, sweat, and tears that literally went into making that plate ... You don't have the right lens of empathy to be able to judge it fairly." Joo — who is the second female Iron Chef ever and the first female Iron Chef U.K. — has the credentials to back up her argument.
For the restaurateur, behind Seoul Bird, competing in "Iron Chef U.K." was what she described as "a classic example of panicked learning." Be that as it may, some of Joo's most dramatic memories from shooting the competition come not from her victory in Great Britain, but instead from her time spent as a challenger in New York. Joo herself didn't panic, but — as she recalled to Mashed — one of her sous chefs certainly did. And it turns out, navigating disaster under the unforgiving eye of TV cameras is neither peanuts nor a picnic. 
Judy Joo described a sous chef catastrophe filming 'Iron Chef' in New York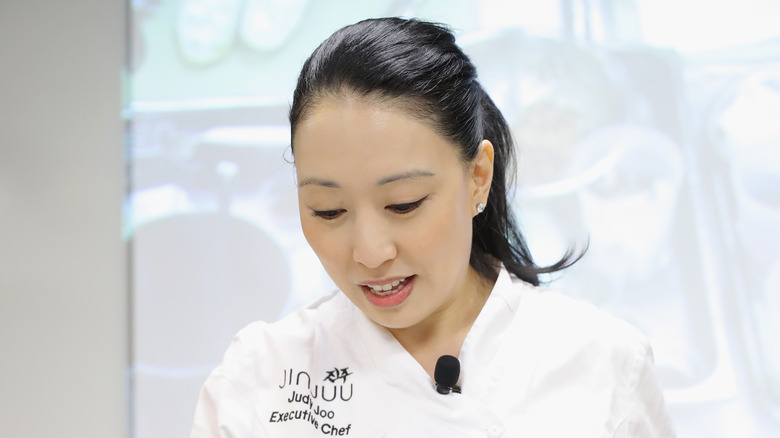 Neilson Barnard/Getty Images
Take it from Judy Joo. Filming a cooking competition is "a lot for somebody to take in that hasn't had a lot of television experience." That's something her sous chef, Jamie, learned the hard way. On his first time accompanying her while filming "Iron Chef" in New York, Joo dished to Mashed that "he freaked out!" The chef remembered, "It was very much lights, camera, action. [There were] 20, 25 cameras on you, roaming cameras in your face. You have Alton Brown making funny commentary and teasing you the entire time."
Such conditions, in and of themselves, are certainly sub-optimal, especially for a camera-shy chef. But, on the day in question, Joo's sous chef also had an accident. "He cut himself very badly and spaced out," she remembered. "He had stage fright and he was looking in the air at one of the lights, bleeding with his mouth open. We were screaming his name, 'Come back to us, come back to us,' trying to snap him out of it." It took Jamie a minute to come to, Joo said. "I think it was the shock of cutting himself, he was bleeding, the medics all over him, he's under all these hot lights. We were all covered in sweat," Joo told Mashed. "My other sous chef hit him on the back to bring him back, and then he clicked back to us."
Keep up with Judy Joo's latest stories by following the Iron Chef's Instagram for the latest from her everyday life and career. Her most recent book, "Korean Soul Food," is available for purchase.